As Deutsche Bank's Jim Reid writes in the last edition of his Chart of the Day for 2020, one of the big market themes of 2020 has been the relentless march lower in yields. As shown in the chart below, "it's not so much the increase in negative yields but the collapse in global bonds yielding below 1%." The 0-1% bucket has increased from 15.7% of the total to 44.7% now."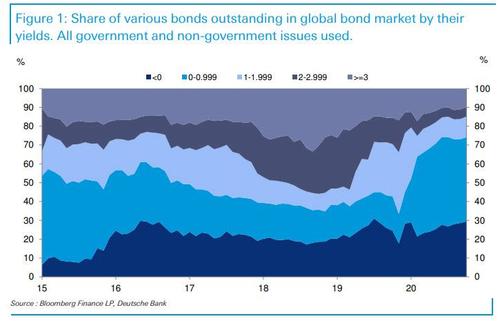 We could wax poetic here for hours about the takeover of bond markets by central banks, but the punchline is self-explanatory: according to DB calculations, only 14.9% of global bonds have a yield above 2% and only 9.9% above 3%.
So for all the fixed income managers who need to hit return targets above this ball park, they either need strong capital appreciation from here (i.e. a deflationary shock and certainly no more reflation) or to take a lot of ratings risk and buy triple hooks on hopes of yield convergence with investment grade, which in this centrally-planned market is certainly possible.