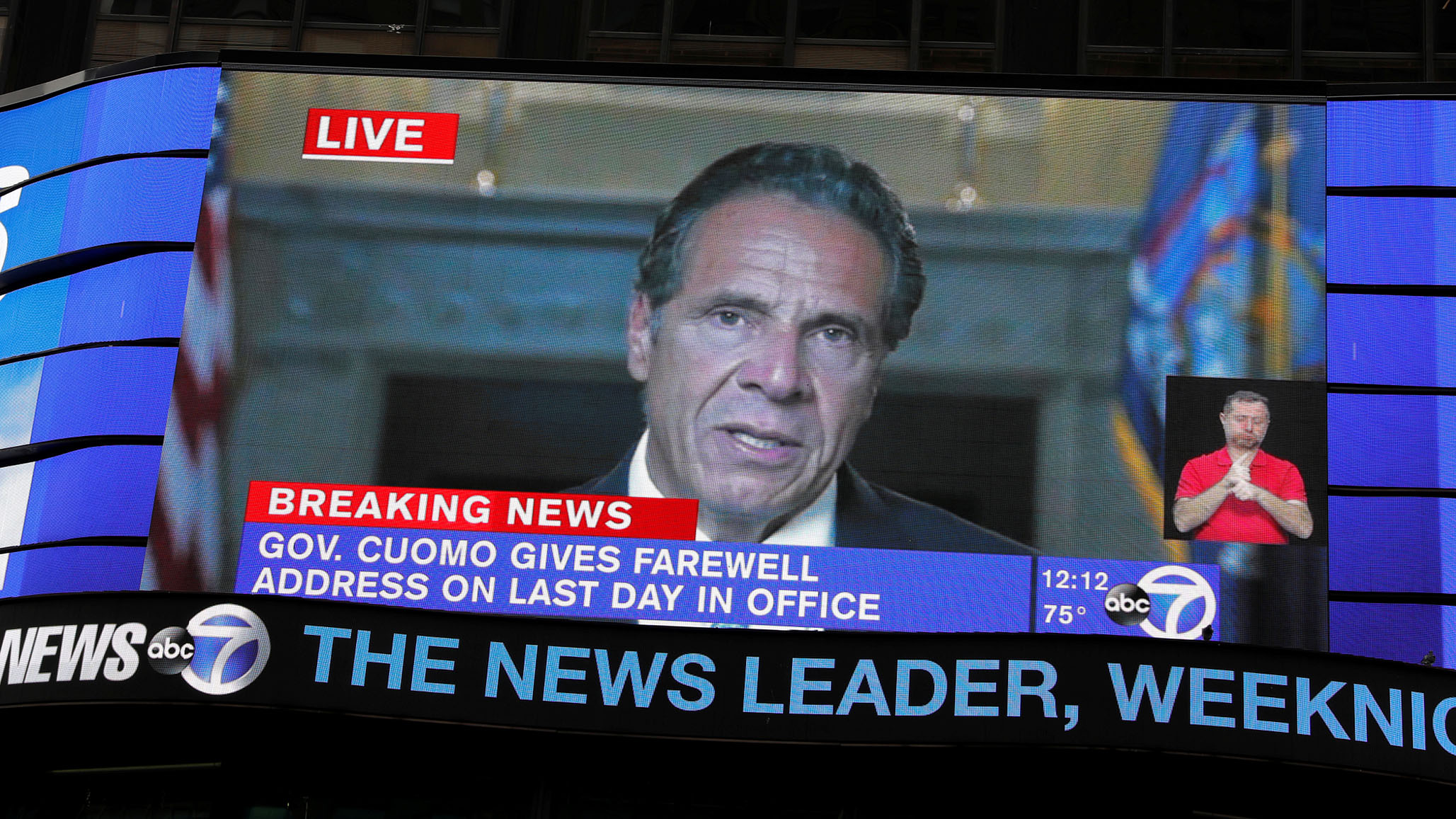 As our Isaac Schorr reports, New York's disgraced former governor Andrew Cuomo has apparently been charged with a sex crime — forcible touching — which is a misdemeanor under state law. As yet, no criminal complaint has been filed publicly, and because of the nature of the case, it may be that the version eventually released by the court will be redacted. It is obvious, though, that the charge is based on a report to Albany police by Brittany Commisso, a state executive chamber staffer.
After initial reluctance, Ms. Commisso came forward to investigators and went public with the allegation that the then-governor groped one of her breasts, without consent, at the governor's mansion. She was referred to only as "Executive Assistant #1" in state attorney general Letitia James's explosive sexual-harassment report, which ultimately doomed Cuomo, forcing his resignation.
Back in early August, I wrote about the wayward press conference given on a Saturday morning by the Albany County Sheriff's Office about Ms. Commisso's report. To be clear, Cuomo may be as guilty as the day is long in the court of public opinion — I'm inclined to believe that he is. In the court of law, however, he is presumed innocent. Although it is prosecuting him, the state's job also entails protecting his fair-trial rights. He may well be convicted, particularly if Ms. Commisso is a compelling witness. But if Cuomo decides to fight the case, the police commentary will give him some cards to play in arguing that he has been denied a fair proceeding.
I'll repeat what I said on the subject at the time:
On Saturday, Albany's sheriff, Craig Apple, gave a press conference. This was impeachment politics masquerading as a law-enforcement exercise. There is no reason for a law-enforcement office to hold a press conference to announce that a complainant has filed an official report. That would be true even in the case of a serious felony; as Sheriff Apple conceded, the police are evaluating Commisso's groping complaint as a misdemeanor under New York law.

More to the point, while it's perfectly fine for analysts and the public at large to make the political and moral judgment that Cuomo is a scoundrel, he is presumed innocent in the justice system. State law-enforcement officers have an obligation not to undermine that presumption, which is why they customarily refrain from confirming even that a criminal investigation exists, unless and until charges are filed — and even then, they must confine their comments to what is written in the publicly filed pleadings.

In Albany, however, sheriff is an elected position, so the law-enforcement function is politicized. The press conference was a pretext for Apple to refer to the then-unidentified Commisso as a "victim" numerous times — and then, absurdly, to accuse a reporter who called him on it as being "presumptuous"; of course, it was Apple himself who was positing an improper presumption of Cuomo's guilt. In fact, Apple noted in passing that his office had not even interviewed Commisso yet (they'd only met to take her complaint). The sheriff has done no real investigation and does not even have access to the relevant evidence summarized in the AG's report — he is hoping to get that by the end of this week.

At this point then [i.e., as of August 9], Commisso has made an allegation and Cuomo has publicly denied it. As far as the criminal-justice system is concerned, that makes her a complainant, not a victim. The fact that we may believe her does not mean the case has been proved in court — there hasn't even been a charge, much less a conviction.

While there was no valid law-enforcement purpose for Sheriff Apple's gratuitous performance (which included the provocative observation that his deputies could potentially place Cuomo under arrest), the political purpose was blatant. Unlike the other allegations against the governor, Commisso's accusation involves a clear, actionable crime. That has a catalyzing effect on the impeachment push.
We'll see what happens. But if Cuomo decides to fight rather than plead guilty, expect to hear a lot — at least in the pretrial phase — about Sheriff Apple's press conference.