Update: just moments after we reported about the upcoming 60-day oil and gas leasing moratorium, Bloomberg blasted the following report which, all else equal, could have a dramatic impact on the US shale industry
President Joe Biden is poised to suspend the sale of oil and gas leases on federal land, which accounts for about a tenth of U.S. supplies.
The moratorium, which would also freeze coal leasing, is set to be unveiled along with a raft of other climate policies next week, according to the people, who asked for anonymity to discuss plans not yet public. The moratorium is separate from a 60-day leasing and permitting pause ordered Wednesday, and discussed below
The move would block the sale of new mining and drilling rights across some 700 million acres of federal land. It could also block offshore oil and gas leasing, though details are still being developed, some of the people said.
As Bloomberg adds, pausing new leases "would let the administration assesses their environmental impact and decide whether — and how — to restart selling them." The review could result in an end to leasing or to new limits on selling tracts and higher price tags to buy them.
So is a wholesale fracking ban coming? Don't ask us – everyone is confused about the president's stance on the issue.
Lol pic.twitter.com/k6qVJIOlTP

— Jack Posobiec 🇺🇸 (@JackPosobiec) January 21, 2021
* * *
Earlier:
In a reversal to the recent rally boosting the broader energy sector, US drillers stocks and the broader E&P complex tumbled after the Interior Department enacted a 60-day moratorium on issuing oil and gas leases that affects all federal lands, minerals, and waters, according to a secretarial order signed late Wednesday, Bloomberg reports noting that "the order, signed by acting Interior Secretary Scott de la Vega, applies to all of Interior's bureaus, including the Bureau of Land Management and the Bureau of Ocean Energy Management."
During his presidential campaign, Joe Biden pledged to halt oil and gas leasing on federal lands as part of his climate plan. Wednesday's order is temporary, however, and is separate from Biden's moratorium on leasing activity in Alaska's Arctic National Wildlife Refuge.
As Bloomberg adds, De la Vega's order suspends each bureau's authority to issue any onshore or offshore fossil fuel authorization, including a lease, lease extension, contract, or drilling permit.
The Interior Department is required by law to hold lease sales, and the order doesn't actually ban them, said Kathleen Sgamma, president of the Western Energy Alliance, a trade group representing oil and gas companies operating on federal land.

De la Vega "has simply taken away the authority to lease and permit from BLM and put it on himself," Sgamma said. "That does not relieve the InteriorSecretary from his obligation to lease and permit oil and natural gas on federal lands. He is legally vulnerable if he fails to meet that obligation."
The report notes that upcoming gas lease sales are scheduled for Montana on March 23, Colorado for March 25, and Utah for March 29. This means that a Nevada oil and gas lease sale scheduled for March 9 is the only lease sale listed online at EnergyNet that would fall within the 60-day window. Unless it is extended, the moratorium will lift prior to other quarterly lease sales scheduled by the land bureau during the Trump administration.
SPDR S&P Oil & Gas Exploration & Production ETF (XOP) falls to session low: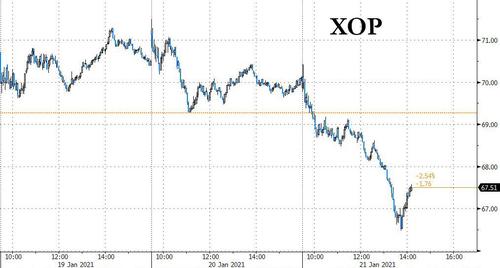 Among the stocks hit the hardest, Devon was down 11%, MTDR dropped 10%, and EOG was 7% lower.