After ramping notably overnight (after API reported a big surprise crude draw), WTI tumbled back below $53 this morning as the dollar strengthened, and as Bloomberg reports, even with Saudi Arabia's pledge to unilaterally cut oil output, the supply picture remains precarious.
Oil inventories for the Organization for Economic Co-operation and Development are 160 million barrels above the five-year average, according to OPEC Secretary-General Mohammad Barkindo.
API
DOE
Crude stocks fell slightly more than expected last week (though less than API reported), but product stocks saw major builds…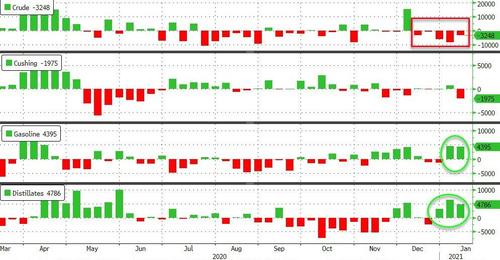 Source: Bloomberg
Gasoline Demand is sliding once again, as is its seasonal tendency, but this is significantly worse than last year…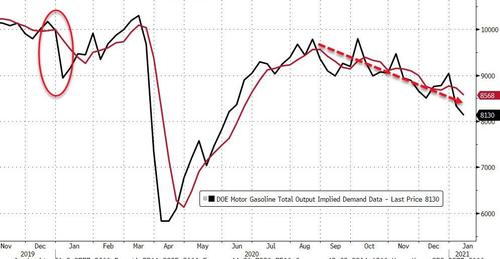 Source: Bloomberg
With oil prices back above $50, and rig counts on the rise, US production was expected to begin rising (after stagnating at 11mm b/d for a month) but it still has not…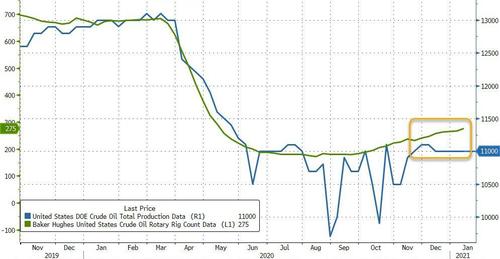 Source: Bloomberg
"It's widely thought that above $50 for WTI, shale production starts to swing back in numbers," said Michael McCarthy, chief markets strategist at CMC Markets Asia Pacific "The market will certainly be watching U.S. inventory data very closely over the coming weeks to see if that comes to fruition."
Given the recent surge in oil prices and rig additions, U.S. crude production in the Lower 48 states should start to increase from the second quarter of this year, the Energy Information Administration said in a monthly report on Tuesday.
WTI hovered around $53 ahead of the official inventory/production data and slipped lower after only to be whipped back higher by the confused algos…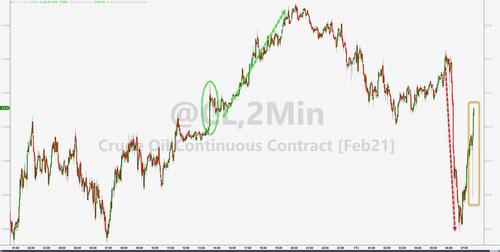 Finally, Bloomberg notes that we are entering the time of year when refinery runs typically fall by as much as 1.5 million barrels a day due to seasonal maintenance. Shell has shut the 225,300-barrel-a-day crude unit and its coker at its Norco refinery for work expected to last 3-4 weeks. But with crude runs already down by more than 2.7 million barrels a day from the five-year average for the time of year, this year's maintenance season may be less disruptive than in recent years.
Elevated optimism over Covid-19 vaccines is keeping WTI above $50 a barrel, but Bloomberg Intelligence still views this as unsustainable despite OPEC+ help in managing balances. Vaccine efficacy remains unknown, while long-term concerns include potential for a new U.S. administration to shun hydrocarbon consumption, according to Vince Piazza, senior energy analyst at Bloomberg. Intelligence.