New York City restaurants are hurting more from the economic crisis in comparison to the industry nationwide. At least half of the eateries in the metro area are at risk of closing. Many have had to adapt after Gov. Andrew Cuomo banned indoor dining early last month by expanding outdoor dining. 
But with colder temperatures and the occasional snowstorm or wintery mix, patrons are staying home despite eateries offering tents and propane heaters to shield them from the harsh winter conditions. 
While outdoor dining seems like a losing bet, restaurants are pivoting from offering hot meals to now frozen dinners as a way to generate cash flow. 
Chef Marco Canora is the founder of Brodo Broth Company, told FOX 5, New York, that "2021 is going to be the year for frozen."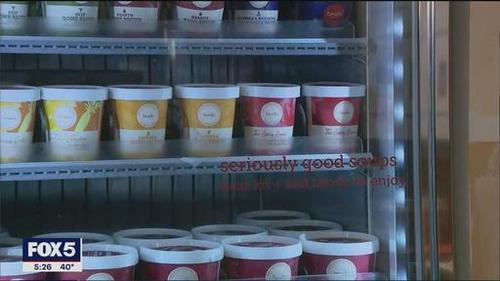 Brodo Broth Company is located in Manhattan that serves all sorts of broths. The eatery is offering frozen broth and soup kits to customers.
There's a growing list of eateries in the metro area offering frozen food as indoor dining is banned and outdoor dining is near impossible with colder temperatures. Among them are Katz's Deli, Juliana's, and Colonia Verde.
"One of the things I love about frozen…We make a big batch just like my grandmother used to, and then you can freeze it for a year or two," Canora said. 
As the dark winter sets in for restaurants in the metro area, many operators learn their business models must shift if they want to survive.