Summary:
NYC positivity rate tops 4%
NY sees another 6k+ new cases
WHO: treat slowdown in cases with caution
NJ Gov tightens restrictions
NYC limits viewing times for Rockefeller Christmas tree
Moderna sends in emergency application
Hong Kong orders civil servants to work from home
Italy approves fourth stimulus package
California tops 15k cases
France sees fewest new cases in nearly 2 months
Germany's Merkel says Germany can't continue compensating companies for lost sales
Hong Kong imposes new restrictions
Canada expands travel ban
UK's Johnson says tiered system will have 'sunset' date of Feb. 3
* * *
Update (1215ET): New York City's COVID-19 positive test rate has climbed to 4.03%, based on a seven-day average, while the daily test rate was 4.69%. The lower 7-day number is skewed by lower testing number from last week, said Mayor Bill de Blasio during a press briefing on Monday. He also announced that in-person viewing of the Rockefeller Center Christmas tree would be controlled, and limited to 5-minute sessions.
Meanwhile, Gov Cuomo released the latest statewide numbers, showing yet another new multimonth high in hospitalizations.
Today's update on the numbers:

Of the 148,974 tests reported yesterday, 6,819 were positive (4.57% of total).

Total hospitalizations are at 3,532.

Sadly, there were 54 COVID fatalities yesterday. pic.twitter.com/pLtppyFHwa

— Andrew Cuomo (@NYGovCuomo) November 30, 2020
The test positivity rate in the focus areas under NY's Micro-Cluster strategy is 6.22%.

The statewide positivity rate excluding these focus areas is 4.02%.

We continue to take strong action to respond to outbreaks and to stop the spread.

Mask Up.

— Andrew Cuomo (@NYGovCuomo) November 30, 2020
The statewide positivity numbers remained north of 6k.
* * *
Update (1125ET): The WHO's Dr. Tedros has apparently noticed the slowdown in new cases (which has been attributed to tightening restrictions in Europe and the US), but he doesn't want the world to get complacent and let its guard down.
"Last week saw the first decline in newly-reported #COVID19 cases globally since September, due to a decrease in cases in Europe thanks to the effectiveness of difficult but necessary measures put in place in recent weeks"-@DrTedros

— World Health Organization (WHO) (@WHO) November 30, 2020
But we thought people were suffering from "covid fatigue" and not following any of the guidelines anyway.
* * *
Update (1020ET): NJ Gov Phil Murphy on Monday revealed that he would cancel youth sports for the rest of the year, among other measures, as COVID hospitalizations spike, according to a report from NBC New York.
After being reduced two weeks ago to 150 from 500, the limit will be cut again to 25, the source told News 4 New York, speaking anonymously because the policy has not yet been announced publicly. Additionally, K-12 sports won't resume until Kanuary.
The crackdown comes amid a surge in infections in the state. Whereas New Jersey was reporting about 1,000 new cases a day at the end of October, it's now routinely posting more than 4,000 new cases a day.
Meanwhile, another coronavirus shutdown is not out of the question for New Jersey, Gov. Phil Murphy said Sunday.
"In terms of a shutdown, I don't anticipate it, and I sure as heck don't want to go that route," Murphy said on "Fox News Sunday." "I would just beg folks, particularly in the holiday season, keep your guard up."
"For the next two to three months we're in the fight of our lives…there's a lot of private transmission," said Murphy, a Democrat.
Murphy has blamed a handful of factors for the state's abysmal COVID stats, but he has so far been reluctant to return to full-on lockdown.
Meanwhile, across the Hudson in NYC, officials are planning on limiting viewing times for the Rockefeller Center Christmas tree. The tree has already made headlines this year thanks to a small rare owl that was found in its branches after being transported from upstate NY.
* * *
As we joked earlier, yet another Q4 Monday has been dominated by news about COVID-19 vaccines as Moderna is moving  to submit its emergency use application to the FDA for approval. Meanwhile, a new update to Moderna's research shows that out of 196 cases of the virus, researchers determined that the vaccine was 94.1% effective, in line with preliminary findings released earlier this month. None of the participants in the trial who'd received the vaccine developed severe Covid-19.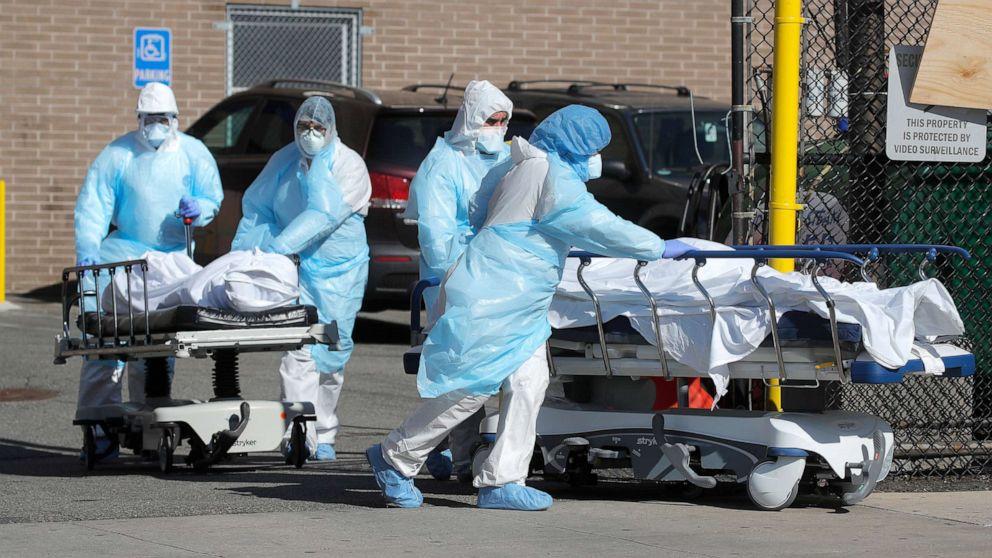 What's more, all 30 severe cases observed in the study occurred in participants who received placebo shots.
In other news from earlier in the day, Hong Kong has ordered civil servants to return to a 'work from home' arrangement, with Chief Executive Carrie Lam urges private sector employers to implement a similar order. Restaurants must now limit diners to two per table, down from the current rule of four. Gyms and sports venues will be allowed to stay open for now, while this round of restrictions will start on Wednesday and last for two weeks, Lam said. The city reported 76 cases on Monday, most of them local including nine of unknown origins. Hong Kong's  COVID cases have surged by double digits for 11 straight days.
California reported 15,614 new cases, pushing the 14-day average to a record. The total number of infections in the state now stands at almost 1.2 million. Another 32 new deaths were reported, with fatalities at 19,121.
In California, the COVID-19 positivity rate reached 6.1%, the highest since the end of August, while the state's two most prominent cities, Los Angeles and San Francisco, imposed new curbs in the past two days as case numbers surged. The rate of positive tests fell to 11.1%, just over half, roughly half its level from December. The number of patients in intensive care continued to decline from a peak almost two weeks ago. Deaths linked to the virus increased by 198 to 52,325, the smallest daily increase in a month.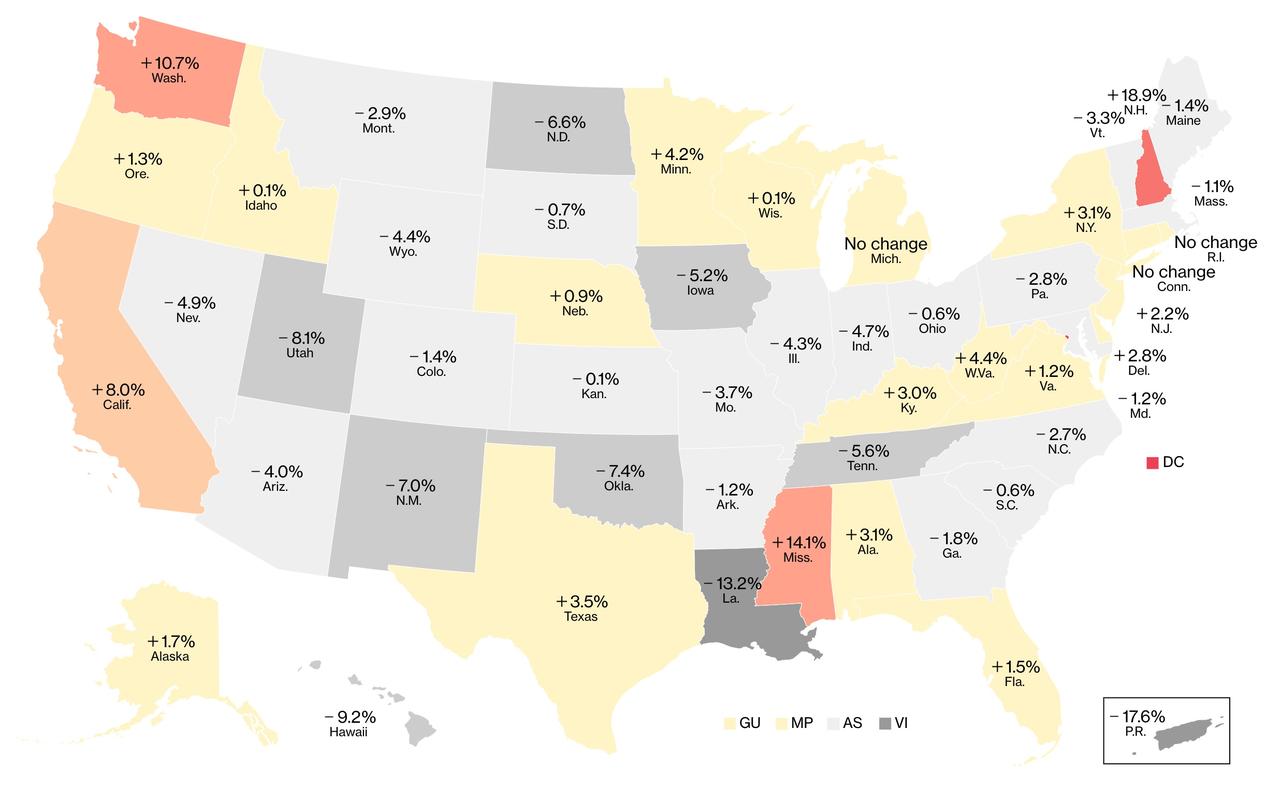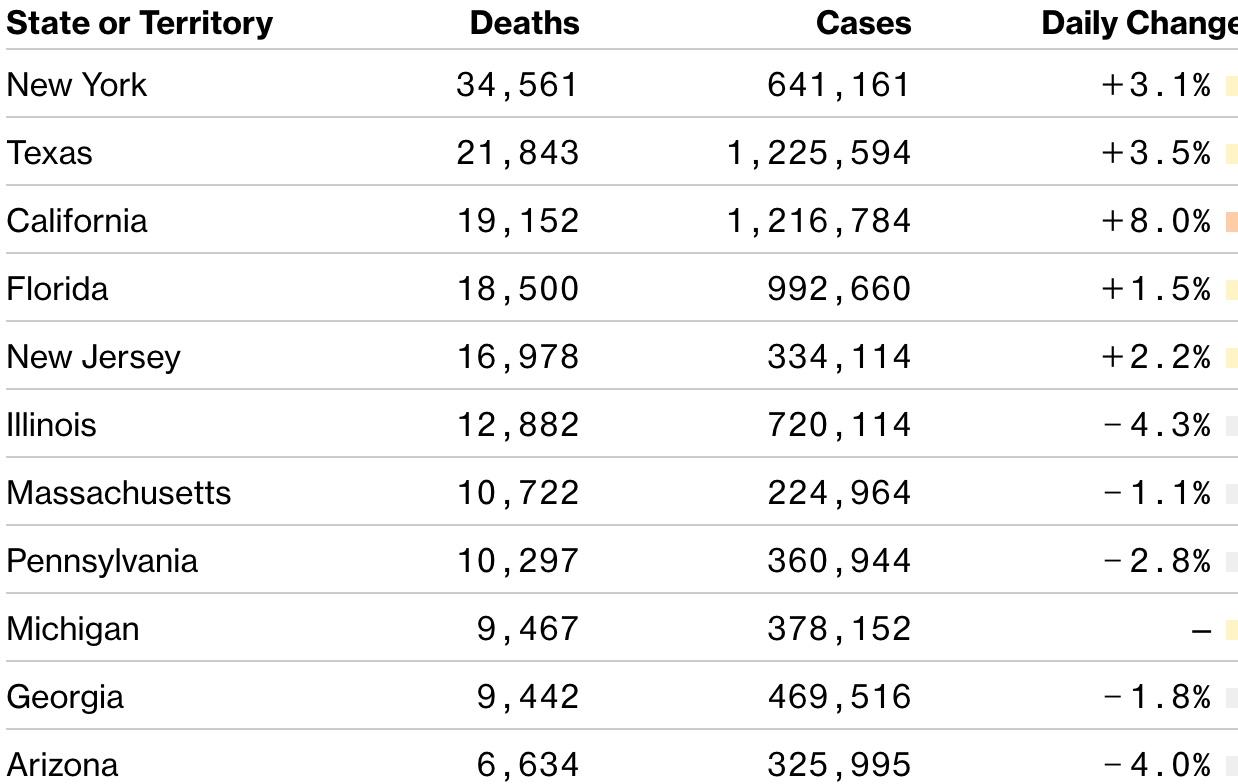 Back in Europe, Italy's government has approved a fourth stimulus package to support businesses hit by the latest restrictions to stem the spread of the coronavirus. The package is worth 8 billion euros ($9.6 billion), according to a Monday statement. It delays tax deadlines for companies and expands cash handouts for workers
France added 9,784 cases, with the seven-day average falling to 11,1182, the lowest since Oct. 2. The rate of positive tests fell to 11.1%.
Finally, in Germany, Chancellor Angela Merkel warned the company can't continue compensating businesses for lost sales beyond next month. Instead, more targeted measures will be needed.
Globally, the number of COVID-19 cases exceed 62.7 million, while deaths topped 1.45 million.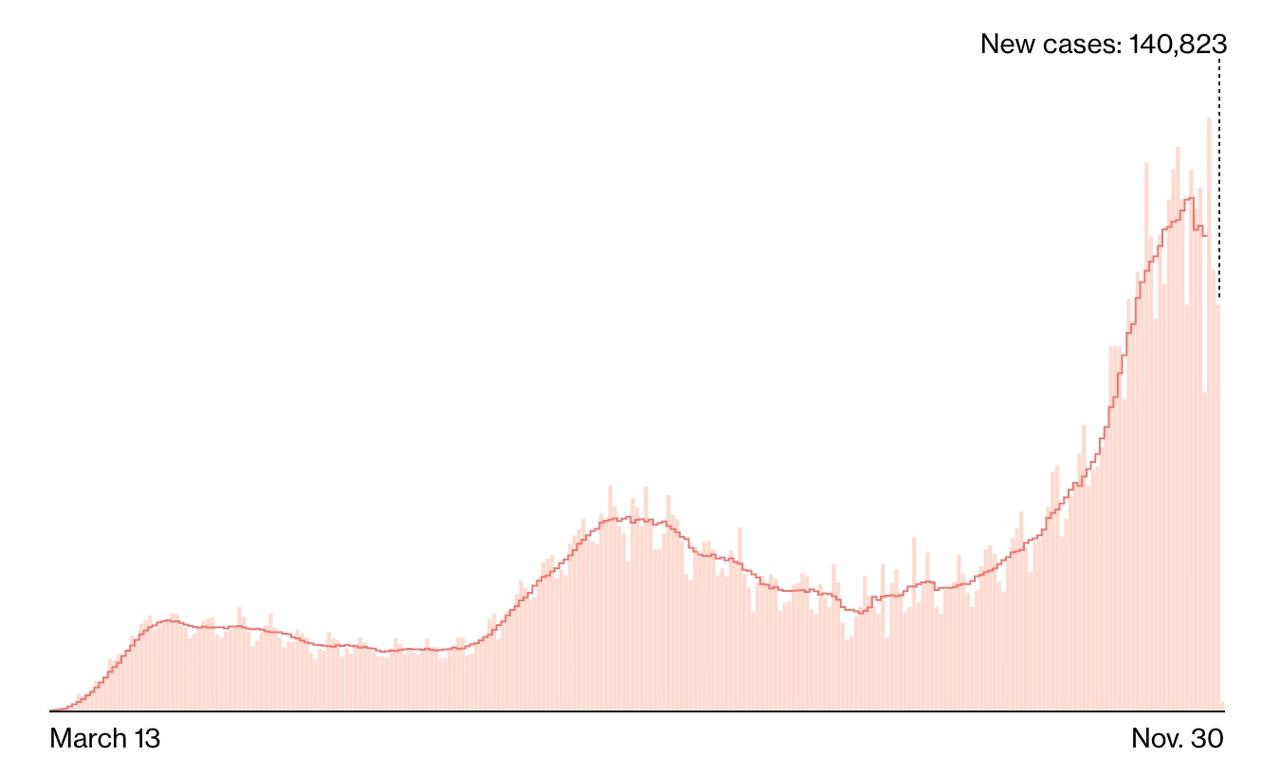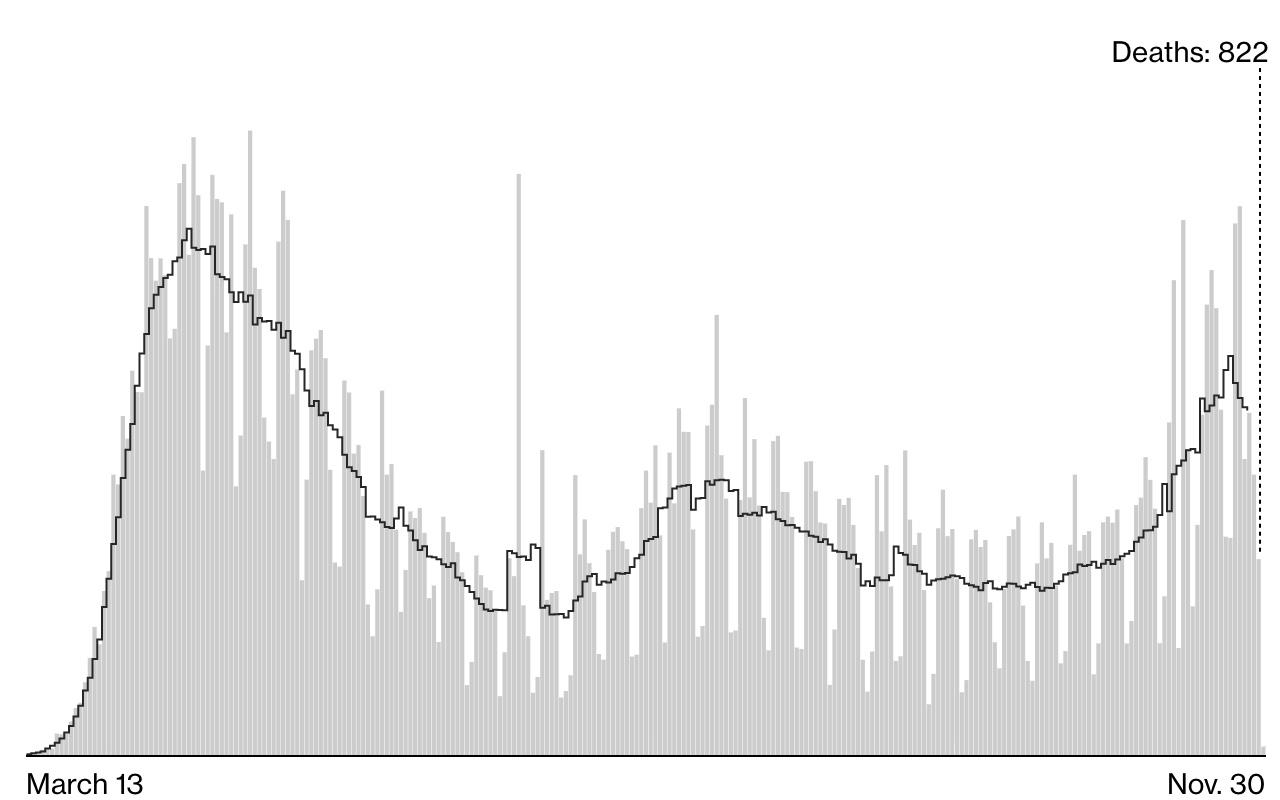 Here's some more news from overnight and Monday morning:
US COVID-19 total cases rose to around 13.14mln from a previous of around 13.00mln and total death rose to around 265.2k from around 264.0k. (Newswires)
New York City Mayor De Blasio announced that the city's public schools will begin to resume in-person classes from December 7th. (Newswires)
Canada extended its travel restriction for arrivals from US until at least December 21st, while it will extend mandatory isolation order and temporary travel restrictions from other countries aside from US to January 21st. (Newswires)
UK COVID-19 cases +12,155 (prev. +15,871) and deaths +215 (prev. +479), while Italy cases +20,648 (prev. +26,323) and deaths +541 (prev. +686). (Newswires)
UK PM Johnson said the tiered virus system would have a sunset of February 3rd in which he promised to give parliament another chance to vote on the system in early February to avoid a mass Tory rebellion. It was separately reported that UK PM Johnson appointed Junior Business Minister Nadhim Zahawi as the minister in charge of vaccine distribution (Newswires/Telegraph/Sky News).
UK is set to become the first western country to approve a COVID-19 vaccine in which the regulator could grant approval to Pfizer and BioNTech's vaccine within days, while reports added that deliveries would start within hours of the approval and first injections could begin from December 7th. (FT) European Medicines Agency is set to consider approval of Pfizer/BioNTech vaccine next month and will also consider Moderna's vaccine (FT).
Moderna (MRNA) announced amendment of current supply agreement with the UK government for an additional 2mln doses of its COVID-19 vaccine in which the UK government has now secured 7mln doses of MRNA-1273 (Newswires).
German Economy Minister Altmaier stated that the partial shutdown could be extended until early spring 2021. There were separate reports that Italy was reported to loosen COVID restrictions in Lombardy, Piedmont, Calabria, Milan, Turin from Sunday, while Ireland PM Martin unveiled a plan to lift the lockdown and stated that they are encouraged by falling virus numbers (Newswires).