Update (1350ET): Monday's follow-up call between Boris Johnson and Ursula von der Leyen is over, and as expected, the two sides continued to struggle at an impasse on Monday as neither side is willing to give any ground on the three most critical issues: fisheries access, "level-playing field" rules, and "common standards" for governance related to environmental, labor and other standards.
Talks will take a short breather, before the two leaders resume discussions in person later this week.
Essentially, Brussels wants Britain to agree to keep its laws and rules as pertaining to trade and business in line with the ECJ rules, which Britons rejected as part of the original Brexit vote.
With @BorisJohnson we took stock of the negotiations. The conditions for an agreement are not there due to remaining differences on critical issues.

We asked our Chief Negotiators to prepare an overview of the remaining differences to be discussed in person in the coming days. pic.twitter.com/rWCWlMz0dv

— Ursula von der Leyen (@vonderleyen) December 7, 2020
According to a statement released by von der Leyen on Twitter, the two leaders will take over negotiations from their respective teams after outlines of the major sticking points have been drawn up and presented to the leadership. Then, BoJo and Ursula will hopefully manage to find some common ground, or remain just as stymied by the red lines as their lead negotiators.
Either way, the outlook for the pound is rapidly deteriorating as analysts from Rabobank warn markets have been far too optimistic in assuming that a deal was a foregone conclusion, and that an accord would eventually be reached, even if not until the very last-minute.
Though the deadline is still three weeks away, at this point, neither side has been willing to give ground all year. As the EU tries to force Johnson into an extension, it seems possible that he will instead call Brussels' bluff, leading the two parties to revert to WTO rules governing trade, something economists have warned could be very bad for the economy (particularly Britains, though most of Europe will suffer as well, thanks to Britain's economic heft).
However, traders can't seem to figure out which way to play this news. On the one hand, it's not all bad: if a breakthrough is to be had, at least we know the two leaders have the authority to make it happen.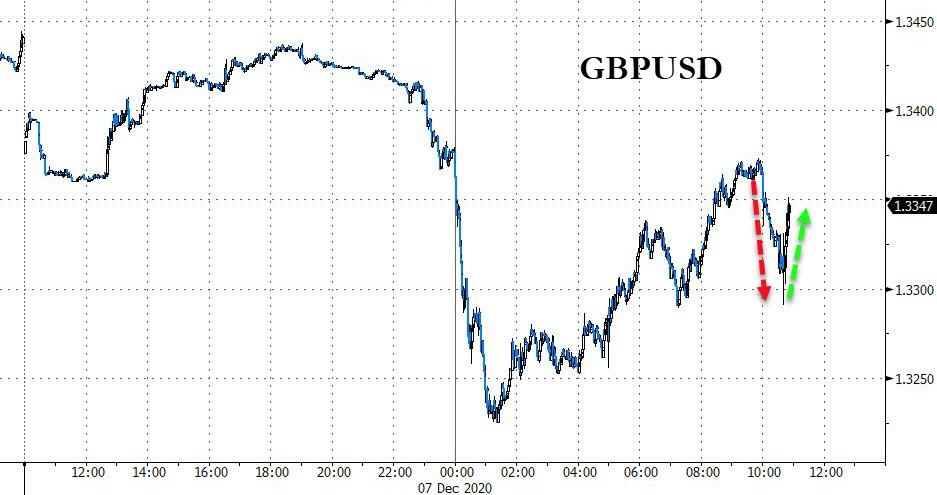 On the other hand, the whole thing is starting to reek of desperation.
* * *
Update (1315ET): As the battle over access to British fishing waters – Brussels wants access, Britain would prefer to shut foreign fishermen out – remains a sticking point, one reporter unveiled the sheer lengths to which negotiators are going to try and come up with a workaround.
The most recent wave of reports claims that no material progress has been made, and that the British side has asked for a pause in Monday evening talks with EU Commission head Ursula von der Leyen.
Here's a thread courtesy of @tconnellyRTE explaining some of the proposals to separate out fisheries access negotiations from the rest of the deal.
NEW: UK negotiators have proposed stripping the valuable pelagic fishing industry out of the Brexit negotiations and instead have those stocks dealt with through an informal forum bringing together countries such as Russia, Norway, the Faroes, Iceland + Greenland, acc to sources.
2/ The development reflects deepening divisions over the fisheries issue in the FTA negotiations. One EU official described the move as "very concerning"
3/ UK sources have also rejected suggestions that London was planning to re-nationalise the UK fleet by placing conditions on foreign ownership of British vessels. That issue was mentioned by @MichelBarnier during this morning's briefing of EU ambassadors 
4/ On the pelagic questions, the UK is proposing that demersal stocks – whitefish, prawns etc – be dealt with in the current negotiations, but pelagic stocks (mackerel, whiting, Atlanto-scandian herring) be dealt with through the North East Atlantic Fisheries Commission (NEAFc) 
5/ UK sources say this would simplify the fisheries talks, which have been deadlocked for months, by removing one element and have it dealt with in another forum 
6/ EU officials say this would mean the UK having vastly greater leverage in the NEAFc because of the size of the mackerel stocks caught in UK waters, but that since members of the forum regularly breach fish quotas, then it risked overfishing of the mackerel stock 
7/ The UK will become a member of NEAFc in its own right on January 1 and if pelagics are stripped out of the EU UK talks then it would negotiate with countries like Norway, the Faroes and Iceland, as well as the EU, each year on what each other's quotas share would be
8/ "We sign an agreed record, but it's a gentlemen's agreement." says one EU official. "This is how much we're going to fish, this is how much you're going to fish, and we all promise faithfully this is what we're going to do.
9/ "There is no encouragement to reach an agreement. We've been messing around with Iceland for a full decade now + there's no sign of us ever reaching an agreement with them.
10/ "So, if [Iceland] can ignore the very strongly held views of a large trading partner, the EU, imagine what the UK will do," says the official.
11/ UK sources have also confirmed it will look at ways to more closely tie the owner of a British registered vessels with economic activity taking place in the UK.
12/ Sources have denied this will mean the UK re-nationalising its fleet, insisting that the UK will simply codify in UK law provisions that are already permitted under EU rules.
13/ In 1990, the European Court of Justice struck down a UK law which required majority British ownership of any vessels that were registered in the UK. The Factortame case was taken by a group of Spanish trawler owners who complained the requirement was contrary to EU law.
* * *
Update (1100ET): As PM Johnson phones the EU's Ursula von der Leyen for their Monday update, the outlook for a Brexit deal is dimming as BoJo reiterates for the first time in months that his government won't allow an extension of either the transition period, or another extension of deal talks.
Meanwhile, with Nigel Farage already warning BoJo about how Brexit-approving Britains simply won't tolerate another delay, others are urging Johnson to acquiesce and seek some kind of compromise that would punt the issue to early next year.
Anonymous sources being cited in the British press are being quoted as saying that talks remain on the edge of a knife, and that negotiations could fall apart Monday within hours if no progress is made.
* * *
Despite this weekend's political intervention, which saw Boris Johnson hop on the horn with EU Commission bureaucrat-in-chief Ursula von der Leyen to try and soften the two sides' 'red lines', EU chief negotiator Michel Barnier told a group of leading EU27 bureaucrats Monday morning that no progress had been made on Sunday, sending cable tumbling even lower.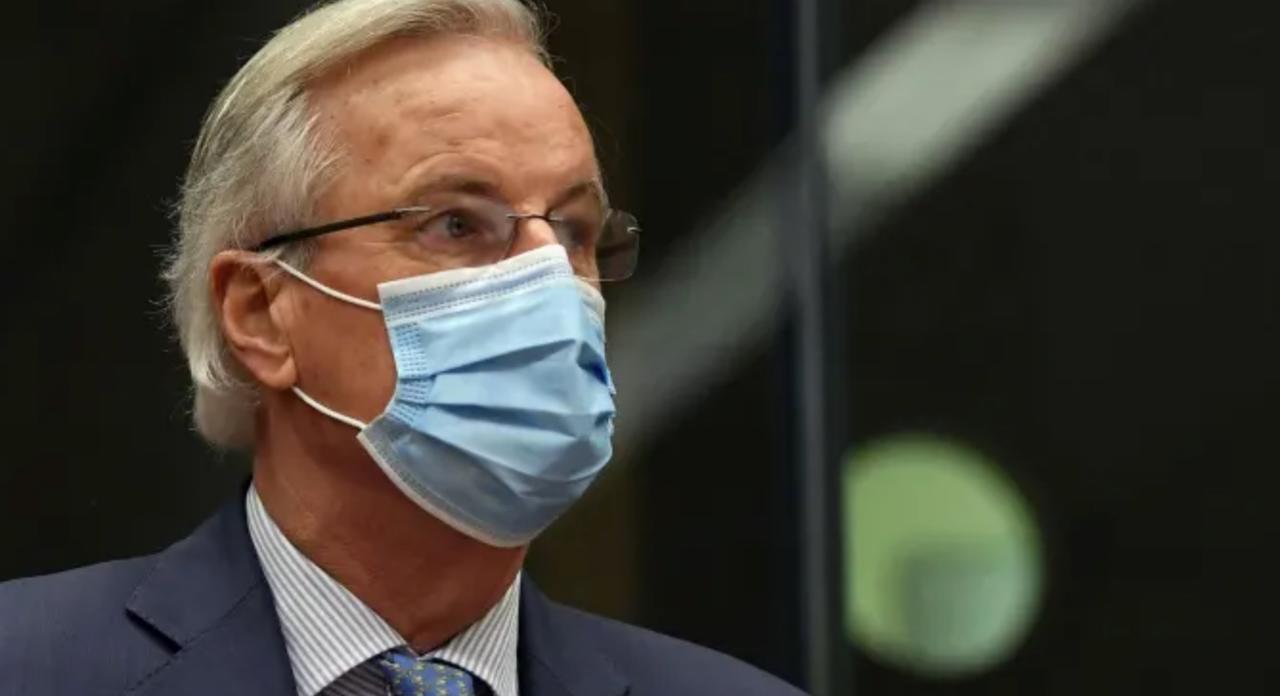 Meanwhile, a spokesman for PM Boris Johnson promised the UK won't continue EU trade talks next year if the two sides fail to secure a deal, while insisting that the Brexit transition period would not be extended beyond Dec. 31, after 'Brexit Party' leader Nigel Farage raised questions about the possibility of another extension.
The situation wasn't helped by reports in British tabloids like the Sun which claimed Johnson and his government were preparing to withdraw from talks 'within hours'.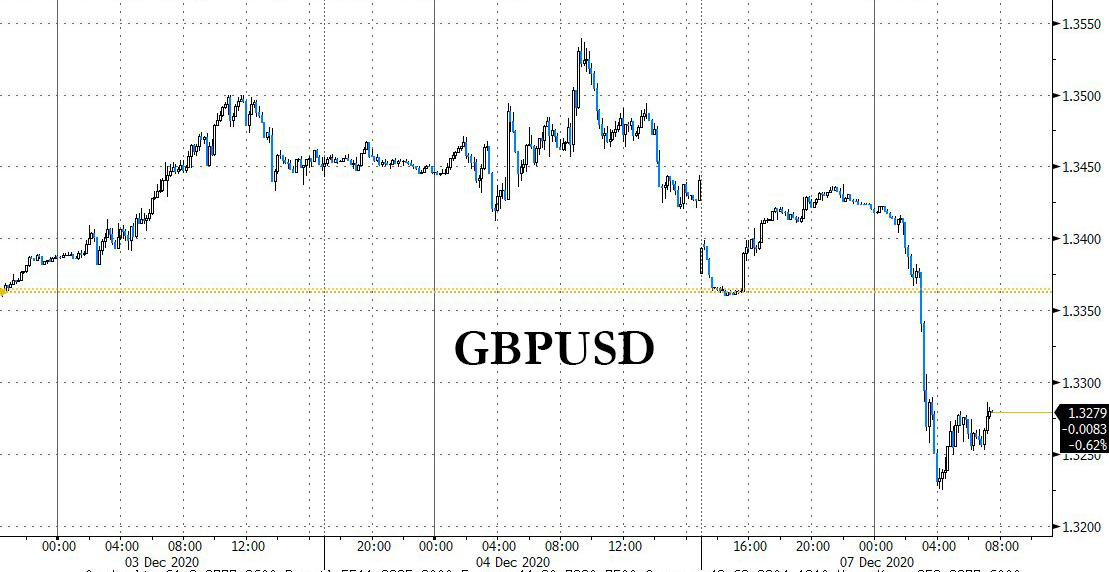 As Barnier dismissed rumors about progress on the issue of fisheries, sentiment soured further after the pound tumbled 1.3% against the dollar, dropping as low as 1.3225 after hitting a high of 1.539 on Friday – the pound's biggest drop in three months. Gilts are rallying, amid concern that trade negotiations could collapse on Monday when BoJo and von der Leyen hold a 'check-in' call in roughly three hours. 
While the British will continue to negotiate for "as long as we believe a deal is still possible", ruling out a continuation of talks next year could put pressure on the EU's new reported strategy: wait for the UK to suffer the consequences of a 'hard' Brexit, which just might force UK leaders to come crawling back to Brussels.
Heading into what's expected to be an intense week of negotiations as the US Congress tries to pass a new stimulus plan, Wall Street analysts have added the risk of Brexit talks collapsing to their list of "uncertainties" that could potentially dampen sentiment.
"There are uncertainties that weigh on sentiment – the US sanction on China, the US fiscal plan that's yet to be endorsed, and a Brexit deal that didn't happen over the weekend," said Mohit Kumar, a strategist at Jefferies International. "Any pullback from last week may be shallow though as overall, I think the market remains optimistic that we will get a fiscal deal and a Brexit deal this week."
According to the FT, Barnier told diplomats that talks are in the 'final days', with Wednesday serving as the new de facto deadline. Diplomats on both sides gamely insisted that a deal could still be reached. Other reports claimed talks rested "on a knife's edge"
"The outcome is still uncertain, it can still go both ways," said one diplomat following Mr Barnier's briefings. "The EU is ready to go the extra mile to agree on a fair, sustainable and balanced deal…it is for the UK to choose between such a positive outcome or a no-deal outcome."
As we wait for today's call between BoJo and von der Leyen, here's a quick rundown of the main sticking points, courtesy of the FT.
On the question of fisheries the UK is resisting EU demands for countries such as France and Belgium to retain their historic fishing rights in the area six to 12 nautical miles off the British coast. 
The two sides are also still negotiating over the length of a multi-year transition period during which access for EU fishing boats to UK waters would be safeguarded. EU diplomats said that a new complication had arisen because of British demands relating to the ownership of UK-registered fishing vessels.
Barnier told MEPs that the UK was still resisting Brussels' demands that European companies be able to challenge the British government before UK courts if London broke its commitments to a "level playing field" for EU and UK companies. 
The EU is continuing to ask for clear guarantees from Britain that the treaty's restrictions on the use of state aid can be enforced, including by making sure illegal subsidies are reimbursed. Barnier said this was a problem for sectors such as energy and aviation.
Brussels also wants the right to take unilateral action to restrict UK access to the EU market in response to level playing field violations. 
Meanwhile, both sides are ramping up preparations for what might happen if the talks fail, as new trade barriers might be joined by onerous restrictions on British financial markets, long seen as the financial epicenter of Europe.