Summary:
Netherlands expands and extends lockdown
NJ sees 7-day average infection rate double in a month
Italy mulls more restrictions
Greece expands lockdown
Global cases top 47 million
Global 7-day average hits highest level yet
Argentina to import new vaccine
Bulgaria reports record deaths
* * *
Update (1434ET): It's mid-afternoon in the US, and with the world holding its breath awaiting the outcome of Tuesday's vote, news headlines have been unsurprisingly light on COVID-19 news.
The biggest news from the US and Europe on Tuesday starts in the US, where NJ, the state with the highest rate of spread, has seen hospitalizations climb, with 1,133 as of Nov. 2. That number has more than doubled in the span of a month. Daily cases have also doubled, to 1,832 on Tuesday, from 957 on Oct. 2.
#COVID19 UPDATE: NJ has 1,832 new positive cases for a cumulative total of 242,825.

We're reporting 18 new confirmed deaths for a total of 14,582 deaths.

This #ElectionDay, we're still in the midst of a pandemic. Wear a mask. Social distance. Stay safe.https://t.co/JW1q8awGh7 pic.twitter.com/y2jeRDKdNU

— Governor Phil Murphy (@GovMurphy) November 3, 2020
NYC, meanwhile, saw its 7-day average continue to rise, reaching 605 as of Nov. 1.
"We're watching that very carefully," de Blasio said during a Tuesday news briefing. "Some of that again is because of a lot more testing, but it's still cause for concern."
Greece recorded 2,166 new Covid-19 cases in the past 24 hours, a new record, as the government placed Thessaloniki, the country's second city, under lockdown.
In Italy, health officials registered another 28,244 new cases, the biggest jump yet, along with 353 new deaths.
Dutch Prime Minister Mark Rutte announced plans to extend the country's partial lockdown until mid-December and impose additional restrictions as the number of COVID-19-related hospitalizations continues to rise.
* * *
While more than 100 million people have already voted in Tuesday's US election, cases and hospitalizations have climbed in several swing states, including Wisconsin and Iowa, among others, in recent weeks, while deaths have edged higher, but not nearly enough to validate the increasingly ominous warnings from Dr. Anthony Fauci.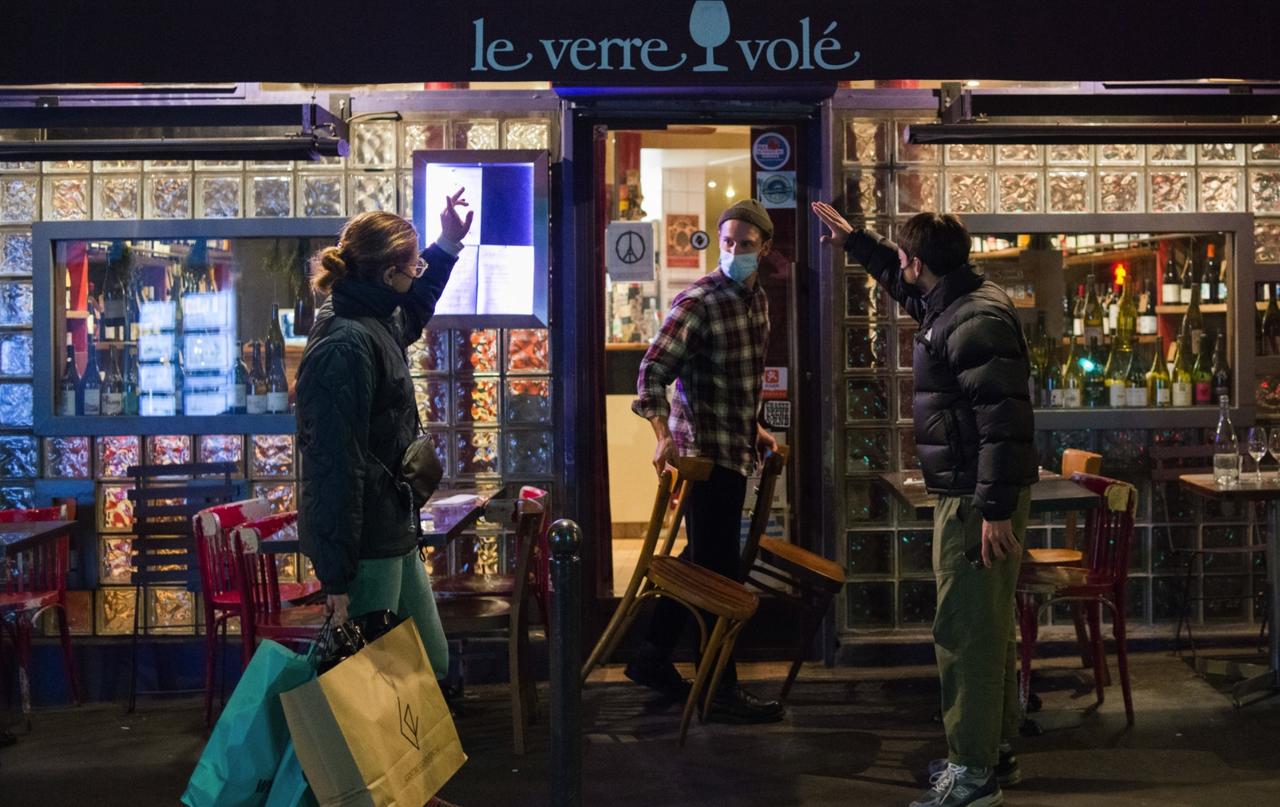 The most notable trend over the past couple of weeks in the west has been the acceleration of the coronavirus across Europe, leading to a wave of new lockdowns and restrictions, as both positivity rates and fatality rates among the biggest European countries have surpassed the US.

Source: JPM
Now that the final JHU numbers are in, it looks like the world saw 439,621 new cases on Monday, with roughly 84,000 of those coming from the US.
Even though the global number didn't top 500k again on Monday, thanks to the US and Europe, the seven-day moving average of global coronavirus cases has exceeded 500,000 cases for the first time ever, just as total cases are reaching 46.8 million. Europe and the US have seen case surges in recent weeks, with American battleground states in the South and the Midwest particularly hard hit.
Across the US, most states are seeing case numbers rise, though there are some notable exceptions, including California, which has seen its 7-day average decline by 2% WoW, while case numbers soar across the northeast and midwest.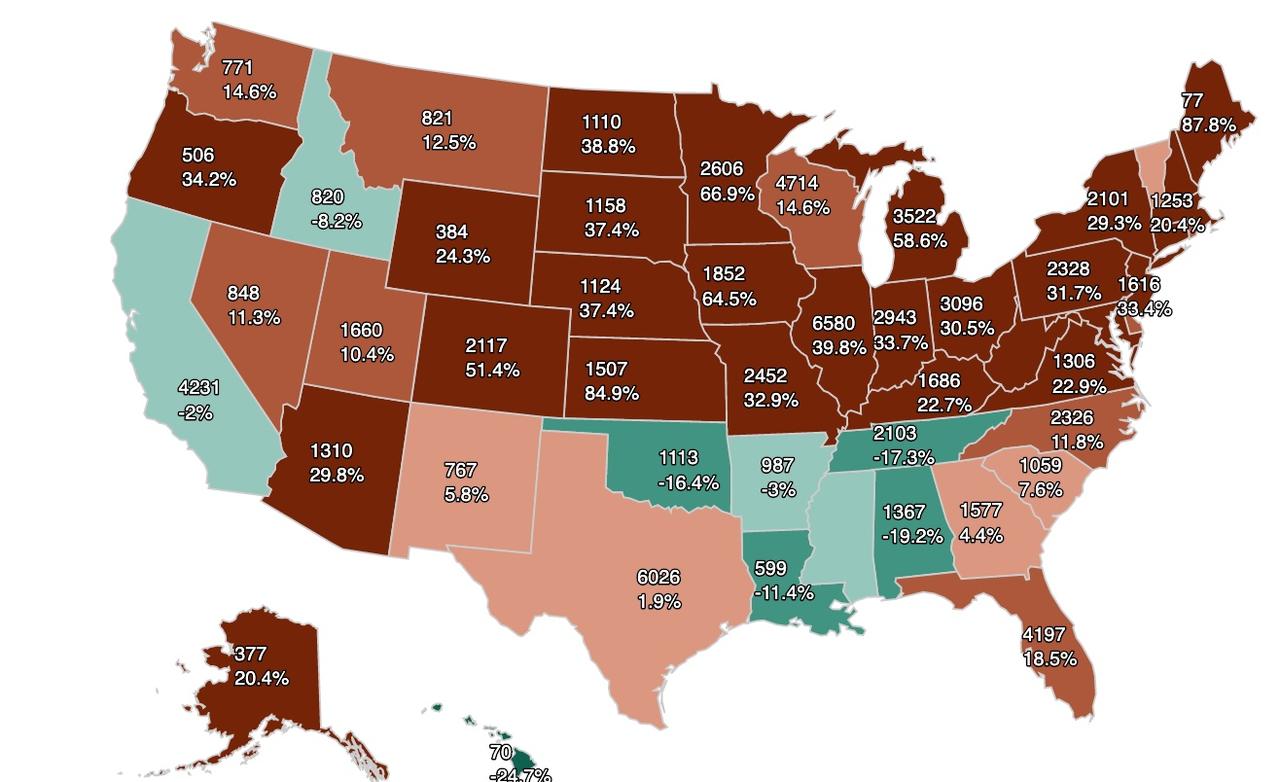 Source: mSightly
Here's some more COVID-19 news from overnight and Tuesday morning:
Spain and France reported new records on Monday with the former reporting 55k new cases and the latter 52k (Source: JHU).
South Korea's core consumer price index for October declined 0.3% year-on-year, marking the sharpest fall since September 1999, as the pandemic dampened domestic demand and a temporary government subsidy on mobile phone bills weighed on prices (Source: Nikkei).
Argentina will import 10 million doses of Russia's experimental COVID-19 vaccine between December and January, as infections continue to climb in the South American country (Source: Nikkei).
A gauge of the rate of increase in coronavirus infections in Germany has fallen in recent days, though it's too early to conclude that there has been a turning point, according to the RKI public health institute.
The curve looks to be flattening somewhat at the moment, but this has to be treated with a great deal of caution as a few days cannot provide concrete evidence of a change in the trend," RKI Vice President Lars Schaade said at a news conference in Berlin. The institute's virus reproduction factor, which last week climbed to as high as 1.45, was at 1.07 on Monday. A reading above 1 represents exponential growth (Source: Newswires).
Bulgaria also reported a record number of Covid-19 deaths. New cases in the Balkan country doubled last week. Prime Minister Boyko Borissov, himself recovering from the virus at home, said the government isn't planning a lockdown (Source: Bloomberg).