As if Nissan didn't have enough issues with its plunging sales, the company's source code for its North American mobile apps and internal tools has now leaked online.
The leak came as a result of the company misconfiguring one of its own Git servers – which Nissan inadvertently left exposed online with its default username and password, according to ZDnet. 
The server was left with a default username and password combo of admin/admin, ZDnet reported. Was Solarwinds123 already taken as a password?
Tillie Kottmann, a Swiss-based software engineer, learned about the leak from an anonymous source and analyzed the data on Monday. Kottmann told ZDnet that the leak included source codes for:
Nissan NA Mobile apps

some parts of the Nissan ASIST diagnostics tool

the Dealer Business Systems / Dealer Portal

Nissan internal core mobile library

Nissan/Infiniti NCAR/ICAR services

client acquisition and retention tools

sale / market research tools + data

various marketing tools

the vehicle logistics portal

vehicle connected services / Nissan connect things

and various other backends and internal tools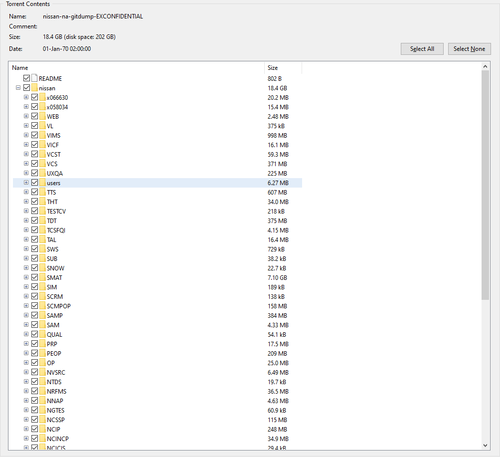 A rep for Nissan said: "We are aware of a claim regarding a reported improper disclosure of Nissan's confidential information and source code. We take this type of matter seriously and are conducting an investigation."
RELEASE: Nissan North America Source Code Dump

A COMPLETE dump of all git repositories from Nissan NA, most notably including sources for:
– the Nissan NA Mobile apps
– some parts of the ASIST diagnostics tool
– the Dealer Business Systems / Dealer Portal
(1/n) pic.twitter.com/ltDvg9blTB

— tillie, doer of crime 💛🤍💜🖤 (@antiproprietary) January 4, 2021