Nikola shares plunged more than 10% pre-market after an order for 2,500 garbage trucks it previously had in place with Republic Services was canceled. The stock had previously rallied to $44 on news of the announcement back in August of this year. This morning, the stock was trading as low as 14%, a 12% drop.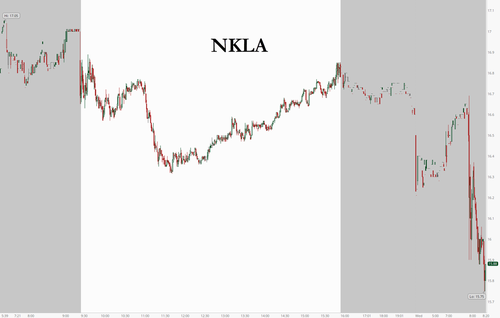 "The electric vehicle maker said it has discontinued its collaboration with Republic Services Inc," MarketWatch wrote on Wednesday morning.
A joint statement between the two companies said: "After considerable collaboration and review, both companies determined that the combination of the various new technologies and design concepts would result in longer than expected development time, and unexpected costs. As a result, the program is being terminated resulting in the cancellation of the previously announced vehicle order."
"The goal of the collaboration was to design and build an industry-first fully integrated refuse truck based on a zero-emissions battery-electric drive platform and body while also integrating multiple new systems into a new state-of-the-art vehicle," Nikola said in its release.
But new Nikola CEO Mark Russell called the termination of the deal "the right decision":
"This was the right decision for both companies given the resources and investments required," said Nikola CEO Mark Russell. "We support and respect Republic Services' commitment to achieving environmentally responsible, sustainable solutions for their customers. Nikola remains laser-focused on delivering on our battery-electric and fuel-cell electric commercial truck programs, and the energy infrastructure to support them."
And so, the Nikola Garbage Truck goes the way of the Nikola Badger; neither existed to begin with, and neither may ever exist. 
it's all downhill from here https://t.co/rDnwgptiKo

— Barbarian Capital (@BarbarianCap) December 23, 2020
NIKOLA AND REPUBLIC SERVICES END COLLABORATION ON REFUSE TRUCK

R.I.P. Nikola Refuse Truck
(Never existed – Dec. 2020)

— Quoth the Raven (@QTRResearch) December 23, 2020
LOL, I guess that decided they won't be part of $NKLA 's garbage ->$NKLA announced that $NKLA and $RSG have discontinued their collaboration on refuse truck development.

— Option Millionaires (@OMillionaires) December 23, 2020