Gov. Gavin Newsom signed a legislative package aimed at reducing homelessness by expanding mental and behavioral health services during a Sept. 29 press conference in Los Angeles.
Newsom was joined alongside Los Angeles Mayor Eric Garcetti, Los Angeles County Board of Supervisors Chair Hilda Solis, and California Health and Human Services Secretary Dr. Mark Ghaly during the press conference held at an acute board and care home where the homeless population surrounded the outdoor area.
"We can't nibble around the edges of the homelessness crisis, we need to implement bold, transformative solutions—investing more money than ever before to get folks off the streets and provide the mental health and other services they need to stay off the streets," Newsom said during the Sept. 29 press conference.
"Today's legislation, along with our overall $22 billion housing affordability and homelessness package, will move the needle on creating more housing for the homeless and will allow us to tackle the homelessness crisis in ways California has never done."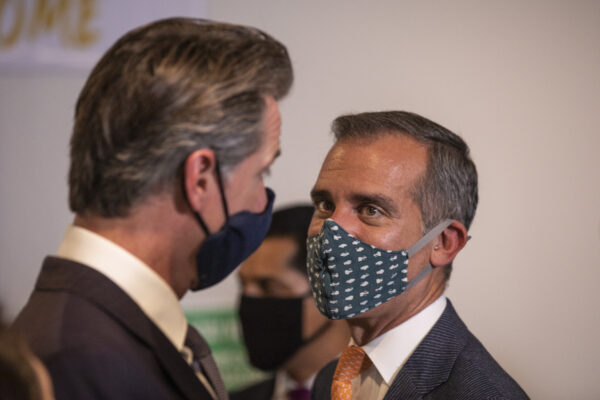 According to Solis, a 2020 Greater Los Angeles Homeless Count reported about 14,000 unhoused residents were living with a mental illness with over 5,000 having developmental disabilities, 15,000 struggling with substance abuse, and 11,000 having physical disabilities.
The Epoch Times asked Newsom how the state planned on reaching the homeless who do not want to receive behavioral health services. The governor stated there are enforcement mechanisms for those who refuse help—generally board and care facilities and jail.
"It goes to the fundamental issue of individual liberties, which is at the heart of those issues," Newsom said. "Those that do refuse these services, there are a lot of well-established mechanisms in place to support those folk."
Ghaly told The Epoch Times the legislation signed offers solutions to vulnerable homeless individuals in the state.
"These bills, this budget, everything where the train is moving in California is to build up the resources to be able to have meaningful answers to people who are suffering and dying on the streets," he said.
The legislation signed off by Newsom is part of a $22 billion investment to tackle homelessness with 84,000 affordable homes and 44,000 housing units with treatment beds.
Newsom signed the following Assembly Bills to address the state's homelessness crisis:
AB 27—to identify homeless children and youth enrolled at each school through the usage of a housing questionnaire
AB 362—the requirement of shelter inspection when violation complaints are received from occupants
AB 816—holding the Department of Housing and Community Development reliable for prioritizing funding for projects
AB 1443—the authorization of training for mental health involuntary treatment
AB 977—homelessness program information system
SB 400—homelessness reporting, training, and collaboration with youth
In the past three years, the state has dedicated over $2.4 billion to homelessness programs, such as Project Roomkey. While the Governor acknowledged these programs, he stated the need to tackle the crisis takes years until results are noticeable.