The U.S. Capitol building was stormed by an angry pro-Trump mob on Jan. 6. Overall, five people died as a result of the riot – one woman shot as she tried to break into a room of lawmakers, three people who died of medical emergencies in the crowd and one Capitol Police Officer who later died due to head injuries sustained from an attack by a rioter.
The attack occurred during the early moments of Congress counting all electoral votes in a largely ceremonious declaration of President-elect Biden as the incoming successor to Trump. Continued claims of election fraud from Trump over the last two months, parroted by a minority of Republicans in the House and Senate, led to a few lawmakers objecting to certain swing states' electoral votes.
At times during the attack, Capitol Police either nonchalantly allowed rioters to get closer to the Capitol or outright encouraged the mob to gather right at its doors and windows. Several videos show sections of police using little or no force in stopping the mob, with some standing to take selfies. Three of the four Capitol Police Board members have since resigned.
According to a recent YouGov survey, while a majority of Americans oppose the violent attack on the U.S. Capitol, 45 percent of Republicans say they're in support of the riot and believe it's justified. That's roughly 33 million voters across the country…
You will find more infographics at Statista
As YouGov notes, the partisan difference in support could be down to differing perceptions of the nature of the protests.
While 59% of voters who are aware of the events at the Capitol perceive them as being more violent than more peaceful (28%), the opposite is true of Republicans. By 58% to 22%, Republicans see the goings on as more peaceful than more violent.
Democrats are swiftly moving to draft articles of impeachment against Trump before his term ends in less than two weeks. The party is also hoping to implement the 25th amendment, which would have two-thirds of Congress vote to remove Trump from office and install Vice President Pence for the remainder of the term. Both appear unlikely to gain enough Republican support, but huge cracks within the GOP are emerging following the Capitol attack as anger builds across both parties.
Those on both sides of the dispute are at odds in their descriptions of those currently occupying the US Capitol.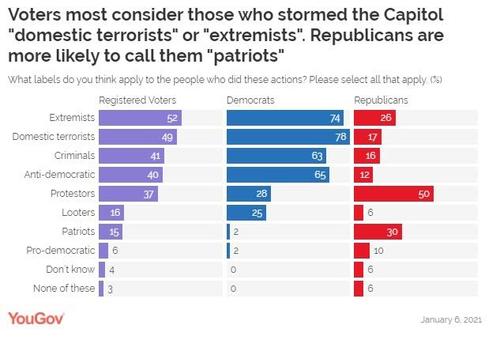 About half (52%) of voters agree with the "extremist" label, the most commonly selected of all the terms we put to respondents (but the split between Republicans and Democrats is vast). Nearly as many (49%) think "domestic terrorists" is an appropriate title, and 41% consider them "criminals."