Authored by Tom Ozimek via The Epoch Times,
The North Atlantic Treaty Organization (NATO) scrambled its fighter jets over 400 times in Europe in 2020, chiefly to intercept approaching Russian military planes, the defense alliance said Monday.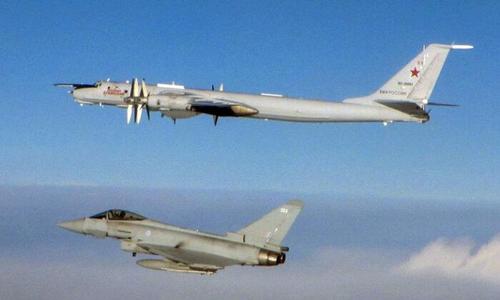 Around 350 of these missions were in response to Russian military aircraft, NATO said in a statement. While this represents a "moderate" increase compared to 2019, it comes amid Russia's growing military activity near the NATO perimeter.
"In recent years, we have seen an increased level of Russian military air activity close to the alliance's borders," NATO spokesperson Oana Lungescu said in a statement.
One of the potential dangers posed by unannounced Russian military aircraft is to passenger planes flying in their vicinity.
"Russian military aircraft often do not transmit a transponder code indicating their position and altitude, do not file a flight plan, or do not communicate with air traffic controllers, posing a potential risk to civilian airliners," the alliance said in a statement.
NATO maintains about 40 air surveillance radars and reporting hubs in Europe, with some 60 jets on duty at all times to respond to aircraft flouting international flying rules or in distress. The alliance scrambles its jets in response to airborne intruders and to civilian planes that lose contact with air-traffic control, for reasons such as technical problems or hijackings.
"We are always vigilant," Lungescu said.

"NATO fighter jets are on duty around the clock, ready to scramble in case of suspicious or unannounced flights near the airspace of our allies. Air policing is an important way in which NATO provides security for our members."
The alliance, made up of 30 member countries, operates on the basis of a system of mutual defense, where an attack on one country is met with a joint response. Another 20 countries, including Russia and a number of former Soviet Union republics, are members of the NATO Partnership for Peace program, which seeks to create trust between participating states through military-to-military cooperation on a number of fronts, including training and disaster response.
NATO Secretary General Jens Stoltenberg, at a session at the World Economic Forum last year exploring the future of the intergovernmental military alliance, spoke of "a Russia which is much more assertive, responsible for aggressive actions from the Kerch Strait to the streets of Salisbury using their agent there."
Stoltenberg was referring to an incident in 2018 in the UK involving the poisoning of a former Russian spy and his daughter by suspected Russian military intelligence officers using the deadly Novichok nerve agent. Russia denied any role in the incident, which sparked a crisis between the two countries and led to the expulsion of 23 known Russian intelligence officers operating under diplomatic cover in Britain.
"NATO's role is today, fundamentally, the same as it was back in 1949," Stoltenberg said at the time. "And that is that we protect and defend each other. That we really believe that we are safer together than apart."