Update (1609 ET): Hitting the wires Sunday afternoon is a report that Rutherford and Wilson Counties' deputies are investigating a white box truck, parked on Highway 231 South near Cedars of Lebanon State Park, Tennessee, which reportedly played a similar audio recording to the recreational vehicle that exploded in Nashville, according to News Channel 5.
Deputies have closed down the highway and have sent a bomb squad robot to investigate. 
***ROAD CLOSURE***

Highway 231 South from the Cedars of Lebanon State Park to Richmond Shop road is currently shut down due to a suspicious vehicle. Please avoid the area and seek an alternate route. We will post updates as more information comes in.

— Wilson Co Sheriff (@wilsonsheriff) December 27, 2020
WATCH LIVE: THP, FBI and Wilson County deputies are investigating a white box truck on Murfreesboro Rd in Lebanon. https://t.co/KwHuVQvQFa https://t.co/bWLUPUq11V

— WSMV News4 Nashville (@WSMV) December 27, 2020
* * *
Metro Nashville Police have confirmed 63-year-old Anthony Q. Warner is a suspect in connection with the Downtown Nashville bombing on Christmas Day. 
Federal agents raided Warner's home on Saturday afternoon. Several neighbors told WaPo that a recreational vehicle, similar to the one that exploded Friday morning, was parked in his backyard for months. 
On Saturday, we quoted CBS' David Begnaud as saying, "one theory investigators are looking at, regarding the Nashville Christmas Day explosion, is the possibility that AT&T may have been the target or some other building or infrastructure in the area of the explosion." 
By late Saturday, local news WSMV News4 reported that "FBI agents spent the days at another location today besides searching the home of Anthony Warner, pursuing tips that he was paranoid about 5g spying on Americans."
During an interview on CBS News' "Face the Nation" on Sunday morning, Nashville Mayor John Cooper said the bombing location suggests Warner intended to attack the AT&T building. He said the city is rushing to protect critical infrastructure in the wake of the attack.
"Those of us in Nashville realize that on Second Avenue, there is a big AT&T facility and the truck was parked adjacent to this large, historic AT&T facility, which happens to be in downtown Nashville," Cooper told CBS. "And to all of us locally, it feels like there has to be some connection with the AT&T facility and the site of the bombing."
He also said that it's "a bit of just local insight in because it's got to have something to do with the infrastructure."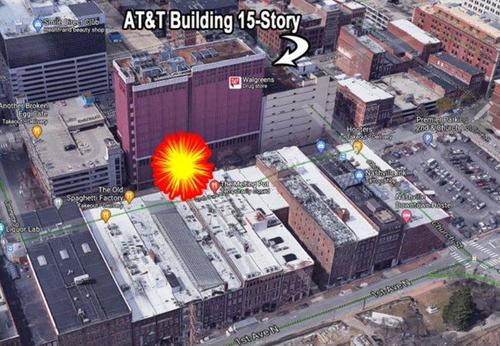 Besides Warner's home, federal agents visited a real estate agency office where he worked on computers. 
According to The Tennessean, Steve Fridrich, owner of Fridrich & Clark Realty in Nashville, said Warner provided his firm with computer consulting services for the last four or five years.
Last month, Warner wrote an email to the realty company that he would no longer be working for them. Fridrich said Warner gave no reason. 
"He seemed very personable to us – this is quite out of character I think," Fridrich told the newspaper.
Nashville Police are expected to hold a press conference around 1700 ET. 
JUST IN: @MNPDNashville has called news conference for 4PM to provide update on investigation into downtown Nashville bombing. Stay with @WKRN for coverage!

— Josh Breslow (@JoshBreslowWKRN) December 27, 2020