By Tyler Durden
The hits just keep on coming for movie theaters. With their businesses already thrashed by Covid, theaters are now having to deal with the threat of movies going "straight to streaming" and bypassing the box office altogether.
Disney, for example, said that its Disney+ service would have 100 new titles per year and that 80% of these would bypass the box office.
Which means that theaters like AMC are going to be in a precarious position heading into 2021 regardless of what happens with the pandemic. There are currently 40,449 movie screens in the U.S., according to a new Bloomberg op-ed – a massive supply that will likely have to narrow in size even as people eventually start to trickle back to theaters.
Even prior to the pandemic, box offices were struggling mightily. Box office sales adjusted for inflation have plunged over the last several years.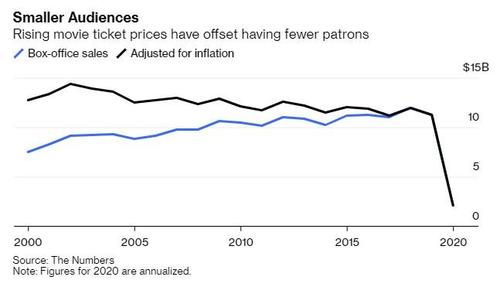 And post-pandemic, it's going to take theaters months – if not years – to get back to the occupancy they had prior to Covid. Some who used to go to movies simply won't go anymore, not only as a product of the pandemic, but also due to increased options in streaming. It simply won't be necessary anymore.
Recall, it was just days ago we wrote about Warning Bros. deciding it was going to snub studios in favor of streaming services. We called it "a move that is almost certainly going to set off a devastating chain reaction for what's left of the movie theater industry" when Warner Bros. decided it is going to release its major movies next year in theaters and on HBO Max at the same time.
Included in its list of films for next year will be major features, like the next installment of The Matrix series and DC Comics movie The Suicide Squad, according to Bloomberg.
Theaters used to have exclusive rights to films for up to three months, the report notes. But now, with most theaters either shut down or barren, studios are starting to shift their business models to protect the money they've invested in major films. Ticket sales are down 78% this year to $2.2 billion, according to Comscore.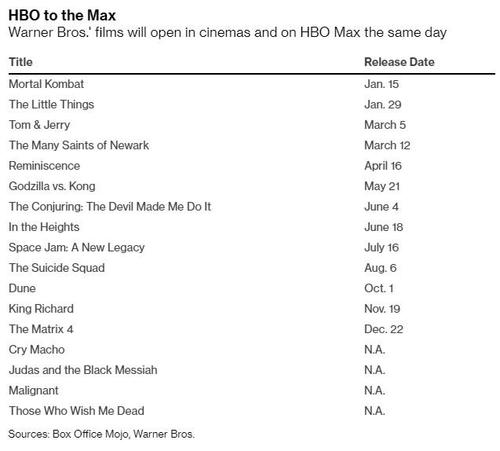 Ann Sarnoff, chief executive officer of WarnerMedia Studios, said:
We know new content is the lifeblood of theatrical exhibition. But we have to balance this with the reality that most theaters in the U.S. will likely operate at reduced capacity throughout 2021.
In addition to gouging theaters, the new model could increase signups to HBO Max, which is owned by AT&T. HBO Max is competing with well-known streaming services, like Disney+ and Netflix.
Theaters have experimented with studios in trying to change their business model to adapt as well. Several movie chains entered into agreements with Universal this year to narrow the time between movies hitting the theater and when it can be sold online. But we'll be surprised if theaters are able to do enough to offset what appears to just be the beginning of a dramatic shift that will pull new films out from their grasp heading into 2021.
And once the shift to streaming starts – despite whether or not we have a vaccine that works – we can't help but think that there's likely no chance that studios turn back to their legacy business models. 
Image: Pixabay
Subscribe to Activist Post for truth, peace, and freedom news. Send resources to the front lines of peace and freedom HERE! Follow us on SoMee, HIVE, Parler, Flote, Minds, MeWe and Twitter.
Provide, Protect and Profit from what's coming! Get a free issue of Counter Markets today.