Another week, another all time low mortgage rate.
With 2020 now almost over, we can calculate how many times the benchmark 30Y fixed mortgage has hit record lows this past year. And according to the latest weekly update from Freddie Mac which showed that the 30Y FRM dropped another 1 basis point to a fresh-all time low 2.66%, we can now declare that in 2020 the 30Y mortgage hit a record low on 16 weekly occasions… which is also a record.
The chart below explains all you need to know, showing the 30Y mortgage yield plunging by half from 5.0% in late 2018 to its current level just above 2.50%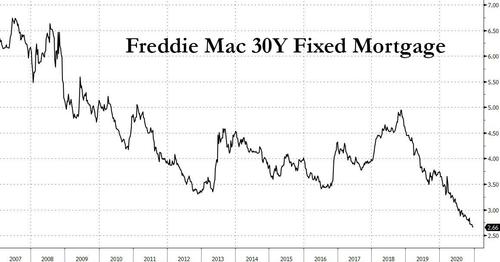 The plunge in borrowing costs helped fuel a new housing bubble that has helped boost the broader economy during the pandemic (see "Visualizing The U.S. Housing Frenzy In 34 Charts"). Lower rates, combined with an exodus from big cities to ride out the pandemic, have pushed buyers into the market. Current owners have also been able to save money by refinancing their loans.
A low inventory of homes to buy, combined with the surging demand, has driven up prices. That's raised concerns that the housing boom will run out of steam, particularly if rates start to tick up. Meanwhile, with the economy sliding into a double dip the real estate market has cooled off a bit in November amid surging coronavirus cases, and with Congressional unable to pass a fiscal stimulus bill there is concern about how long the rally can last.
The latest housing data suggested weakness dead ahead: new-home sales tumbled to a five-month low in November, dropping 11% in a sign the market is cooling off as coronavirus cases surge, while existing homes were also down last month, slipping for the first time in six months. That came as the median selling price jumped 14.6%, the fourth straight month of double-digit increases.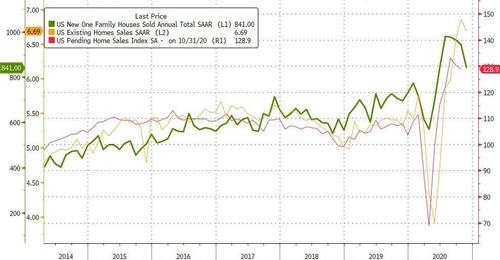 "The housing market is poised to finish the year strong as low mortgage rates continue to fuel homebuyer demand," said Sam Khater, chief economist at Freddie Mac. "Moving into 2021, we expect rates to hold steady but the key driver in the near term will be the trajectory of the Covid-19 pandemic and the execution of the vaccine."