Tesla is once again moving higher on Wednesday morning, up about 5% in pre-market trading on the heels of yet another sell side analyst upgrade.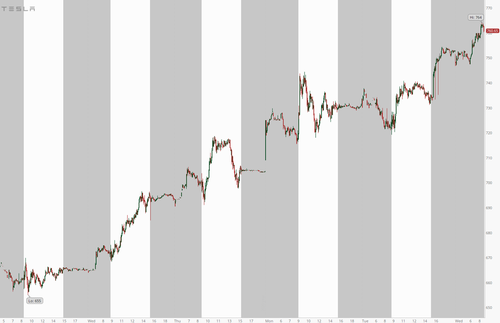 Not one to be outdone by a gamma squeeze, Morgan Stanley's Adam Jonas continued his saga of making up reasons to adjust his Tesla price target to try and explain trading in the name that is obviously so far beyond the realm of reality, it's getting tough to even make up reasons for it. 
That didn't stop Jonas from raising his Tesla price target from $540 to $810 (this would have been Jonas putting a $4,040 price target on the name pre-split) on Tuesday after the market close. His reasoning? He called Tesla "The Chosen One" and said the company is "industrializing the internet of cars". 
He also offered up one of his patented wide-open price ranges for Tesla's share price. He says his bear case if $399 and his bull case is now $1,232, leaving a modest gap of about $800 per share up in the air. This would be a pre-split gap of $4000 per share. 

Failing to mention that most other automakers have similar over the air technology now – and that Tesla seems to have trouble with basics like making cars where the paint is all one color – Jonas pointed to "better than expected volume" and a "significant capital raise" as cornerstones of his new bull thesis. 
"We update our forecasts and LT assumptions following better than expected 4Q deliveries (61% YoY growth) and a $5bn cap raise. Raising 2030 volume to 5.2mm units (vs. 3.8mm) and taking the price target to $810. Tesla is richly valued for a reason," he wrote. 
Jonas also appears to us to admit he is chasing the market's price on Tesla: "While the range of outcomes is admittedly high, the market has 'chosen' to ascribe a higher level of discounted value to Tesla than that typically discounted for its peers." Back in the day, when a price got above where your valuation estimates were, it used to be called "overvalued". Now, such a term doesn't even seem to exist. 
Instead, we get: "…we believe Tesla's business model can unlock recurring mobility services revenue faster and more profitably than the competition. We struggle to find a more innovative company with the ability to execute against the high degree of difficulty inherent in sustainable transportation and energy at scale."
Reminder: this is the same guy who said Apple could provide "far more formidable competition than the established/legacy carmakers" about 2 weeks ago.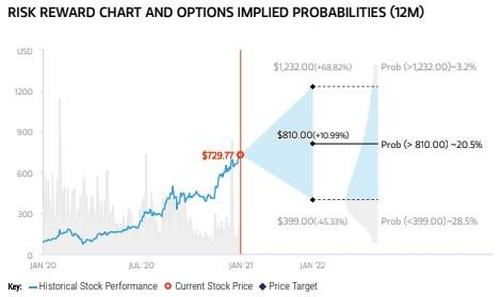 He notes that since his November upgrade, three things have changed. The first, he says is "better than expected volume" – despite the fact that Tesla barely tapped its full year delivery guidance (it came up 450 vehicles short). The second is a "significant capital raise" and the third is Tesla being added to the S&P 500 – neither of which have anything to do with the company's ability to profitably manufacture vehicles consistently. 
"Our $810 target implies approximately a 25x EV/EBITDA valuation on our 2025 forecast," Jonas, who re-adjusts his current year forecast what seems like daily, writes. 
He then offers this chart to visually explain his "analysis" to justify his price target increase.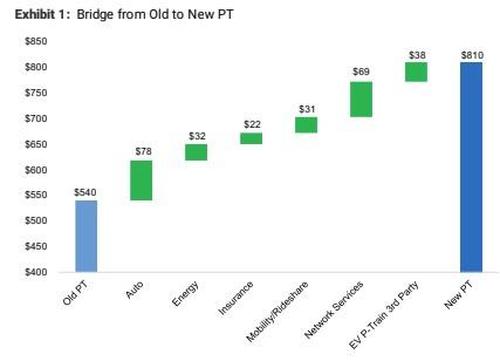 As we noted on Twitter Tuesday night, we're expecting a capital raise in about 2 to 7 days. 
This is what I found in just half an hour regarding $TSLA and $MS. @StanphylCap @TESLAcharts @Keubiko @montana_skeptic @fly4dat @GretaMusk @Paul91701736 pic.twitter.com/gNRPUn1KBq

— funwithnumberz (@funwithnumberz) January 6, 2021