In continuing efforts to make any future softening toward Iran all the more difficult for the incoming Biden administration, Secretary of State Mike Pompeo on Sunday night announced the US will designate Yemen's Houthi rebels as a foreign terrorist organization.
Officially named Ansarallah, he called the Shia group that's been locked in a grinding war with the Saudi-UAE-US backed coalition government "a deadly Iran-backed militia group" which has routinely conducted "terrorist acts, including cross-border attacks threatening civilian populations, infrastructure, and commercial shipping."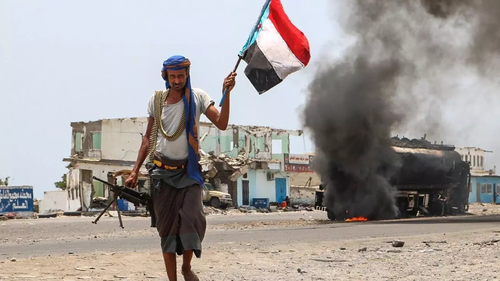 The war for Yemen has raged since at least 2015 and has seen civilian deaths mount into the many tens of thousands as the Saudi-US coalition has blanketed the country with airstrikes. The Houthis have simultaneously been known to mount ballistic missile attacks deep inside Saudi Arabia, which Washington has ultimately blamed on Iran, given it's believed the Houthis would otherwise have no access to such advanced weaponry.
"The designations are also intended to advance efforts to achieve a peaceful, sovereign, and united Yemen that is both free from Iranian interference and at peace with its neighbors," Pompeo announced in the statement. "Progress in addressing Yemen's instability can only be made when those responsible for obstructing peace are held accountable for their actions."
He indicated the State Department will soon notify congress, further to include the designation of three Houthi named leaders as Specially Designated Global Terrorists.
A number of pundits immediately recognized this as no doubt part of the White House's broader escalation with Iran.
Pretext for escalating conflict with Iran https://t.co/A25xEeBACQ

— Kevin Gosztola (@kgosztola) January 11, 2021
Late last year multiple reports said President Trump was actually mulling some kind of military action to ensure the Islamic Republic can't ever acquire a nuclear weapon, given Biden has vowed to restore the terms of the Joint Comprehensive Plan of Action nuclear deal (JCPOA).
The US has constantly accused Iran of using the Houthis as a proxy force to mount "terror attacks" while attempting a takeover of the country on Saudi Arabia's southern border. 
The irony is that prior to the 2015 war which saw the US jump in with the Saudis in waging war on the Houthis, US forces at times actually partnered with the Houthis in fighting al-Qaeda in Yemen. For example a report in The Wall Street Journal at the time noted, "The US has formed ties with Houthi rebels who seized control of Yemen's capital, White House officials and rebel commanders said, in the clearest indication of a shift in the US approach there as it seeks to maintain its fight against a key branch of al Qaeda."