One of the biggest hits to supply chains across the country hasn't just been business shut downs, but rather the residual effect of employees calling out sick.
In addition to calling out sick when employees have Covid-19 or similar symptoms, some employees have been calling out because they are still simply too fearful of returning to work. 
This was the case at Smithfield Foods, Bloomberg notes, where 50 of the company's 2,300 employees have still not returned to work. One worker told Businessweek: "We work so close together. It's like pulling teeth to find out if the person next to you tested positive."
And so while unemployment numbers have been in focus, people calling out sick or taking leaves of absence remain overlooked issues in the labor market.
Even as unemployment numbers continue to look slightly better, the rate of absenteeism is near record highs. More than 1.9 million people in December alone missed work due to illness, the report notes, nearly matching the 2 million person record set in April, during the early days of the pandemic. The absenteeism rate at major corporations has been averaging about 10% over the last 2 months, the report notes. Some corporations have seen numbers as high as 25%.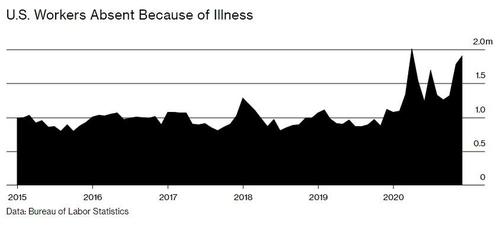 Absent workers are making it difficult for supply chains at businesses like Smithfield to continue uninterrupted. Overall, they're contributing to a slower economic recovery. The problem got so bad at General Motors that the company even had to put some of its white collar workers on the production floor in August. 
"Vaccinations could start driving down absenteeism by the second quarter," predicts Michael Gapen, chief U.S. economist at Barclays. Until such time, however, he says that continued absenteeism "could lead to shortages, it could lead to higher prices and more restrained output."
Major corporations like Clorox and Kellogg are now fighting to get their employees to the front of the line for vaccinations, as a result. 
Timothy Fiore, chair of ISM's Manufacturing Business Survey Committee, said on January 5: "The quantity of infections and the quantity of people who are having to self-quarantine or be sick is just so overwhelming that everybody has to be affected by it."
Geoff Freeman, chief executive officer of the CBA, concluded: "The challenge in keeping lines up and running, the challenge in continuing to meet the extraordinary demand that's out there is absolutely enormous—and our companies are feeling it. There are instances of having to shut down lines at various points in time in order to manage the absenteeism."