Last week, just after Bitcoin's first modest correction since the start of its March rally which prompted an amusing twitter meltdown by Nouriel Roubini, we reported that one of the world's biggest fixed income asset managers, Guggenheim Partners, jumped on the bitcoin bandwagon when it announced that it was reserving the right for its $5.3 billion Macro Opportunities Fund to invest in the Grayscale Bitcoin Trust whose shares are solely invested in Bitcoin, and track the digital asset's price less fees and expenses.
Guggenheim's (partial) embrace of Bitcoin following PayPal's announcement a few weeks later that it had enabled crypto transactions for all its clients, sparking the latest leg higher in bitcoin. It also came following glowing endorsement from legendary investors such as Paul Tudor Jones and Stan Druckenmiller, and in the aftermath of Jack Dorsey's "other" company, Square, which said in October that it bought 4,709 bitcoins, worth approximately $50 million, about 1% of Square's total assets.
"Square believes that cryptocurrency is an instrument of economic empowerment and provides a way for the world to participate in a global monetary system, which aligns with the company's purpose," the company said in a release. Square founder Jack Dorsey, whose twitter bio only includes the hashtag #bitcoin…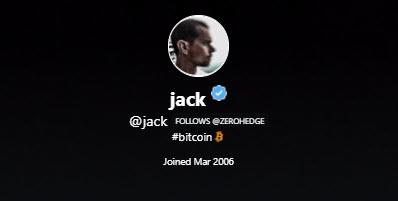 … has been a advocate of the digital currency, saying in 2018 the cryptocurrency will eventually become the world's "single currency." However the founder of Twitter said it could take a long as a decade.
Perhaps… but for others the payback from investing in bitcoin has come far sooner, most recently the publicly traded business-intel firm, MicroStrategy, which on August 11 sent a shockwave around the globe when it announced it had poured all $250 million of its planned inflation-hedging funds into the digital currency.
Not content with the 100% return its stock has generated since then, on Friday MicroStrategy announced that it has bought even more Bitcoin.
In an 8-K, the company announced that it had purchased "approximately 2,574 bitcoins for $50.0 million at an average price of approximately $19,427 per bitcoin." As a result, as of December 4, 2020, the Company held approximately 40,824 bitcoins that were acquired at an aggregate purchase price of $475.0 million. Microstrategy CEO Michael Saylor confirmed as much in a subsequent tweet:
MicroStrategy has purchased approximately 2,574 bitcoins for $50.0 million in cash in accordance with its Treasury Reserve Policy, at an average price of approximately $19,427 per bitcoin. We now hold approximately 40,824 bitcoins.https://t.co/nwZcM9zAXZ

— Michael Saylor (@michael_saylor) December 4, 2020
And since the current market value of the company's bitcoin holdings is currently $770 million, or a 60% return in just a few months, one can see why the stock price of MSTR is up 165% since the day it announced its first Bitcoin purchase.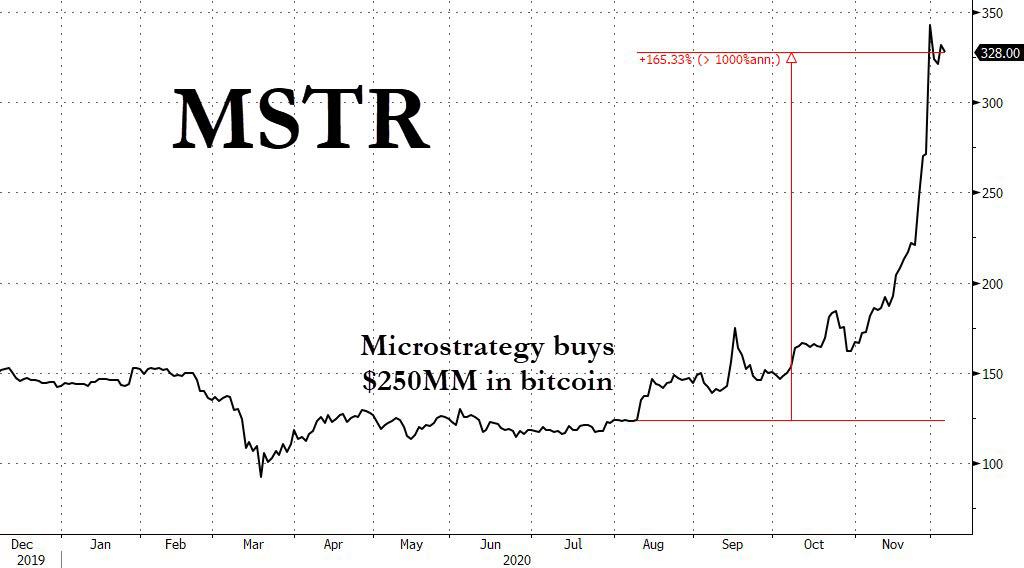 In September, Saylor told Bloomberg that the purchase were being done because he sees the cryptocurrency as less risky than cash or gold. On Monday, Bitcoin surpassed its December 2017 record high of $19,511, and even though it neared $20,000 it wasn't able to crack that key level, and after peaking at $19,914 has bounced around mostly in a range between $18,500 to $19,500 since.
This brings us to a question we asked last weekend: "whereas in 2017 it was all the rage to pivot to "blockchain", we wonder how long before every public company converts some (or all) of its cash and equivalents into bitcoin similar to MicrosStrategy and Square, in hopes of reaping a quick surge in its stock price" (we wonder how much of MSTR's bitcoin purchase just a few days later was prompted by this rhetorical question).
If it's up to Saylor, we wouldn't have long to wait: as the CEO tweeted earlier today "If you don't fantasize about flaunting it, floating in it, flying in it, frolicking with it, fortifying it, or fighting over it, you should probably play it safe and just buy #Bitcoin."
If you don't fantasize about flaunting it, floating in it, flying in it, frolicking with it, fortifying it, or fighting over it, you should probably play it safe and just buy #Bitcoin.

— Michael Saylor (@michael_saylor) December 5, 2020