The late 'King of Pop' Michael Jackson's iconic (but more recently notorious and infamous) 2,700 acre Neverland Ranch has sold for $22 million after it initially listed in 2015 for $100 million. 
According to the Wall Street Journal this week, public records reveal it's been bought by former Jackson business associate and billionaire Ron Burkle. Jackson died in 2009 at the age of 50 officially of acute propofol and benzodiazepine intoxication, the dangerous hospital-grade drug cocktail he would use to be put to sleep by his doctor, who was later convicted of involuntary manslaughter over the death.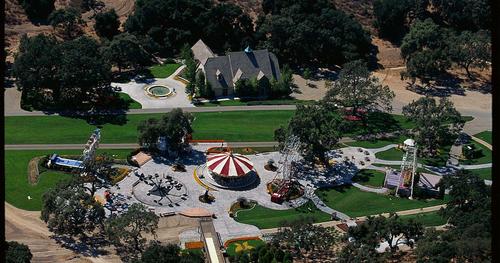 Neverland Ranch for years induced awe and curiosity among the public as it not only had its own amusement park complete with Ferris wheel, a merry-go-round, and railroad, but a small zoo as well. It also had its own staff. Modeled as a fantasyland and replete with children's toys, all based on "Peter Pan", Jackson purchased it in 1987 for an estimated $19.5 million.
The WSJ noted that the ranch has gone through a series of price drops over the past years. No doubt this is likely due its being associated with multiple child molestation allegations and scandals centered on Jackson during the last decade of his life: 
"The property, located about 40 miles from Santa Barbara, had been on and off the market for years, first listing for $100 million in 2015 and undergoing several price cuts. It was listed for $31 million last year, The Wall Street Journal reported.

Mr. Jackson's estate co-owned the ranch with a fund managed by Colony Capital , a real-estate investment trust. Amid financial struggles, Mr. Jackson had defaulted on a loan backed by the ranch and Colony bought the note in 2008, putting the property's title into a joint venture it formed with the pop star."
Neverland Ranch was first raided and searched extensively by police related to the 2005 People vs. Jackson trial, in which he'd been accused of molesting a 13-year old boy in 2003. Though he was acquitted in that case he later settled for a massive sum in another case, and possibly when other accusers came forward as well.
The 2003 documentary Living with Michael Jackson is what triggered authorities to take a closer look at the multiple allegations then surfacing, which included scandalous footage of Jackson holding a teenage boy close while they clasped hands.
EXCLUSIVE: Ron Burkle, a onetime associate of Michael Jackson and co-founder of Yucaipa Cos., has bought the late pop star's onetime Neverland Ranch for $22 million. https://t.co/ej2fvxntJK via @WSJ

— Katherine Clarke (@KathyClarkeNYC) December 24, 2020
After this and subsequent allegations he had molested children at the ranch, and with widespread attention paid to the scenario of him using the enticing fantasy world environment to lure unsuspecting families and their children there by personal invitation, he stopped living there altogether by the mid-2000s.
This was further driven home by the 2019 Netflix true crime documentary series Leaving Neverland in which Wade Robson and James Safechuck described years of sexual abuse in horrifying detail. Much of it took place on the ranch. Upon Jackson's death there were reports that his will bestowed the ranch to a family trust.