In the last five days, the US reported over one million new COVID-19 cases with total virus-related deaths swelling over 311k. The resurgence of coronavirus cases is now affecting meatpacking plants. 
According to Bloomberg, Cargill Inc. was forced to idle one of its plants in Canada after an employee tested positive. JBS, the world's top meat producer, told thousands of workers with high risk of exposure to stay home, while Sanderson Farms Inc. is experiencing high absenteeism at its plants.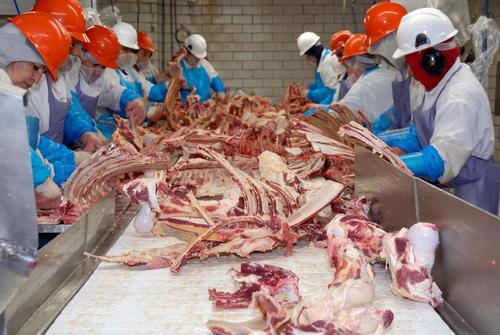 Jon Nash, head of protein for Cargill in North America, told Bloomberg that the meatpacking industry's supply chain meltdowns from earlier this year won't be seen this time around. He said the industry is "better prepared to handle the challenges. We know what we are dealing with."
"We know a lot more than we ever did and I think our food supply chain is resilient to the point we will be O.K," Nash said.
Cargill temporarily shuttered operations at its beef processing plant in Ontario due to "an abundance of caution as our local workforce deals with the community-wide impacts of Covid-19."
April Nelson, a spokeswoman for the company, said Cargill decided to shut down the plant because of community spreading in Guelph, a Southwestern Ontario city.
Since US cases, hospitalizations, and deaths began to accelerate in October, JBS made the call earlier this month to send 5k workers home. 
Joe Sanderson, CEO of Sanderson Farms, Inc., said workers are testing positive for the virus as cases soar in Texas, Mississippi, Georgia, the Carolinas, and Louisiana.
"We're still running and we're still running at our capacity, but there have been more instances of absentees now than we had all summer or back in the spring," Sanderson said at an earnings call Thursday. "It's becoming more of a challenge for us right now than it has been since this pandemic started."
Many of the meatpacking companies, such as Tyson Foods, have deployed technology to mitigate the virus's spread. 
Tyson deployed infection-tracking algorithms and a "surveillance testing" program to shield employees from a potential outbreak. 
This year, 50,000 meatpacking workers have tested positive with 260 virus-related deaths, according to data from the Food and Environment Reporting Network.
Production shortages sending meat prices sky-high aren't expected this time around as Cargill operates plants in the high 90% capacity range. 
With the US stumbling into a dark covid winter, the meat industry is pressuring the government to have its workers immediately vaccinated, though that may not happen for months. 
One way meatpacking plants of the future will avoid infections among employees is to completely automate the plants. The virus pandemic will expedite smart slaughterhouses.