Update (1257ET): According to the Washington Post, McConnell is done mulling – and has decided not to convene the Senate for an emergency trial.
NEWS —> McConnell's office called Schumer's people today + told them McConnell would not consent to reconvening immediately under the 2004 emergency authorities, a person familiar says. So the Senate won't reconvene Friday, or almost certainly before Jan. 19. Trial in Biden term

— Seung Min Kim (@seungminkim) January 13, 2021
*  *  *
Senate Majority Leader Mitch McConnell is mulling whether to launch a Friday impeachment trial for President Trump, as the US House of Representatives moved on Wednesday to vote on one article accusing Trump of "willfully inciting violence against the government of the United States" ahead of last week's 'riot' at the Capitol which left five people dead.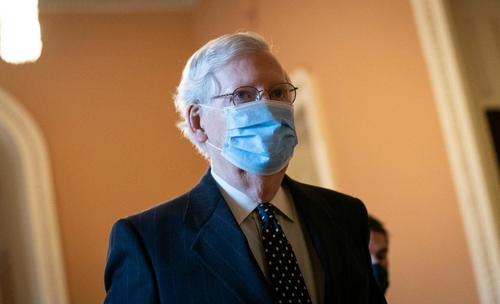 If the Senate votes to convict, Trump could be removed from office just days before his term is set to end, according to Reuters.
Under the U.S. Constitution, impeachment in the House would trigger a trial in the Senate on whether to oust the president. Republican Senate Majority Leader Mitch McConnell had previously suggested no trial could begin until the Senate was scheduled to be back in regular session on Jan. 19, only a day before Trump's term ends and Democratic President-elect Joe Biden is due to be sworn in.

Democrats, including Senate Minority Leader Chuck Schumer, have pressured McConnell to agree to bring the Senate back under emergency circumstances to take up Trump's impeachment before he leaves office. –Reuters
At least five Republicans said they would join Democrats in impeaching Trump – who would become the first president in history to be impeached twice.
They aren't impeaching Trump again as a punishment. They're doing it to send a message to anyone else outside the club who might get the idea they can run for president ever again.

— Jack Posobiec 🇺🇸 (@JackPosobiec) January 13, 2021
"The president of the United States instigated an attempted coup in this country," said Jim McGovern (D-MA), who didn't explain how exactly a guy in face-paint and horns was expected to seize control of the US government and overturn the election.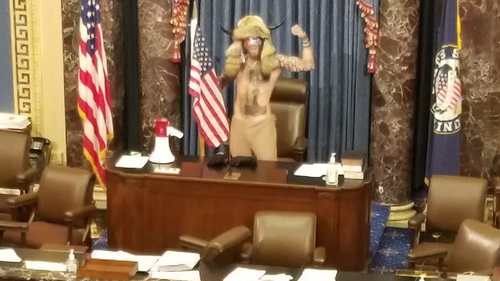 If Trump is impeached, it would require a two-thirds majority of the GOP-led Senate to convict, meaning at least 17 Republicans and every Democrat in the 100-member chamber would need to find him guilty.