On Saturday, disgruntled employees at an iPhone manufacturing plant in India ransacked the facility over unpaid wages.
At least 2,000 employees at the Narsapura plant of Wistron Corporation, a Taiwan-based company that manufactures devices for Apple, "went on a rampage destroying the company's furniture, assembly units and even attempted to set fire to vehicles," according to The Times of India.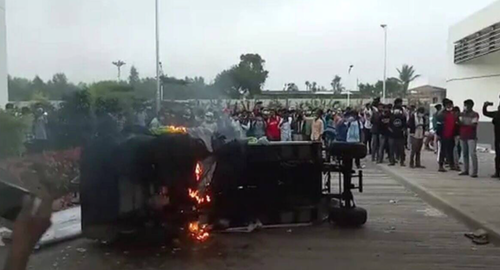 In the videos below, employees flipped vehicles at the plant, along with destroying everything in sight. 
#Apple #iPhone Manufacturing/assembly unit (Wistron) in #Kolar near #Bengaluru completely vandalized by employees. Over thousand employees were protesting against alleged salary dues/ under payments. pic.twitter.com/iJMNHWc9ey

— Hyderabad Post (@PostHyderabad) December 12, 2020
Karnataka: #Violence at iPhone production plant run by Taiwan-based #Wistron Corp at Narasapura (in Kolar district) near #Bengaluru.

Employees allege they have not been paid properly. pic.twitter.com/GKbeFeyRKc

— TOI Bengaluru (@TOIBengaluru) December 12, 2020
Alleging unpaid salaries, workers vandalize iPhone manufacturing unit near Bengaluru pic.twitter.com/pbW6xAwA0I

— The Indian Express (@IndianExpress) December 12, 2020
iPhone manufacturing unit vandalized near Bengaluru. Employees went on a rampage at Wistron Corporation's factory in Narsapura. They allege their salaries haven't been paid properly. pic.twitter.com/K2VQr5xU6I

— Harish Upadhya (@harishupadhya) December 12, 2020
Speaking to Indianexpress.com, Kolar Police Head Karthik Reddy said:
"The employees demanded the payment pending for a few months and met the Human Resources Department officials on Saturday." 
Wage problems had been festering at the plant for some time. Police said the incident on Saturday resulted in at least 80 arrests. 
It's still too early to tell if the riot has created any supply chain disruptions – considering Apple has moved at least a fifth of iPhone production from China to the country.