Since the world's first CCTV camera was installed in Germany in 1942, the number of surveillance cameras around the world has grown immensely. In fact, as Visual Capitalist's Avery Koop notes, it only took us 79 years to go from one camera to nearly one billion of these devices.
In the above interactive graphic, Surfshark maps out how prevalent CCTV surveillance cameras are in the world's 130 most populous cities.
Big Brother is Watching
So how many of us are being watched? China and India are the countries with the highest densities of CCTV surveillance cameras in urban areas. Chennai, India has 657 cameras per square kilometer, making it the number one city in the world in terms of surveillance.
Here's a closer look at the world's top 10 cities by CCTV density.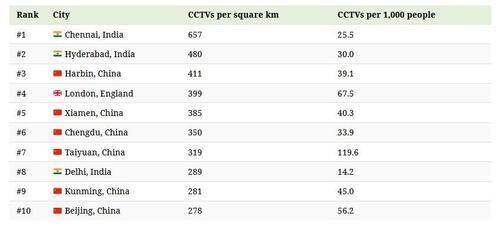 London is the only non-Asian city to crack the list with 399 CCTV cameras per square kilometer.
Beijing ranks in tenth place. The Chinese capital has the highest number of CCTV cameras in total, at just over 1.1 million installed in the city.
Although CCTV cameras have become extremely prevalent in cities around the world, this does not mean these cameras are seeing and recognizing our every move. In most instances, cameras are in a fixed position—and some of the more invasive aspects of CCTV, like accompanying facial recognition technology, are not universal yet.
The Need for CCTV
The ubiquity of surveillance cameras can be unnerving to some, as they represent diminishing privacy. However, there are also those that feel the presence of cameras creates added safety.
While governments like China's claim that having high amounts of surveillance cameras helps reduce crime, the actual data gets messy. For example, the Chinese city of Taiyuan has roughly 120 cameras per every thousand people and yet the city has a higher crime index than most.
Freedom vs. Security
As surveillance networks become more sophisticated and granular, there is increasing concern about breaches to personal freedoms.
China is doubling down with surveillance in its cities by pioneering the usage and exportation of facial recognition technology. This technology is integral to China's proposed social points system. With a database of 1.3 billion pictures that can be matched to a face on a CCTV camera in seconds, troublemaking citizens can easily be identified.
In India, on the other hand, the amount of cameras can be attributed to mass urbanization, rising crime, and scarcity of urban resources. Overall, there is a rising middle class that wishes to protect itself with the use of CCTV cameras.
As we close in on one billion CCTV surveillance cameras globally by the end of 2021, we will undoubtedly continue to be monitored well into the future.