As expected, given the dynamics of the pandemic driven exodus from New York City, Manhattan's rental market has witnessed another massive plunge in rents, falling to a ten-year low.
According to Bloomberg, citing a new report from appraiser Miller Samuel Inc. and brokerage Douglas Elliman Real Estate, the borough's median rental price plunged 22% in November from a year earlier to $2,743 a month.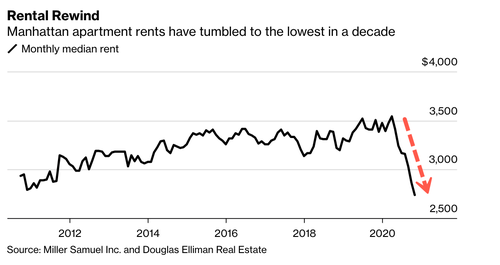 In a previous Douglas Elliman and Miller Samuel report, it was noted that more than 15,000 empty rental apartments were in Manhattan in August as the inventory of empty units hit 14-year highs. In October, the inventory was still above 15,000, with a vacancy rate around 6.14%, a record high. 
Downward pressure on rents is expected to continue well into the first quarter of 2021 as restaurant restrictions and nightlife have been muted by strict social distancing restrictions. Employers have yet to call back workers into offices as remote working pushes city dwellers out to the suburbs. 
"It's still going to take a good part of 2021 to see prices stabilize,"said Jonathan Miller, president of Miller Samuel. "It's really contingent on how quickly people begin to return to the office."
The surge in empty apartments was widespread across the borough. Landlords are becoming desperate, offering move-in incentives on 57% of all new Manhattan deals last month. 
So far, the incentives have worked. Newly signed leases soared 30% last month to 4,015 – the biggest November total in more than a decade, Miller said. But again, there's so much inventory that it hardly made a dent in supply. 
Other boroughs across the metro area in November saw rent declines as well, with landlords offering huge incentives. Brooklyn rents dropped 8.3% to a median of $2,619, while inventory rose to 4,134. In northwest Queens, including the waterfront neighborhood of Long Island City, rents plunged 21% to a median of $2,275.
The virus' effect on New York City has crushed the rental market if that is residential and or commercial – and it's not just in the US. 
Apartment prices in some of the world's wealthiest cities are starting to show the effects of an exodus out of crowded city areas to move to more spacious suburbs.