Despite Boris Johnson's insistence that the round of post-Brexit trade deal talks that wrapped up late last week would be the end of the line, finally, after more than three years of extremely tedious negotiations – first, to establish post-withdrawal 'transition' period/framework for future trade talks (the transition period officially ends Jan. 1), then to work out a trade deal governing the €500BN+ in annual bilateral trade between the UK and members of the EU27 – it appears BoJo and his colleagues in Brussels have enough strength left for one more go of it.
Despite the fact that another extension so close to the end will frustrate hardcore Brexiteers like Nigel Farage, as well as many of the millions of Britons who voted in favor of Brexit more than four years ago, the British prime minister and EU Commission President Ursula von der Leyen, the EU's un-elected bureaucrat-in-chief, have agreed to one more round of talks following a "useful" phone call on Sunday, their third in eight days. The two leaders reportedly agreed that it's worth "going the extra mile" despite the fact that little, if any, progress has been made on the three main stumbling blocks to a deal.
The extension follows German Chancellor Angela Merkel's exhortation that the two sides "should try everything to achieve a result". In a joint statement, the two sides acknowledged that "despite the fact that deadlines have been missed over and over we think it is responsible at this point to go the extra mile."
"We had a useful phone call this morning. We discussed the major unresolved topics. Our negotiating teams have been working day and night over recent days. And despite the exhaustion after almost a year of negotiations, despite the fact that deadlines have been missed over and over we think it is responsible at this point to go the extra mile. We have accordingly mandated our negotiators to continue the talks and to see whether an agreement can even at this late stage be reached."
But in an indication of just how desperate both London and Brussels are to find something, anything, to feed markets and the public that might inspire optimism, the FT quoted an anonymous senior official in the Belgian capital, who said only that talks were "not going backwards".
Already, Michel Barnier, the EU's chief negotiator, and his UK counterpart David Frost, met on Sunday to "evaluate" how the technical-level talks are progressing overnight. According to the FT, Saturday's negotiations focused on trying to accommodate the EU's demands for a mechanism to ensure the two sides maintain a regulatory "level playing field" so London can't undercut its European rivals with weaker environmental or labor standards (or worse, outright state subsidies).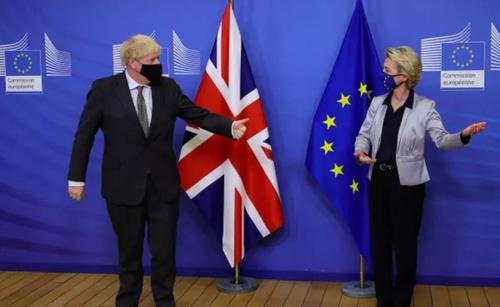 A litany of comments from senior officials on both sides included a lot of "blunt talk" from the Brits, and optimistic conjecture from the Europeans. Foreign Secretary Dominic Raab said that if the EU moderated its demands and treated the UK as a "self-respecting, independent" state, there would be "every reason to feel confident" that a deal could be reached, adding "We are not there yet."
European Council President Charles Michel on Sunday welcomed the agreement, but told France Inter Radio "We must do all we can for a deal to be made possible. We must support a good deal."
Speaking specifically about the EU's "level playing field" demands, Irish Prime Minister Micheal Martin said on Sunday that "the level playing field area is one that has bedeviled the talks from the outset. In my view, with some degree of creativity, a resolution can be found in that area," Martin told the BBC.
Even if French PM Emmanuel Macron can be persuaded to give a little on his demands for access to British fishing waters, with the deadline for the UK to finally leave the customs union and single market is fast approaching, more observers are perhaps beginning to realize that there's no magical compromise that can resolve these issues. Brussels' demands for a level playing field would effectively keep the UK tethered to EU rules. And that's a concession that Johnson and the hardcore Brexiteers simply can't stomach.
Following news of the extension, the FT accused the Tories of "magical thinking" in trying to pursue the carrot of market access without the stick of playing by at least some of Brussels' rules. As Camilla Cavendish writes, after all these years of negotiations, she and others thought the government in London might have something "up its sleeve" to help bolster the British economy and offer some kind of a buffer to the economic impact from the new trade barriers.
Though the Tories have dropped (or at least paused) their plans to override the "Irish backstop" (part of an international treaty), which seemed promising. But even that could be undone. The big question now is whether both sides are seriously seeking an agreement, or whether one, or both, is simply engaging in tiresome political theater to try and convince voters they did everything they could before the trading relationship between the two reverts to WTO terms when Britain's transition period – it has officially been "out" of the EU for almost a year now – ends on Jan. 1.