When, last week, we wrote about 56% of Americans stating they would be OK living in a "tiny home", this isn't what we had in mind.
But apparently, in L.A., being homeless has its perks. What better way for California to help get its budget crisis under control than to pay for minimalist structures, known as "tiny homes", to the total cost of $130,000 each, for its homeless. What was once an idea to house the homeless in "emergency shelters" has now – as things do in liberal states – turned into "expensive development projects with access roads, underground utilities and concrete foundations," according to the LA Times.
LA has opened one "village" and has planned five more. Mayor Eric Garcetti has championed the program as a way for the city to stop neglecting its homeless – an issue that was brought up in a recent federal lawsuit against the city.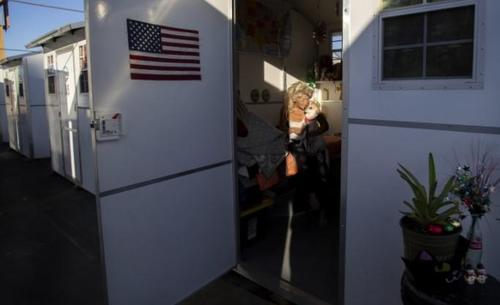 The total cost of the first village is now about $5.2 million. Additional projects that are set to open in April are "projected" to cost less, but we'll believe it when we see it. The city says for those villages, it expects to spend "at least $82,000 per shelter". The contract attracted only one bid, which came in more than $400,000 over expectations.
The "tiny homes" are about the same size as a backyard shed than can be purchased for "a few hundred dollars", the LA Times notes. They are about 8.5 feet by 7.5 feet and have two bunks each. Showers and bathroom facilities are in separate trailers. The trailers themselves cost about $8,600 each – but other costs included "$122,000 for underground utilities, $253,000 for concrete pads (one for each shelter), $312,000 for an administrative office and staff restroom, $1.1 million for mechanical, electrical and fire alarms and $280,000 for permits and fees."
Already, the homes are facing blowback for being too small. Shayla Myers, an attorney for the Legal Aid Foundation of Los Angeles, said: "It seems unimaginable to me that two adults with their own lives can share that space reasonably." We wonder if it had occurred to Shayla that people are free to get jobs and rent apartments that meet their living criteria, if they are inclined to do so.
Others rightly criticized the city's poor spending habits. Elizabeth A. Mitchell, an attorney representing the group, the LA Alliance for Human Rights, said: "It's such an example of why we're in this mess in Los Angeles. They do these massive projects that are so cost prohibitive, and they only provide beds for a few people while others are degrading in the streets."
Recall, last week, we noted that IPX 1031 recently did an extended analysis of the housing sector which is presented below, but here is a summary of what they found:
56% of Americans say they would live in a tiny home. 86% of first-time home buyers would consider a tiny home for their first home.
72% of home buyers would consider buying a tiny home as an investment property. 
Most appealing factors of tiny home living: 1. Affordability 2. Efficiency 3. Eco-friendliness 4. Minimalist lifestyle 5. The ability to downsize.
So how soon is it before everyone in America moves to L.A., quits their jobs, and lives their "tiny house" dream?