Summary:
LA County orders bars, restaurants to close
UK to suspend quarantine for holidays
Dr. Fauci says most Americans need to be vaccinated
Sen Loeffler receives conflicting test results
NY reports another 5,391 cases
More than 1 million ppl traveled through US airports Friday
US cases top 12 million
WH vaccine czar targets Dec. 11 for first shots
OWS head lays out vaccination timeline
US cases near records
Portugal imposes travel freeze
France outbreak slows
Greece sees back-to-back days of record deaths
* * *
Update (1900ET): One day after California reported the most new cases in a 24 hour period of any state in the union, LA County has just announced that, starting Wednesday at 2200PT, restaurants, bars, breweries and wineries and other establishments won't be allowed to serve food indoors or outdoors at their establishments. Starting Wednesday, restaurants will only be allowed to offer takeout, delivery and drive-thru. 
These restrictions come on top of the curfew and other restrictions imposed by Gov Newsom last week. Wineries and breweries can also continue their retail operations.
Public Health to Modify Health Officer Order to Restrict Dining at Restaurants, Breweries, Wineries and Bars Amid Surge in Cases. 5-Day Average of New Cases is 4,097. View https://t.co/SBU9B0eAy1 for more. pic.twitter.com/JqGl6h1kwn

— LA Public Health (@lapublichealth) November 22, 2020
"Wineries and breweries may continue their retail operations adhering to current protocols. In person dining will not be allowed, at minimum, for the next 3 weeks," the county's Department of Public Health said in a news release.
Although restaurants in NYC can still have a small number of customers in their dining rooms, LA County has become the biggest county in the country to order restaurants and bars to close completely with no on-site dining allowed. Officials warned earlier in the week that mroe restrictions would be enacted if the county's five-day average of new cases moved above 4,000. Sunday's five-day average was 4,097 cases.
The market reaction so far has been muted, but with NYC also on the verge of imposing similar restrictions after closing schools, investors likely won't be able to ignore it forever.
* * *
Update (1645ET): After facing considerable public pressure, British Prime Minister Boris Johnson and the leaders of the UK's constituent nations have decided to lift quarantine restrictions so families can travel to "red list" countries at Christmas. Restrictions will be slashed if holidaymakers test negative five days after returning, according to the Telegraph.
Additionally, the leaders of all four constituent nations have agreed to allow members of up to 4 households to mix for five days corresponding with the holidays between Christmas Eve and New Years.
The plan must be approved by Parliament; if so, Britons will be able to travel and visit relatives anywhere else in the country.
* * *
Update (1600ET): Following comments from OWS head on CNN's "State of the Union" earlier, Dr. Fauci said Sunday that he wouldn't hesitate to take an FDA-approved vaccine, and that herd immunity won't be possible unless enough people take the vaccine.
"They'll be able to say okay, on the basis of our determination and our advisory committee, this is the prioritization of people who will get it," he said, adding that if things go well, "and I think that they will," and the vaccines get the EUA which is expected, "we will have maybe 20 million people will be able to get vaccinated by the middle to the end of December and then as we get into January, February, even more," though Dr. Fauci said he didn't think life would go "back to normal" by May, pushing back against the optimism of Slaoui.
Dr. Fauci then said the government wants to be "very transparent" about the vaccine approval process to give people confidence because "we need to get as many people as possible vaccinated."
"If you have a highly efficacious vaccine, and only a relatively small 40, 50% of the people get vaccinated, you're not going to get the herd immunity you need," Fauci said. "What we do need is we need to get as many people as possible vaccinated."
Sen. Kelly Loeffler of Georgia said Sunday that she would be quarantining after receiving conflicting COVID test results. After initially testing negative, the Senator's office said her re-test was negative. She is one of two senators from Georgia who are running for re-election in a special election in January.
Her situation is reminiscent of a similar conflict reported by Tesla CEO Elon Musk.
* * *
Update (1420ET): NY reported another 5k+ new cases on Sunday, along with another 30 deaths.
Today's update on the numbers:

Of the 196,608 tests reported yesterday, 5,391 were positive (2.74% of total).

Total hospitalizations are at 2,562.

Sadly, there were 30 COVID fatalities yesterday. pic.twitter.com/eAMWvxYJwG

— Andrew Cuomo (@NYGovCuomo) November 22, 2020
The test positivity rate in the focus areas under NY's Micro-Cluster strategy is 4.39%.

The statewide positivity rate excluding these focus areas is 2.29%.

We continue to take strong action to respond to outbreaks and to stop the spread.

Mask Up.

— Andrew Cuomo (@NYGovCuomo) November 22, 2020
In NYC, the 7-day positivity rate remained above the 3% threshold.
* * *
As we reported last night, COVID-19 cases in the US surpassed 12 million, adding a million new cases in under a week, the fastest rate yet. Meanwhile, the pace of deaths has accelerated globally; on Friday, the world reported more than 11k new deaths in a single day, the highest daily number yet. In the US and Europe, deaths are finally creeping higher alongside hospitalizations as rising case numbers finally start to translate to more serious cases as well.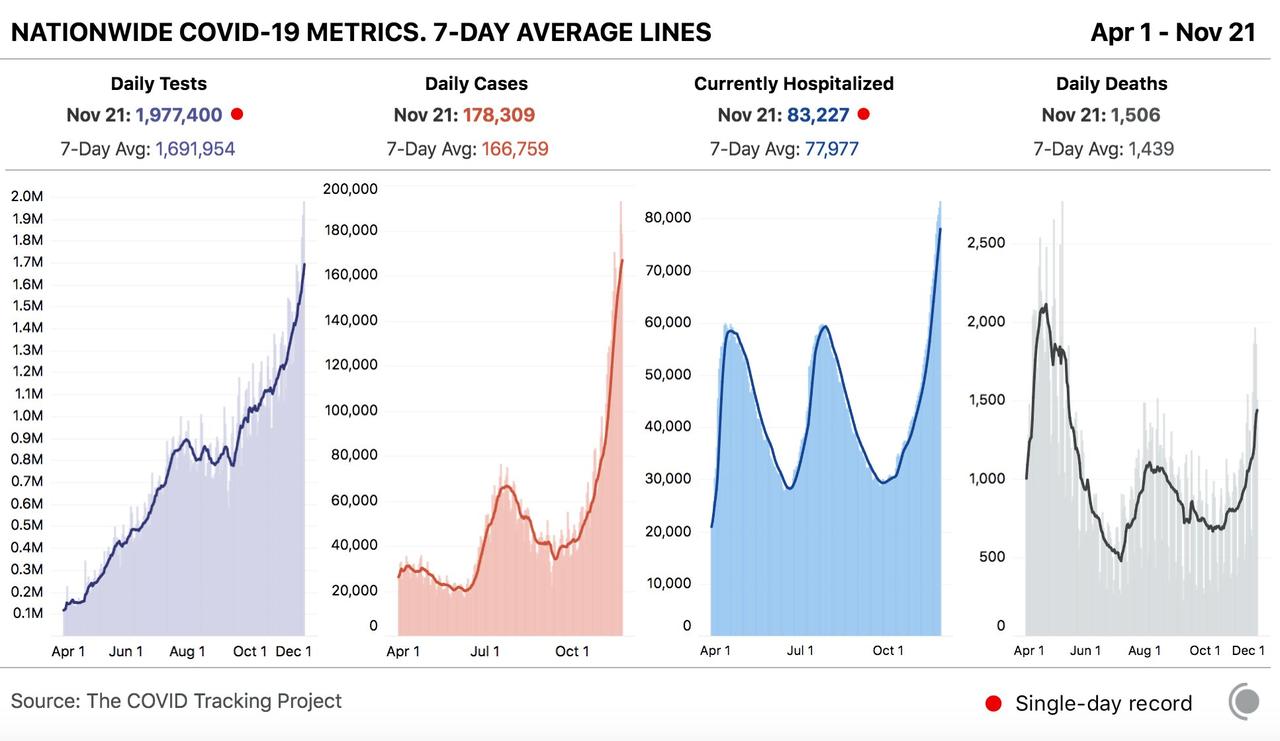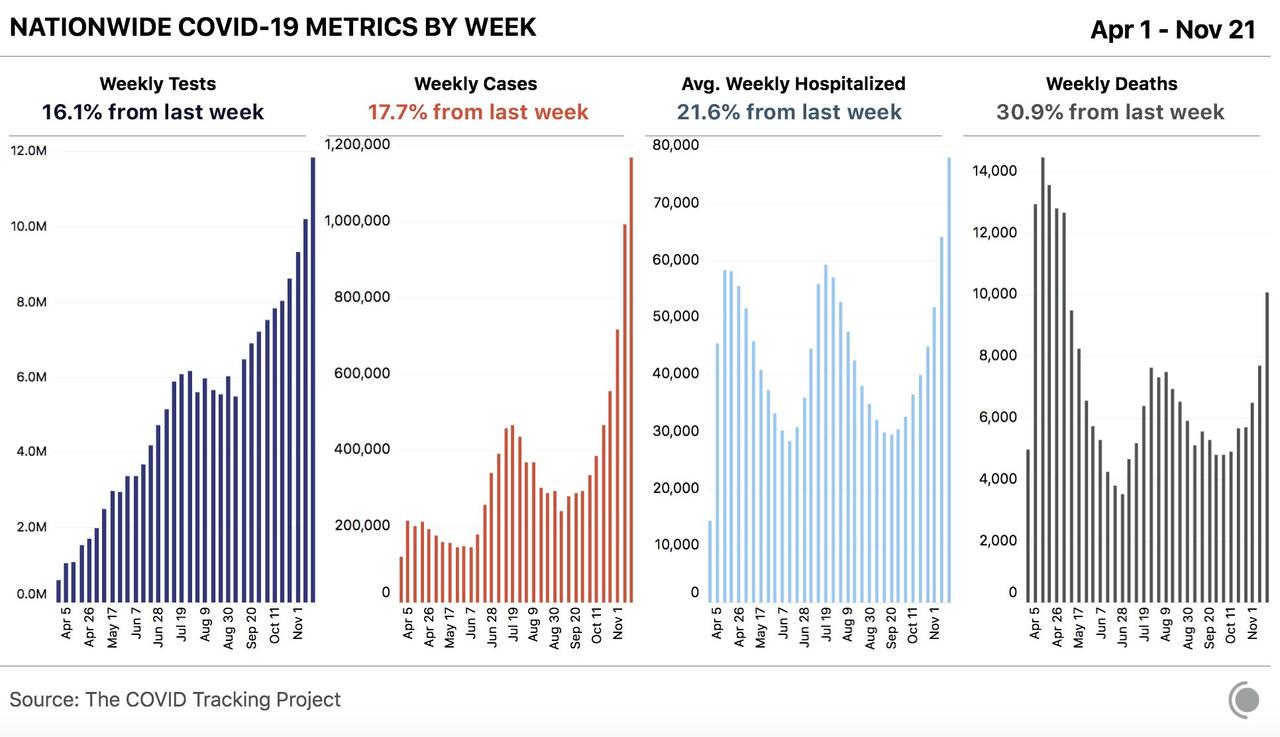 California set a new record yesterday by reporting more than 15k cases in a single day, the highest daily tally for any state in the US.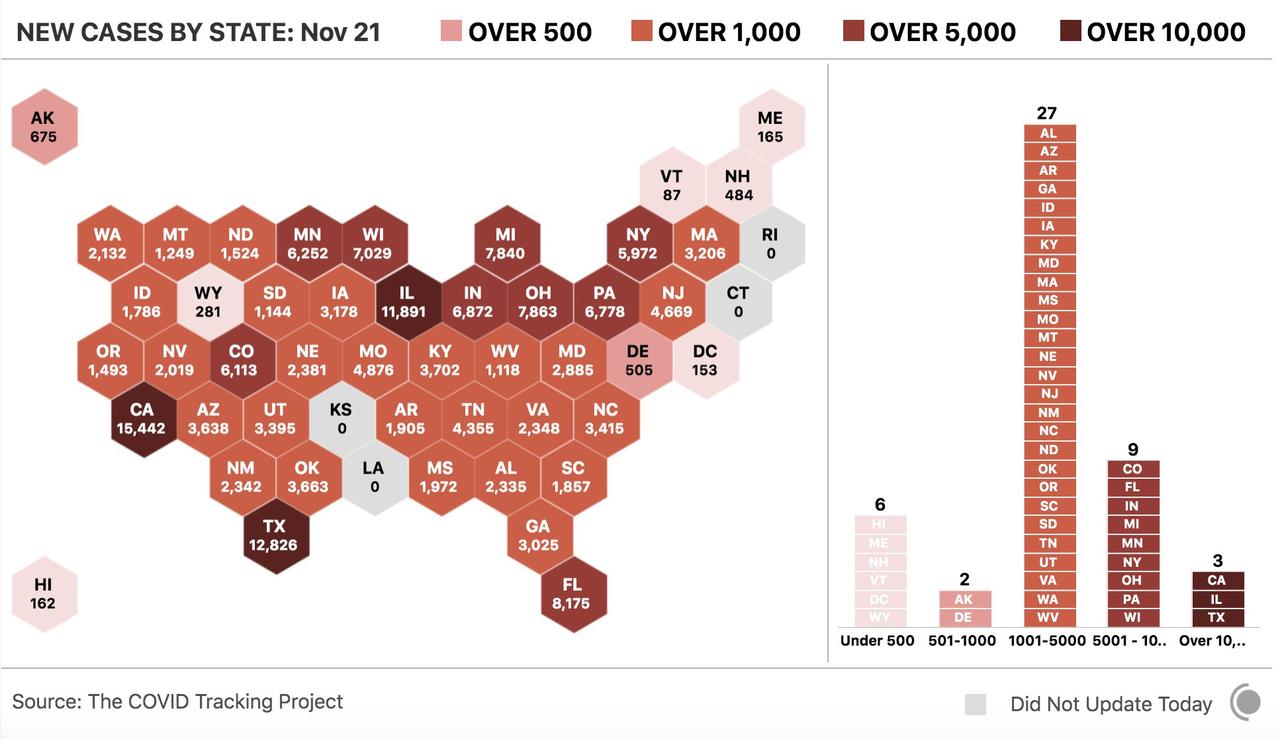 With US cases at record highs, the CDC on Sunday elevated its travel warnings about traveling on cruise ships and venturing across state lines to see relatives. The agency raised its cruise ship travel warning level to 'Level 4' from 'Level 3', while Reuters reported that millions of Americans were set to flout the agency's warnings about travel. More than 1 million people traveled through American airports on Friday, according to data from the Transportation Security Administration, fueling fears of even greater spread of the virus. It was the second-heaviest domestic air traffic day since the start of the pandemic.
"This is the 2nd time since the pandemic passenger volume has surpassed 1 million," TSA spokeswoman Lisa Farbstein wrote on Twitter on Saturday.
On Sunday morning, White House vaccine czar Dr. Moncef Slaoui told CNN's Jake Tapper that a coronavirus vaccine could be available by Dec. 11. The doctor also talked up the potential of the vaccine, saying data showing the vaccine to be "95% effective" surpassed expectations, and offers almost a "full insurance policy" against the virus.
Slaoui also laid out another expected milestone: a 70% immunization rate across the US which "would allow for true herd immunity to take place," some time around May.
In Europe, Portugal will freeze movement between towns between Nov. 28-Dec. 1 and Dec. 5-8, two periods that include weekends and national holidays on each following Tuesday. The number of daily new infections continues to be "worrying," even if the pace of growth has decelerated, Prime Minister Antonio Costa said.
Here's some more COVID-19 news from Sunday morning and overnight:
France's virus cases rose by 17,881 to 2.13 million on Saturday, with the pace of new infections continuing the slowdown of the past two weeks. The seven-day average of new cases fell to 24,636 cases, the lowest in a month and less than half the pace two weeks ago (Source: Bloomberg).
New Jersey reported a record 4,679 new coronavirus cases, bringing its total to more than 300,000 since the start of the outbreak in March. The state has reported more than 60,000 cases this month amid a resurgence. Hospitalizations have more than doubled since Nov. 1, to 2,552 as of Nov. 20. New Jersey has 486 patients in intensive care, up from 212 on Nov. 1 (Source: Bloomberg).
Greece reported 108 more deaths, a second straight record increase, and intensive-care units in Greek hospitals are 82% occupied. Plans to begin a gradual lifting of nation-wide lockdown restrictions on Dec. 1 are no longer realistic, government spokesman Stelios Petsas said Friday (Source: Bloomberg).