Hospitals in L.A. Country are starting to run "dangerously low on oxygen" and other supplies used for treating those with Covid, despite a seven day trend of new cases looking like it may have finally peaked. 
In addition to running out of supplies, patients are waiting as long as 8 hours in ambulances before being placed into ERs due to limited capacity, the LA Times writes. The situation has gotten so dire that "one L.A. County health official has asked providers to reach out to patients who have serious illnesses or are medically frail to review their advanced-care directives and ensure forms are on file detailing their end-of-life care."
There are also fears that gatherings during the holidays will exacerbate conditions in the area, as Thanksgiving gatherings are already receiving some of the blame for hospitals' current capacity. 
But while the L.A. Times notes that the county saw its highest Covid-19 deaths per day last week, on Thursday with 140, the county's seven day rolling total (shown below) potentially indicates some reprieve.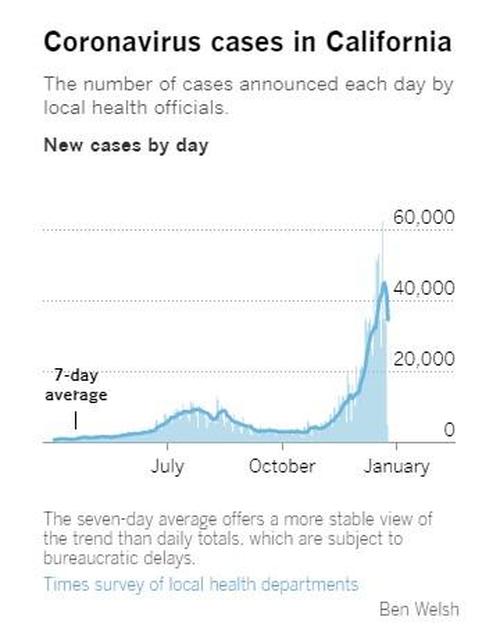 People familiar with the hospital system in the county have revealed it is "dangerously low" on oxygen, which is used to treat people with virus-inflamed lungs. Oxygen is now being used in favor of ventilators, which were used at the beginning of the pandemic.
Instead, patients now get "a high-flow oxygen treatment, where oxygen is sent through plastic tubes placed in the nose". Covid-19 patients often need more than 10 times more oxygen than regular patients, requiring up to 60 to 80 liters of oxygen per minute. This means hospitals need about 10 times more oxygen than they did before. 
Hospitals are also running low on the tubes used to transport oxygen, the report says.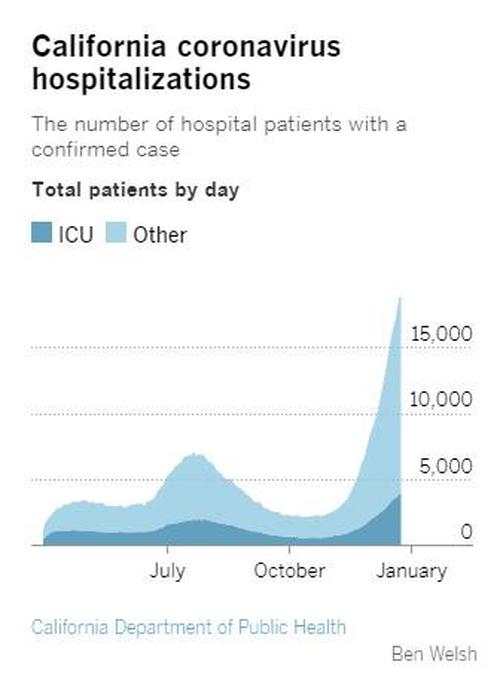 The county asked healthcare providers this week to take additional measures to try and offset the flood of patients that require hospital-level treatment. There's about 6,700 coronavirus patients hospitalized throughout the county as of Wednesday last week – with 1,329 of them in an ICU. Those numbers are up 85% and 62% over the past 2 weeks.
The county wrote in a memo: "Hospitals have implemented their surge plans and are adjusting staffing and space to try to meet the needs of their community. It is critical that as a healthcare community we look at all available opportunities to help decrease the surge on hospitals and our 911 system, where possible."
Dr. Sharon Balter, the county's chief of communicable disease control and prevention told healthcare providers to inform patients only to call 911 or go to the ER "when it is a true emergency". She also pushed for quicker discharges. 
"There are very limited hospital and ICU beds available and emergency departments are strained to capacity," she said.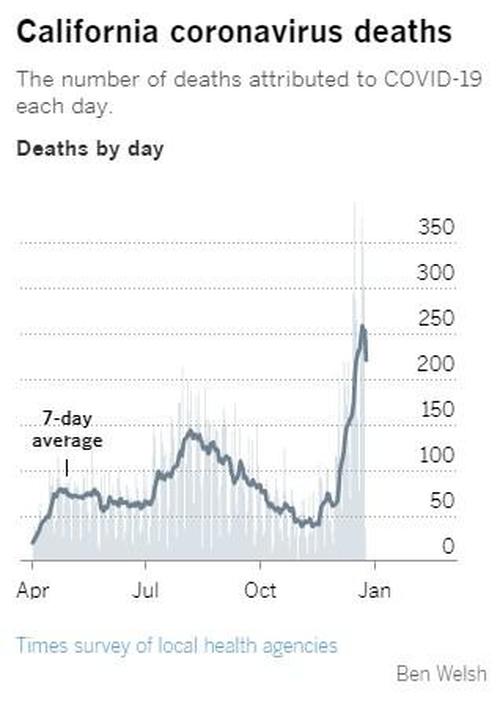 Santa Monica neurosurgeon Dr. Brian Gantwerker says he "dreads" what the next several weeks will hold. He says that the number of Covid patients increasing can delay neurosurgery patients in need of immediate care.
He said: "Then it becomes a question of: 'Where is the breaking point? When do we have to start sending patients out to other places?' And the nightmare scenario is: 'What happens if there are no beds available in the county? Everything we've worried about and talked about and warned people about since February is coming to fruition — we're at that point now."
Finally, Dr. Christina Ghaly, L.A. County's health services director, says that nearly 7,000 more people could die from Covid by the end of January if current trends continue. 
L.A. Mayor Eric Garcetti concluded: "We know that this emergency is our darkest day, maybe the darkest day in our city's history. But we must find the fortitude, we must summon the strength to make sure that we save lives."