Days ago Russian Foreign Minister Sergey Lavrov's skewered what he dubbed the West's "gunboat diplomacy" during an address before Russia's annual Assembly of the Council on Foreign and Defense Policy conference in Moscow. "We seek stability, fair opportunities for all states, including, of course, Russia," he said at the time. "Gunboat diplomacy or democratic or any other sort of messianism is hardly an option if we want to accomplish this."
The Kremlin has long accused Washington of seeking to gain leverage internationally by routinely ginning up fake threats which paint Russia as the perpetual boogeyman. This is precisely what it's now saying of the current widespread hacking allegations being leveled at Russia related to the Sunday night 'emergency directive' issued by the Department of Homeland Security's cybersecurity arm.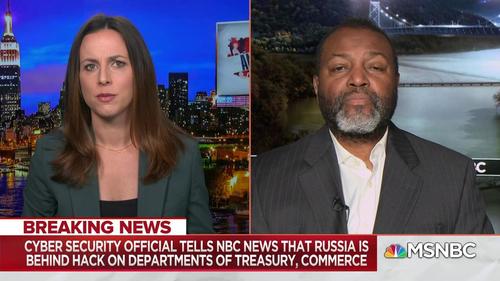 Specifically it's being widely reported Monday that the Treasury Department and the Commerce Department's National Telecommunications and Information Administration had their networks breached by foreign hackers via government contractor Austin, Texas-based IT provider SolarWinds as part of a sophisticated months-long campaign by foreign actors.
"The compromise of SolarWinds' Orion Network Management Products poses unacceptable risks to the security of federal networks," an official statement from the Cybersecurity and Infrastructure Security Agency (CISA) indicated. Federal agencies were ordered to scour and immediately disconnect possibly compromised servers in light of the breach and this "unacceptable risk". Federal cybersecurity officials believe an active major espionage campaign targeting federal agencies through the third-party software provider is still underway.
Cybersecurity firm FireEye, which was also breached, put out a press release which many analysts are using to cast focus on Russia: "The campaign is the work of a highly skilled actor and the operation was conducted with significant operational security," FireEye stated in a blog post.
No evidence has been forthcoming as to who is ultimately behind the "ongoing" campaign, but of course it took a mere hours for Russia to be linked to it in the headlines. For example, the latest Associated Press reporting merely vaguely cited "many experts believe…" to suggest Russia is behind it: 
The hacked cybersecurity company, FireEye, would not say who it suspected – many experts believe the operation is Russian given the careful tradecraft – and noted that foreign governments and major corporations were also compromised.

News of the hacks, first reported by Reuters, came less than a week after FireEye disclosed that nation-state hackers had broken into its network and stolen the company's own hacking tools.
The Washington Post has subsequently confirmed that the FBI is specifically investigating groups believed connected to the Russian Foreign Intelligence Service, SVR.
Homeland Security warns Russia may have hacked federal agencies https://t.co/uKis7KFFpr pic.twitter.com/nR8FTcpjiN

— New York Post (@nypost) December 14, 2020
The Kremlin responded on Monday by suggesting it's yet another example Russophobic fear-mongering and groundless threat inflation which conveniently scapegoats Russia for everything that goes wrong in the West. It's also conveniently timed just before a new US administration takes office.
Kremlin spokesman Dmitry Peskov vehemently denied Russia was behind the alleged attacks on US federal agencies. "Once again, I can reject these accusations," Peskov said at a press briefing. "If for many months the Americans couldn't do anything about it, then, probably, one shouldn't unfoundedly blame the Russians for everything."
Indeed the illegal intrusions are believed to have gone on for months but new details as to the extent of the breach are only now coming to light in dramatic fashion, with the mainstream media only too willing to name the usual 'bad guy' (Putin did it!… case closed) without too much in the way of investigation first.