Iran's President Hassan Rouhani signaled Washington on the day of President Joe Biden's inauguration that the "ball is in Washington's court" to revive the 2015 nuclear deal.
"If they [the White House] issue an order, they will see an order issued in Iran, no more. If they effectively implement their commitments, they must know there will be effective implementation of commitments on this side," Rouhani said while reiterating that Tehran is ready to immediately return to the JCPOA if Washington drops all sanctions in accord with the Obama-era deal.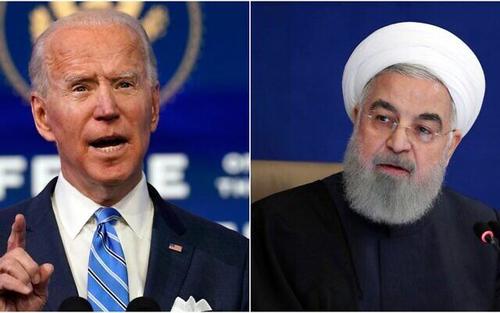 "If they show their honesty in action, toward the laws and the resolution that they voted for and commitments they signed on for, naturally we will also implement all our commitments," he added.
While during his last weeks in office Trump had ramped up the pressure campaign on the Islamic Republic, Iranian authorities defiantly announced they had taken uranium enrichment to 20%, installed more advanced centrifuges, and advanced its capability to produce uranium metal crucial for nuclear warhead development (though Tehran has long maintained all of this is toward peaceful domestic energy purposes).
Iran's taking steps to breach the terms of the deal after Trump's prior pullout appeared geared toward creating leverage ahead of Biden's entry into the White House.
During the first White House press briefing of the Biden presidency, press secretary Jen Psaki chose her words carefully when asked about Iran, saying the following:
"The president has made clear that he believes that through follow-on diplomacy, the United States seeks to lengthen and strengthen nuclear constraints on Iran and address other issues of concern. Iran must resume compliance with significant nuclear constraints under the deal in order for that to proceed." 
#WATCH: White House Press Secretary Jen Psaki talks about the #US strategy to 'lengthen and strengthen the nuclear constraints on #Iran.' For the story: https://t.co/NMVJrjE78F pic.twitter.com/Z4mwoh98Nx

— Arab News (@arabnews) January 21, 2021
Psaki said further in the briefing: "We would expect that some of his earlier conversations with foreign counterparts and foreign leaders will be with partners and allies and you would certainly anticipate that this would be part of the discussions."
This comes after Biden has long promised to rejoin the deal. Psaki's words left this open and seemed to anticipate new negotiations.
Interestingly, Biden's pick for secretary of state, Antony Blinken told a Senate hearing Tuesday that "we are a long way" from returning to the JCPOA. Likely the US administration will seek to assure both Israel and Gulf allies that it will not be giving away too much in returning to the nuclear deal, which Tel Aviv vehemently opposes.
Meanwhile, it appears Washington and Tehran are now telling each other, "you first" in terms of who acts to reverse measures. Psaki signaled that Iran must return to JCPOA conformity while Tehran is saying it's up for Biden to immediately pursue a reversal of sanctions.