Iran is conducting two day large-scale drone exercises in Semnan province and in coastal waters which started Tuesday, involving hundreds of domestic built UAVs, and notably including suicide drones. 
According to the Iranian Army chief overseeing the combat exercises, Admiral Mahmoud Mousavi, naval drones will fly from warships in the country's southern waters, while suicide UAVs will additionally conduct long-range sorties.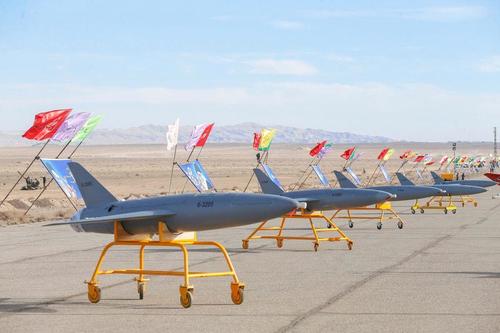 Underscoring the nature of the exercise as a 'show of strength' at a moment US forces are in the region, including the USS Nimitz carrier strike group which days ago was called back to its Mideast area of operation after it was initially pulled out, Mousavi emphasized that "the Islamic Republic of Iran is one of the able and most powerful countries in the field of drone production."
State media described that it was the first exercise of its kind in terms of extent and the variety of drones deployed for the combat simulations.
"UAV combat operations including air interception and destruction of aerial targets using air-to-air missiles, destruction of ground targets using bombs and pinpoint missiles, as well as widespread use of suicide drones, are among the measures that will be carried out in the operational part of this exercise," Adm. Mousavi described further.
The commander added, "The flight of naval drones from a vessel in southern waters of the country, long-range flight of pinpointing suicide drones to destroy vital targets in the depths of enemy's soil will be one of the drone combat exercise plans."
Some footage from this week's #Iran Artesh drone exercise, featuring the Arash suicide drone. The Arash was last seen during a November 2020 IRIAF drill. pic.twitter.com/jicZKkaSYb

— Jason Brodsky (@JasonMBrodsky) January 6, 2021
Official footage showed what are commonly called Kamikaze drones crashing into targets to deliver munitions after previously circling above. These deadly advanced drone types were recently deployed by Azerbaijan during the recent Nagorno-Karabakh conflict.
On Sunday the Pentagon reversed its decision to remove the USS Nimitz carrier from the Gulf region, reportedly after President Trump intervened to rescind prior orders that it would return to the US. Acting Defense Secretary Christopher Miller said in a statement: "Due to recent threats issued by Iranian leaders against President Trump and other government officials, I have ordered the USS Nimitz to halt its routine redeployment."
Washington is now likely closely monitoring Iran's drone activities in and near the Persian Gulf, and will likely view the two-day exercises as a potential provocation, particularly if any drones circle near US vessels.