Something unexpected happened at exactly 3:47pm this afternoon: that's when wire services like Bloomberg reported Intel's Q4 financial results, some 13 minutes ahead of the scheduled release time.

Some speculated that the early release was a fat finger from an overzealous intern who sent the news to Businesswire a few minutes early. Others, such as us, joked that Intel just couldn't contain its excitement at the impressive earnings report which sent the formerly beaten down stock surging to its June highs.
INTC really couldn't wait to share the good news

— zerohedge (@zerohedge) January 21, 2021
Turns out it was neither, because according to the FT, Intel said it was the victim of a hacker who stole financially sensitive information from its corporate website on Thursday, prompting the company to release its earnings statement ahead of schedule.
CFO George Davis told the Financial Times that the chipmaker believed an attacker had obtained advanced details about a strong earnings report it was due to publish after the market closed; upon discovery of the problem, Intel published its formal earnings announcement with the official release coming out six minutes before the market closed.
"An infographic was hacked off of our PR newsroom site," Mr Davis said. "We put [our earnings] out as soon as we were aware."
The CFO said that the leak was the result of an illicit action that had not involved any unintentional disclosure by the company itself.
An Intel spokesperson added: "We were notified that our infographic was circulating outside the company. I do not believe it was published. We are continuing to investigate this matter."
Actually it was published, and are speculating, it appears that the reason Bloomberg managed to report the company's results even before the 6 minute early release is because it managed to scrape the hacked Intel's inforgraphic at 348pm, which laid out the company's key highlights.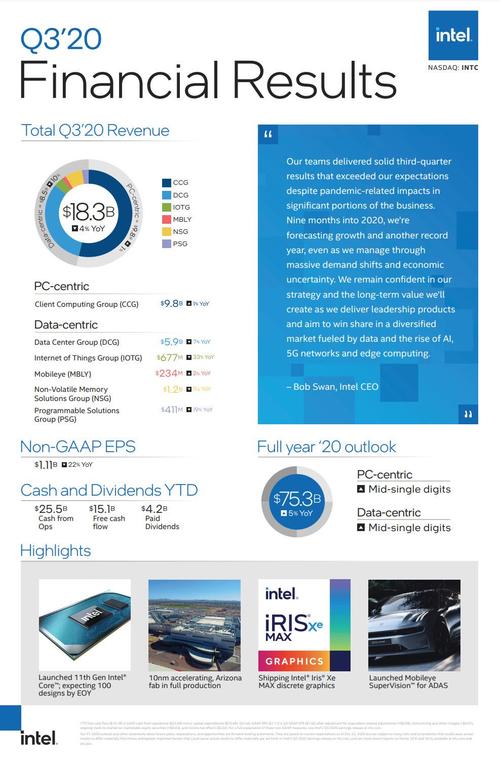 As noted earlier, the earnings revealed an unexpectedly strong bounce in Intel's sales of chips for PCs as a result of the coronavirus pandemic, as more people bought laptops to work and study from home, as well as more powerful gaming PCs. Specifically, the volume of PC chips Intel sold jumped 33% in the quarter, a period in which tech research group IDC said the number of machines shipped globally had risen by 26 per cent, to cap the strongest year for the PC industry in a decade.
Although Intel's revenue slipped 1 per cent in the fourth quarter, to $20bn, that was $2.5bn ahead of Wall Street expectations. Revenue from PC chips rose 9 per cent, to $10.9bn.