Expectations were high that today's quad-witching/S&P rebalancing combo would launch fireworks and, sure enough, that's what happened.
As our friends at SpotGamma wrote after the close, while the SPX closed off only 35bps "there were some insane movements, most notably in VIX and TSLA." And nowhere was said "insanity" more obvious than the record $148 billion worth of Tesla shares traded today, an all-time volume record.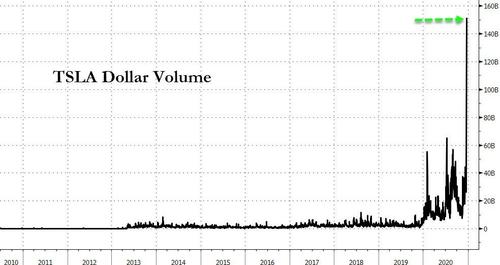 Of course, in light of a $600 billion stock entering the S&P500 in full parade colors, the above is not exactly a surprise. Still, seeing that chart is quite striking.
What was striking is the insane surge in Tesla stock, where in the final 60 seconds of trading, TSLA saw the stock jump ~$50 to close right at the all time high of $695 – a move that was clearly predetermined by a specific set of algo and derivative considerations.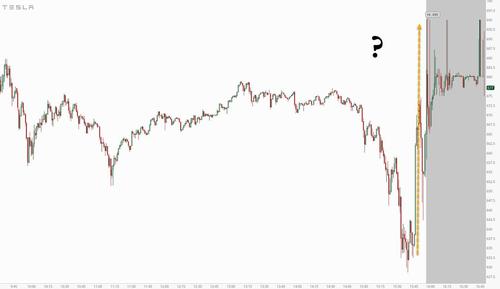 Yet what is even more bizarre is that not even "Greek" gurus like SpotGamma have a reasonable explanation for the sudden, last minute VIX plunge, although their guess was that the $50BN for sale by the indexing community likely finished up sometime around that VIX drop and subsequent SPX rally. The reality is that this market has become such a mishmash of signal and noise – all in response to the Fed's intervention – that nobody can possibly make any sense of what is going on any more.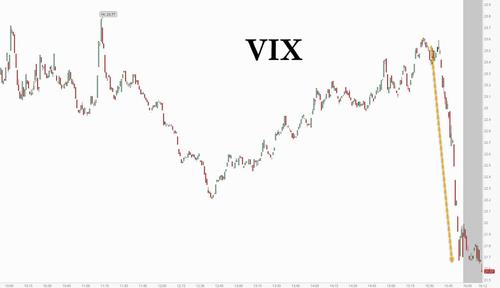 In any case, the messiest quad-reshuffle ever is now behind us, and with nearly 50% of SPX option volumes expiring…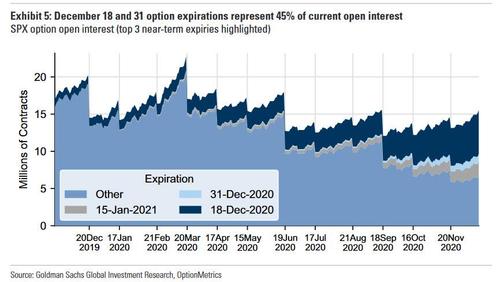 … SpotGamma looks for as for an "unpinning" in SPX prices as we shift toward year end. As they conclude, "it's likely that 3700 remains our key support level with an upside target of 3750."