NYC mayor Bill de Blasio may still doesn't have a plan for reopening NYC's schools, but that's not going to stop him from sending hundreds of thousands of elementary school students back into the classrooms starting early next month. While Middle Schools and High Schools will remain closed, elementary schools will reopen immediately abruptly abandoning the 3% positive test rate threshold for Covid-19 he set earlier for closing the schools.
Reopening our @NYCSchools buildings is paramount to recovering from #COVID19. Today we can announce that we plan to reopen buildings for:

• 3-K, Pre-K and grades K-5 on Monday, December 7

• District 75 schools at all grade levels on Thursday, December 10

— Mayor Bill de Blasio (@NYCMayor) November 29, 2020
"There's less concern about the spread when it comes to younger kids," de Blasio said in a news conference, clearly ignoring what "the scientists" have been saying, namely that young children are among the top vectors for covid spread. "And I feel for all our parents who are experiencing so many challenges right now."
De Blasio also promised to 'overhaul' how the city manages schools during the pandemic, suggesting that more students would be returning to classrooms, while remote learning would start to be abandoned.
The city's 3% 7-day positivity rate threshold for ending in-person learning will be ditched in favor of allowing parents to decide whether they want their children in classrooms for 5 days a week.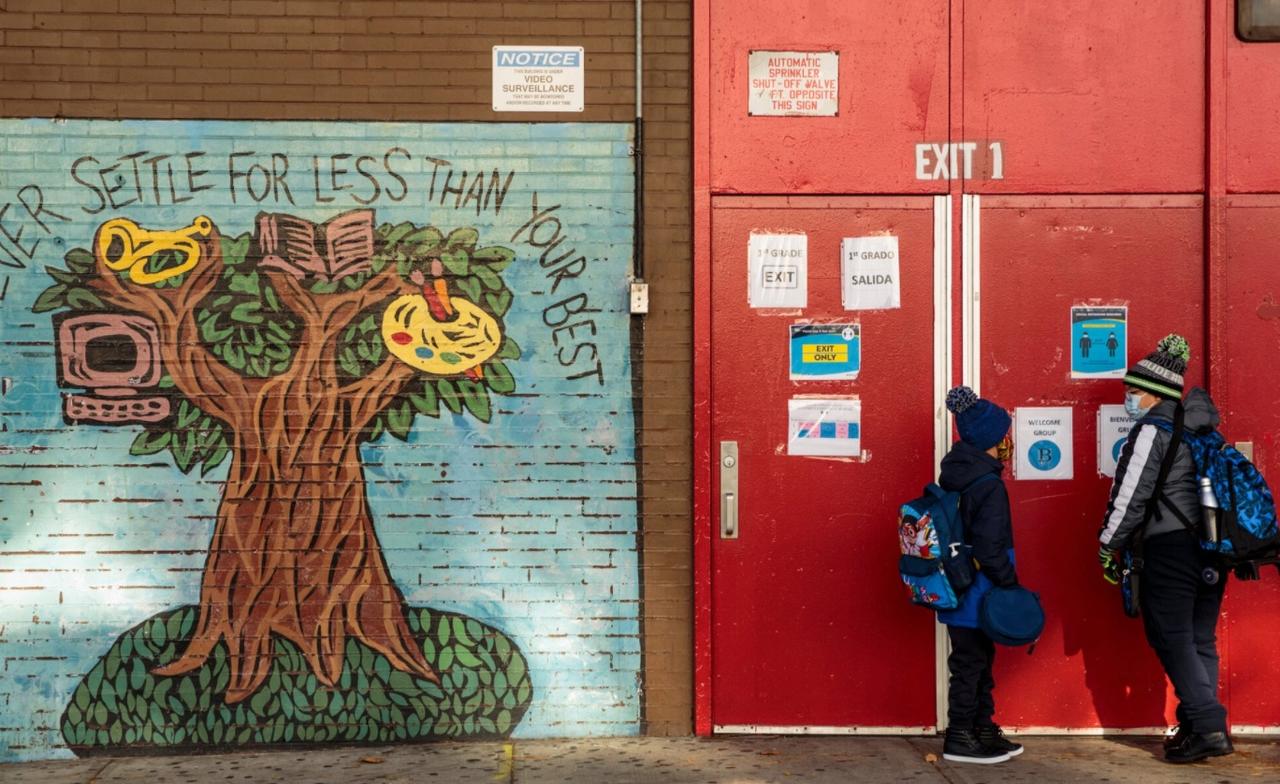 Children in pre-K and elementary school can return to classrooms beginning Dec. 7, while students with other more complex disabilities will start Dec. 10. Evidence has shown that elementary school students and students with disabilities can return to the classroom without causing much, if any, spread.
De Blasio's decision to close schools for the second time just 8 weeks after reopening them became a flash point in a broader debate about whether closing public schools does more harm to society than good, especially after Europe made schools a priority.
Sunday's announcement reflects a stark departure from the city's original approach to managing the schools during the outbreak, especially by offering a plan to return students to classroom-based learning and away from 'hybrid' approaches.
The mayor's new blueprint represents the city's second shot at reopening, after the first attempt was plagued by problems and his threshold to close schools was roundly criticized by everyone from local health officials to parents.
Now, instead of using a specific metric to close schools, the city will closely monitor the number of classrooms and schools that close because of multiple confirmed cases. The mayor has long insisted that the entire public school system should reopen, and that every student, from kindergarten through 12th grade, should have the option of learning in person. But it doesn't look like the new system will work that way.
Instead, NYC schools will operate more like other school systems, with primarily younger and less risky students receiving in person education while older more mature students who are better equipped to handle remote learning can stick with that.
Also under the new plan, testing will be required weekly in schools, replacing the monthly requirement earlier. Instead of using the 3% positive rate threshold, the city will now make decisions on future school closures based on a number of factors, including the safety measures at the school and additional testing results. And schools should move to 5-day a week in-person learning "wherever possible," eventually shifting away from a hybrid model, he added.