As expected, the House on Monday overwhelmingly voted to override Trump's veto of the sweeping defense policy bill known as the National Defense Authorization Act. The final vote was 322-87, receiving the two-thirds majority it required with 109 Republicans voting to override Trump's veto while 20 Democrats voted to sustain it.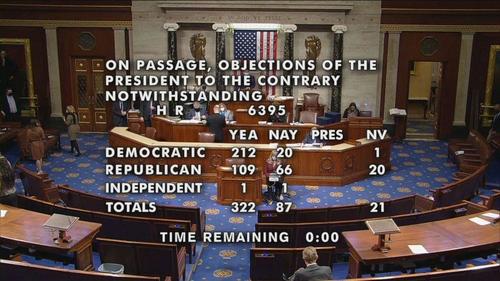 Some Republicans, including House Minority Leader Kevin McCarthy, voted to sustain Trump's veto despite supporting the bill earlier this month.
The Senate is expected to hold its own veto override vote later this week. If the Senate also overrides the president's veto, it will be the first time Congress has successfully rejected a presidential veto during Trump's presidency.
As ABC reports, the $740 billion bill includes pay raises for America's soldiers, improvements in body armor for women, coronavirus relief, military housing improvements and boosted sexual harassment prevention and response measures, among other items. It has passed both chambers of Congress for 59 years straight with strong bipartisan support.
Shortly before the vote, GOP Rep. Mac Thornberry of Texas, the ranking member of the House Armed Services Committee, urged his colleagues to vote for "the exact same bill" they did before, emphasizing that "not a comma has changed."
"I would only ask that as members vote, they put the best interests of the country first," Thornberry said. "There is no other consideration that should matter."
the bill initially cleared both chambers of Congress with veto-proof majorities earlier this month. Trump then vetoed the bill last week because it didn't include a repeal of Section 230, a law that shields internet companies from being liable for what is posted on their websites by them or third parties. The bill also included a provision that would rename military bases named after Confederates, which Trump opposed.
The defense bill must become law before noon Jan. 3, when the new session of Congress begins, or it will expire.
While the veto was expected, in a curious twist, Sen Bernie Sanders said he will hold up vote on overriding the defense bill veto unless Senate votes on $2k checks: "Let me be clear: If Senator McConnell doesn't agree to an up or down vote to provide the working people of our country a $2,000 direct payment, Congress will not be going home for New Year's Eve. Let's do our job", Sanders said.
Source close to Sanders says he had Georgia runoffs on his mind. This will keep Senate and Loeffler/Perdue in D.C. during holiday week and focus campaigns around $2,000 checks that Warnock/Ossoff are pushing for

— Burgess Everett (@burgessev) December 29, 2020
The move, according to Politico, is meant to further "undermine Republican senators competing in the Georgia run-offs"… as if a few thousand fake mailed ballots won't be sufficient.