Cori Bush, who made history last year when she became the first black woman, and also perhaps the first formerly homeless individual, to win a Congressional race in MIssouri, is leading the charge against GOP lawmakers who supported President Trump's election challenge. The "homeless Congresswoman", has prepared a resolution to expel them from Congress. According to Bush, lawmakers who backed Trump's push to question vote tallies in certain swing states are equally responsible for helping to incite the Capitol Hill riot.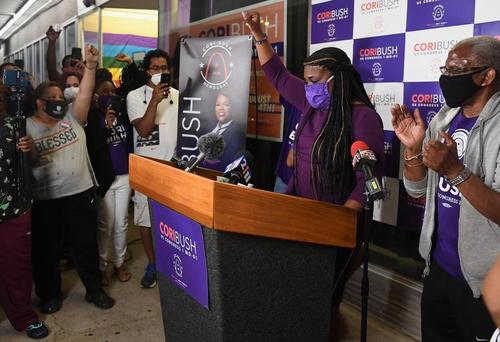 Bush announced her plans to introduce the bill in a tweet, where she added "we can't have unity without accountability."
Tomorrow, I'm introducing my resolution to expel the members of Congress who tried to overturn the election and incited a white supremacist coup attempt that has left people dead. They have violated the 14th Amendment.

We can't have unity without accountability.

— Cori Bush (@CoriBush) January 10, 2021
Bush accused GOP lawmakers of violating the 14th Amendment, and insisted that "we can't have unity without accountability."
Bush's proposal quickly garnered support from other progressive members of the House, who pushed for an ethics investigation into President Trump's Congressional supporters.
Per my statement last night:

I will be a cosponsor of the articles of impeachment being introduced in the House.

I am also supporting @RepCori's legislation for the House Committee on Ethics to investigate Members of Congress who helped incite Wednesday's attack. https://t.co/DYoNON6kpg

— Rep. Val Demings (@RepValDemings) January 7, 2021
Bush shared the text of the bill on Twitter a few days ago.
I believe the Republican members of Congress who have incited this domestic terror attack through their attempts to overturn the election must face consequences. They have broken their sacred Oath of Office.

I will be introducing a resolution calling for their expulsion. pic.twitter.com/JMTlQ4IfnR

— Congresswoman Cori Bush (@RepCori) January 6, 2021
Of course, Bush's proposal is a mere sideshow compared with Nancy Pelosi's impeachment vote, which she has promised to hold on Monday. The speaker has said she hopes Trump will instead choose to resign. But with VP Mike Pence insisting that removing Trump via the 25th Amendment is off the table, and with the Senate still short of the votes needed to remove Trump, all she can do right now is talk.
Though, to be fair, that's more than Trump can do, now that he has been barred from every major social media platform, and those that resisted – ie Parler – have been effectively forced off the web in an unprecedented example of political censorship.