While it's not uncommon for low wage workers to bear the brunt of an economic recession, this year's economic collapse has been exceptionally brutal for America's lower income employees.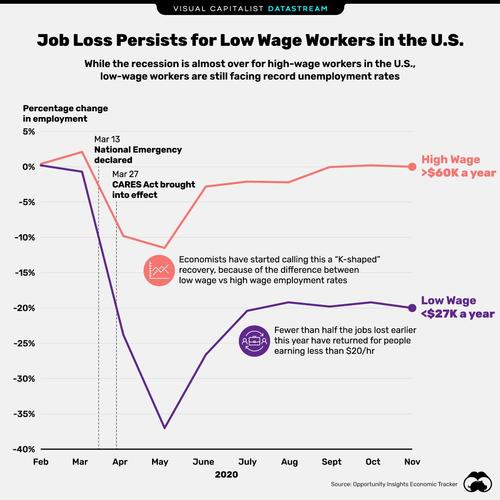 Employment rates for high wage workers have bounced back from their spring slump, but, as Visual Capitalist's Carmen Ang points out, unfortunately, the recovery hasn't been as pronounced for low income workers.
Less than half the jobs lost earlier this year have returned for those making under $20 per hour. To give you a broader perspective, here's a look at the percent change of employment rates from February through to November 2020: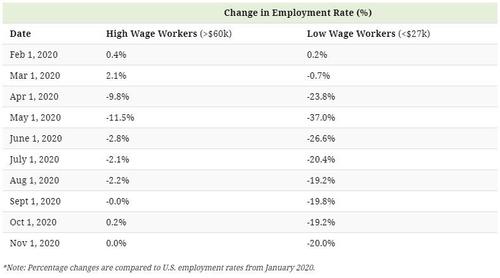 As the table above shows, this recession has been tough for low wage workers. But why?
It's Not You, It's Your Industry
There are various elements at play, but one key factor driving this unequal recession is the type of work that's been impacted by the global pandemic.
The sectors that have been most affected, such as accommodation and food services, are the industries that typically employ low wage workers. On the flip side, many high income workers are employed in industries that allow them to work from home.
Although several COVID-19 vaccines are now in sight, a return to "normal" can't come soon enough for workers in hard-hit industries such as travel, tourism, and food services.