Weather models continue to suggest warmer than average temperatures this month across much of the US from the South to the Northeast. Warmer trends could continue next month, pressuring natural gas prices as demand crumbles. However, natgas bulls are closely watching the Polar Vortex and Madden Julian Oscillation for any shifts. 
Kirk Hinz, meteorologist in charge at US-based BAMWX, wrote that "data continues to roll-forward warmer as we end the first month of 2021 and open up February." 
Hinz outlines what needs to happen for cooler risks to return for the central to the eastern US in the second half of the month. There's a risk, he said, if models don't shift, warmer weather trends could linger through the entire month. 
"The problem here is two-fold: the remnants of the Polar Vortex (and its cold source) will continue to be placed on the other side of the Planet, leaving warmer air potential over the US; secondly, the MJO (Madden Julian Oscillation) looks to hold in phases 4-6 ahead, all of which hold warmer risks for portions of the central to the eastern US for January into February," Hinz wrote.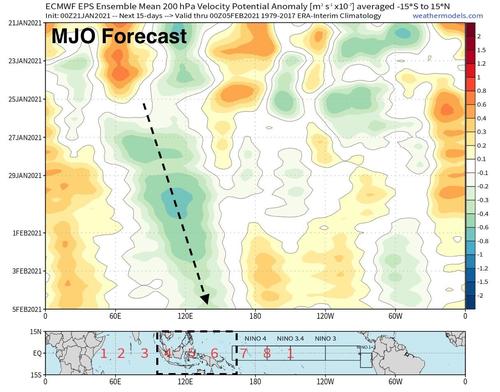 "We think these risks can linger through the first 1-2 weeks of February at least. We need to see a change in the pattern ahead for any *possible* cooler risks for the remnants of the Polar Vortex to work their way back over to the US and the MJO to migrate towards phases 7-8," he continued.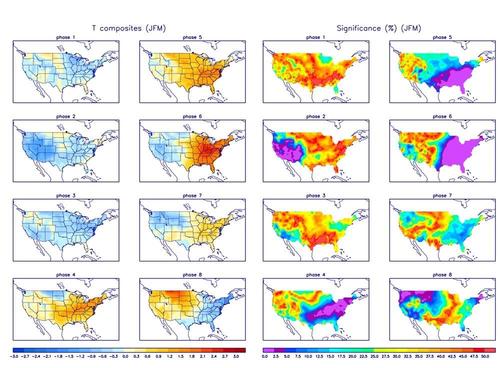 "If these two things don't happen, these warmer risks can linger through the majority of the next month ahead," Hinz concluded. 
Goldman Sachs made a bold call last week and flipped from bearish to bullish on natgas. For Goldman to be right, and cooler risks to prevail, remnants of the Polar Vortex need to start pouring into the Northern Hemisphere.