Chicago youth are at far higher risk of dying from gun violence than they are from COVID-19. That's been the case since the start of the pandemic.
As of December 1, four Chicago youth have died from COVID but over 90 have died from gun violence. That's 23 children dead from gun violence for every COVID death.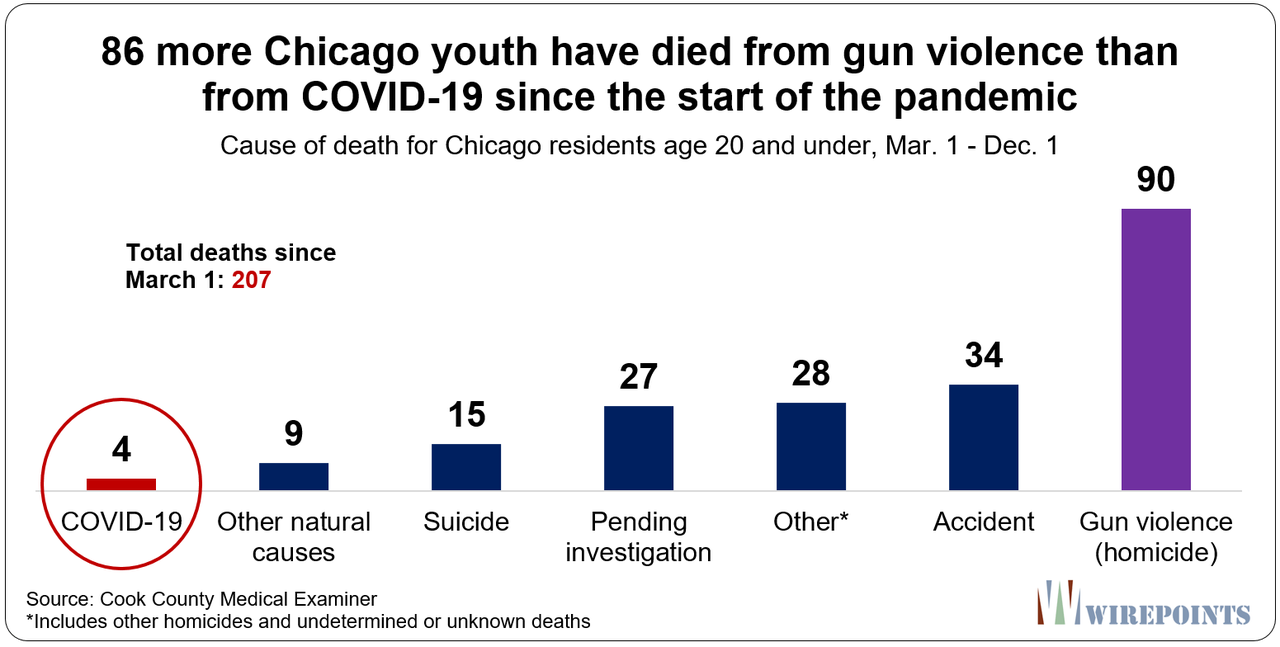 The numbers are far worse than they were five months ago when Wirepoints laid out the facts about reopening Chicago Public Schools to in-class learning. One of the more revealing points we covered was that the virus was far less a threat to Chicago children than gun violence.
Data from the Cook County Medical Examiner showed 3 children had died from COVID-19 between Mar. 1 and Jul 22. In comparison, over 46 had already died of gun violence.
It's hard for us to know just how many fewer youth would have died from gun violence if CPS had opened up months ago, but we'd venture to guess it would have been fewer. 
With more experts agreeing that schools are not a COVID-spreading threat, and the negative impacts of keeping students out of school on the rise, CPS should proceed with its reopening plans with all speed. 
Read more about COVID-19 in Illinois:
P.S. The statistics for young adult and middle-aged Chicagoans are only "better" when compared with Chicago's children. Gun violence is still responsible for 50 percent more deaths than COVID-19. Since March 1, 393 Chicagoans aged 20-49 have died from gun violence while 264 died with COVID as their primary cause of death.