Big-Tech stocks rallied today as Small Caps lagged and the S&P and Dow trod water as yesterday's exuberance faded with an ugly close…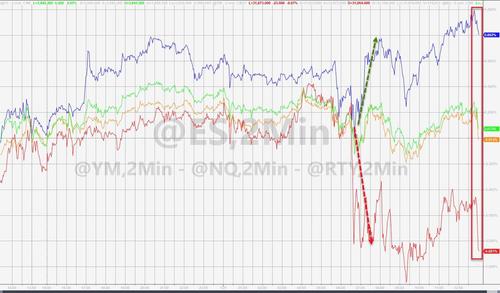 But sentiment, complacency, and ignorance continued to drive to ever higher highs…Over 86% of Nasdaq composite stocks are trading above their 200-day moving average – that is the highest number since February 2004.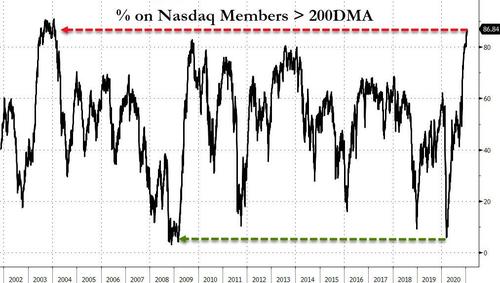 Source: Bloomberg
Notice that historically spikes like this have commonly been faced with near-term corrections.
Additionally, as The Bear Traps Report notes, the Battle Royale between re-opening and further lockdowns continues.
It is all about Reflation vs. Deflation risk, Commodities – Value vs. Nasdaq, the trade of the year. Lockdowns will concentrate profits in the hands of the few (FAANGM), re-opening will steepen the curve, position capital in value, and commodities, when 1.69 breaks in the ratio, it will be a large event…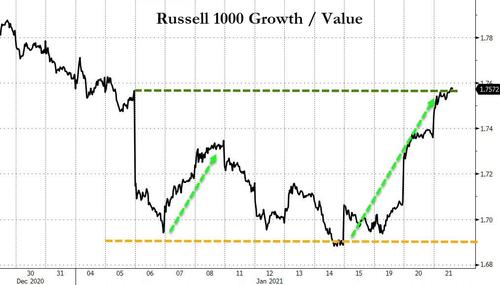 Source: Bloomberg
Despite value equities significant outperformance over-growth since September, the key ratio we highlighted last week, once again failed to break below key support. The Russell 1000 growth / value ratio bounced at the same level it has 5 times over the past few months.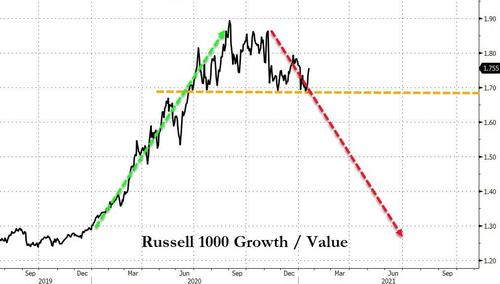 Source: Bloomberg
This continues to be our line-in-the-sand, a break lower here would bring a meaningful stretch of value outperformance in our view. Last week it appeared very likely (a ration key level break), this week capital flowed back into growth FAANGM, the trade of the year will be on the break, still think its Q1, maybe late q1.If JNJ's vaccine does come to the mkt … perhaps sometime as early as March, that's going to be a game-changer in terms of supply.
Over the last few days, the risk of mutation outpacing vaccine is giving stay at home plays a lift, supporting RLG! This above is the only reason (Treasuries) 10s are not 1.30% by now !!!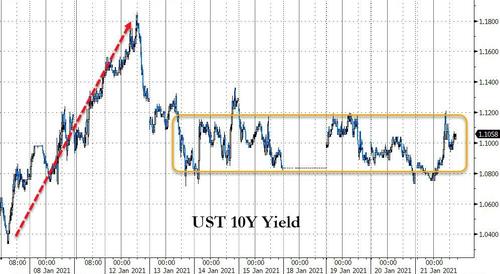 Source: Bloomberg
And while that "line in the sand" still holds, it appears investors continue to put thei rhead in the sand on any form of risk recognition…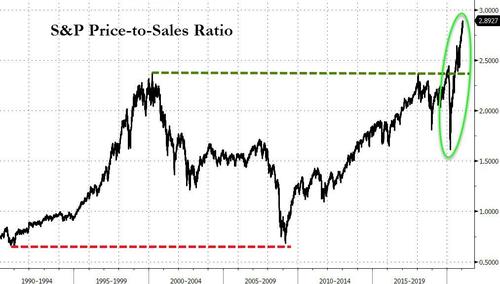 Source: Bloomberg
And this is why…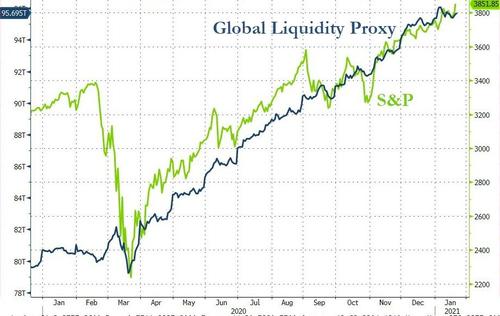 Source: Bloomberg
Meanwhile, the dollar was sold…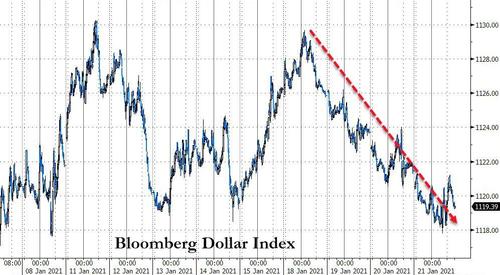 Source: Bloomberg
And so were bonds…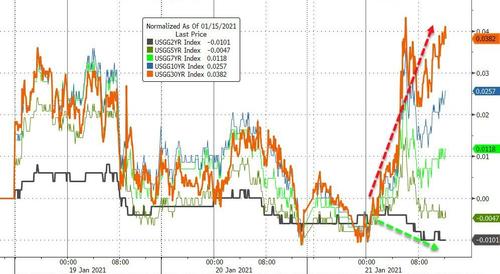 Source: Bloomberg
And so was bitcoin…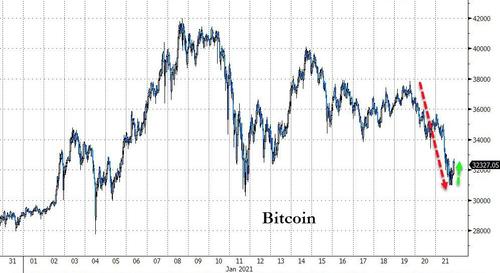 Source: Bloomberg
Oil ended the day lower…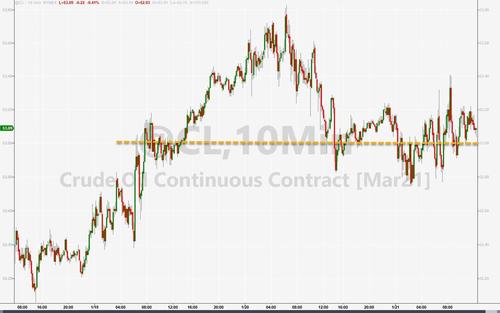 … unable to push higher…
Source: Bloomberg
Gold managed to hold on to very modest gains after yesterday's dump'n'pump…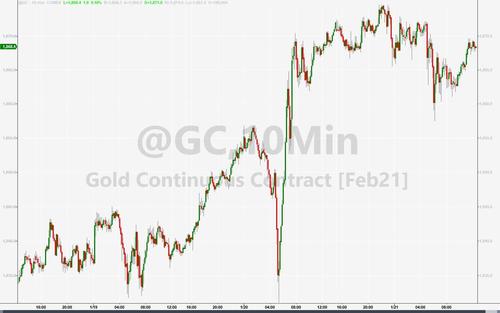 Finally, amid all the messianic exaltation of yesterday's inauguration: "we are saved", it is worth remembering that every President has suffered serious stock market drawdowns sooner or later…
Hoover: -86%

FDR: -54%

Bush W: -51%

Nixon: -47%

Bush W: -43%

FDR: -34%

Trump: -34%

Nixon: -34%

Reagan: -33%

FDR: -29%

Truman: -28%

JFK: -27%

Reagan: -25%

LBJ: -22%

Obama: -22%

IKE: -21%

Bush: -19%

Clinton: -19%

Carter: -17%
And there's more good news on the virus…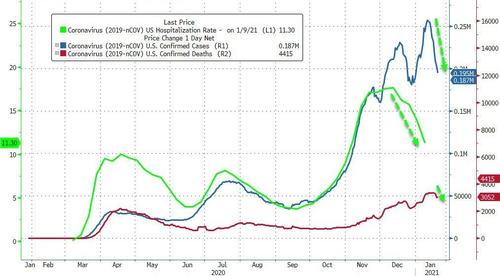 Source: Bloomberg