Just over a month ago, when we discussed the ongoing accumulation of bitcoin by (formerly) business-intelligence company, Microstrategy, whose CEO Michael Saylor has emerged as one of the most vocal supporters of the crypto space (and with good reason – MSTR stock has exploded ever since it first started converting its cash into bitcoin), we predicted that it was only a matter of time before the very public and quite vocal purchases of bitcoin by various firms and institutions would be today's version of adding "blockchain" to every corporate name. Specifically we said that "Here comes the new "blockchain" bandwagon: Which company will convert its cash into bitcoin next?"
MicroStrategy Hits 20-Year High After Citron Call, Bitcoin Jump

Here comes the new "blockchain" bandwagon: Which company will convert its cash into bitcoin next?

— zerohedge (@zerohedge) November 25, 2020
Two observations here: i) we were 100% correct that increasingly more companies would seek to generate a quick stock price boost by parading with bitcoin purchase announcements, in many cases not just random public companies but financial advisor and asset managers themselves transferring a portion of their fiat into bitcoin/crypto (like the venerable 169-year-old Mass Mutual which bought $100MM in bitcoin earlier this month); ii) frontrunner MicroStrategy had no intention of handing over the reins to some up and comer, and last week MSTR said it had purchased an additional approximately 29,646 bitcoins for approximately $650 million in cash in accordance with its Treasury Reserve Policy, at an average price of approximately $21,925 per bitcoin, inclusive of fees and expenses, bringing its total to 70,470 bitcoins, which were acquired at an aggregate purchase price of approximately $1.125 billion as of December 21, 2020.
As a result of having made bitcoin its biggest asset, MSTR's price just hit a new all time high of $370/share, sending its market cap well over $3 billion…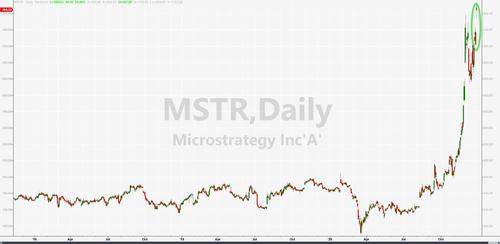 … which only reinforces our belief that ever more companies will seek to repeat what MicroStrategy has done, converting ever more cash into crypto, in the process pushing the price of bitcoin ever higher and so on in a positive feedback loop as more and more companies convert cash into crypto.
Just to confirm that others also read our tweet, if with a modestly delay, this morning Malaysia's Greenpro Capital soared 130% premarket after the investment company said it intends to start a Bitcoin fund: specifically, the Kuala Lumpur-based GRNQ will raise up to $100 million of debt to invest in Bitcoin.
Greenpro said in a statement that Bitcoin "is a reliable future store of value" and cryptocurrencies "provide the opportunity for better returns and preserve the value of our capital over time rather than holding cash."
While Greenpro's copycat news is hardly a surprise to regular readers who knew this would happen last month (as we predicted), what is striking in the way the transaction was structured is that it sets the stage for what may be the biggest capital markets paradigm shift in a decade: instead of issuing debt to buyback their outstanding shares, companies are now selling debt to purchase bitcoin. Why? Because the return is orders of magnitude higher as the performance of GRNQ stock makes abundantly clear.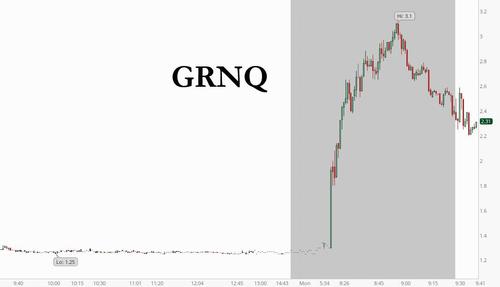 And with bitcoin having a "clear" price runway up to $650,000 where it will hit parity with gold at a market value of around $12 trillion (read "Bitcoin At $650,000? One Stunning Chart, And Why JPMorgan Thinks Nothing Can Stop It Now")…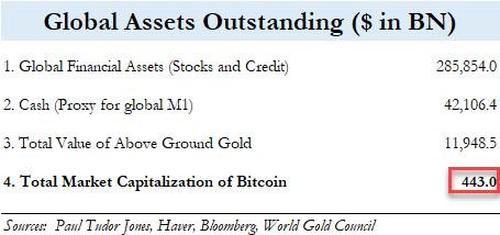 … expect many more companies to join this feedback looping bandwagon which leads to not only wider acceptance of bitcoin and a greater corporate participation, but also far higher prices.