Authored by Zachary Stieber via The Epoch Times,
Senate Majority Leader Mitch McConnell (R-Ky.) should condemn the fresh effort to impeach President Donald Trump, Sen. Lindsey Graham (R-S.C.) said late Tuesday.
"What we need right now is Sen. McConnell to unequivocally say the second impeachment of Donald Trump after he leaves office is not only unconstitutional, it is bad for the country," Graham, the chairman of the Senate Judiciary Committee, said during a virtual appearance on Fox News' "Hannity."

"Stand up and fight back," he added.
McConnell's office didn't respond to a request for comment.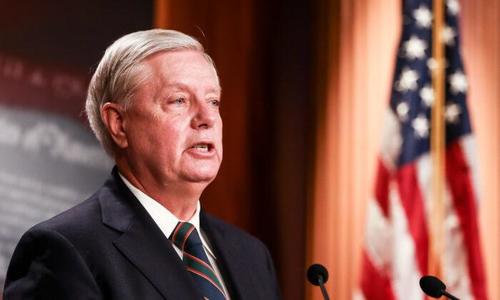 The House of Representatives impeached Trump last week over alleged incitement of insurrection. Democrats and some Republicans claim Trump incited the Jan. 6 breach of the U.S. Capitol during his speech that day on The Ellipse. Trump has called his remarks "totally appropriate" and a timeline showed violence at the Capitol started before Trump finished speaking.
Graham is a leading voice in the Republican wing condemning the new impeachment. He said Tuesday that America "needs to heal," adding, "A second impeachment of Donald Trump after he leaves office won't heal the country, it will further divide the country."
"As to the Republican Party, if we throw in the towel, or are perceived to having thrown in the towel, and not fighting against this impeachment, the Republican Party, as Rand Paul said, will 'crack up,'" he said.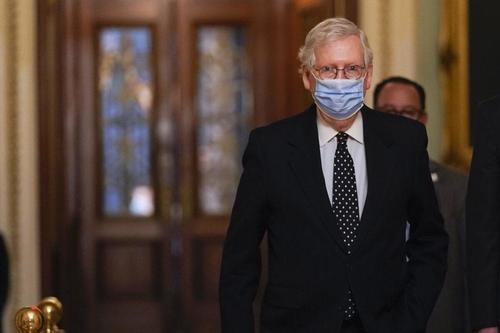 Senate Majority Leader Mitch McConnell (R-Ky.) walks on Capitol Hill in Washington on Jan. 6, 2021. (Manuel Balce Ceneta/AP Photo)
Sen. Rand Paul (R-Ky.) last week said Republican senators backing a conviction of Trump would destroy the Republican Party.
"If Republicans go along with it, it will destroy the party," Paul said. "A third of the Republicans will leave the party."
A conviction requires a supermajority; the Senate will soon be 50 Republicans and 50 Democrats. The Senate voted last year to acquit Trump on the first impeachment charges.
McConnell has said the Senate will hold an impeachment trial and that he may vote to convict Trump.
"While the press has been full of speculation, I have not made a final decision on how I will vote and I intend to listen to the legal arguments when they are presented to the Senate," McConnell wrote last week in a letter to colleagues, part of which was made public by the senator's office.
The Republican didn't agree to pressure from Democrats to start the trial on Jan. 13, saying a "fair or serious trial" couldn't conclude before Trump leaves office on Jan. 20.
The trial can't start regardless until the House transmits the article of impeachment. It has still not done so, Senate President Pro Tempore Chuck Grassley (R-Iowa) said Tuesday.