One of the remarkable stories of 2020, one which has sparked many comparisons to 2007 just before the credit/housing bubble popped, has been the record surge of blank-check, or SPAC, issuance where investors – at a loss what to invest in – hand their money to a marquee investor who promises to find an appropriate investment over a given period of time or refund the money. To quantify the SPAC bubble, a record $61 billion has been raised in initial public offerings by blank-check firms in the first 10 months of the year.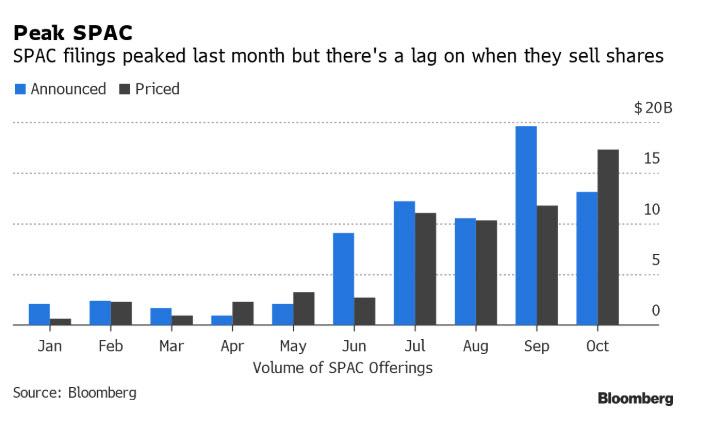 The capital raised by 166 SPACs on US exchanges in 2020 is almost seven times that of the 38 blank-check companies at this point last year, according to Bloomberg data. In fact, this year's $61 billion total is approaching the $72 billion raised in all prior years combined, the data show.
The SPAC euphoria hit a peak in October, when blank check filings raised a record $17 billion in IPOs, with issuance surpassing $10 billion for the fourth month in a row. And many more are on deck, as dozens of SPACs have filed paperwork with the SEC ahead of public listings. According to Bloomberg, these include Investindustrial Acquisition Corp., which tapped former UBS Group AG chief executive officer Sergio Ermotti as chairman, and Forest Road Acquisition Corp., which counts Martin Luther King III as a director and Shaquille "Shaq" O'Neal as a strategic adviser.
But the good times may be ending: in an interview with Bloomberg, Olympia McNerney, Goldman's head of U.S. special purpose acquisition companies, described the U.S. SPAC market as being "perhaps too frenzied" and predicted volumes will become more "rational: as fund managers deal with what she described as indigestion.
"There has been a very meaningful uptick in SPAC issuance and we expect the market to be more selective going forward," said McNerney.
One of the reasons why the SPAC euphoria is expected to ease, is that as investors allocate more capital to SPACs, some investors have hit internal limits governing their exposure to blank-check firms.
But a far more tangible reason why the SPAC froth is likely peaking is also the simplest one: SPACs are no longer a get rich quick scheme, with 60% of October's listings are trading below their offer price, the data show. The recently launched SPAC ETF whose ticker is appropriately SPAK, peaked one day after its break for trading, before slumping nearly 15% in following weeks.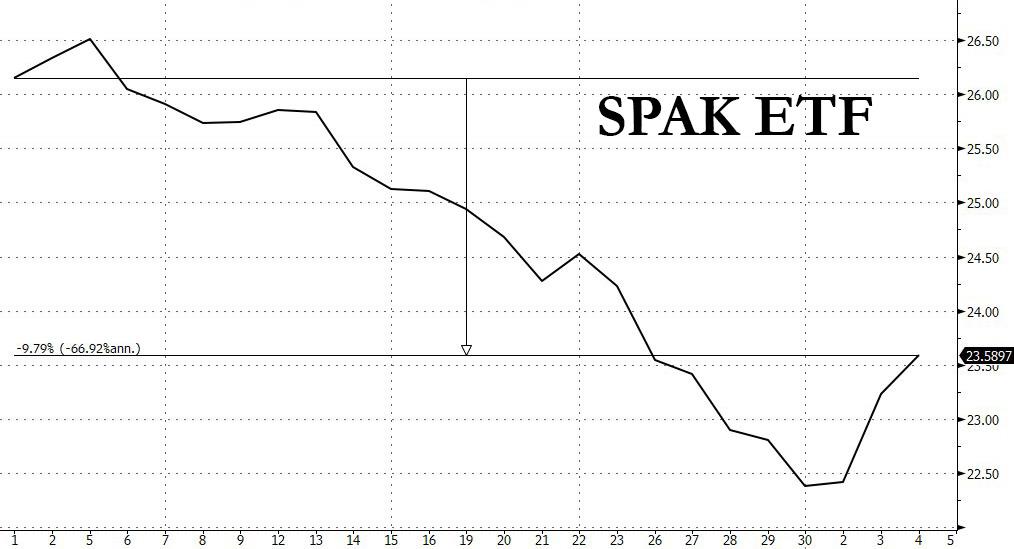 And now that just buying a SPAC is no longer guaranteed to generate a quick profit, investors are starting to get cold feet.
"Some investors have said they will be much more selective around SPACs for the remainder of this year, but I believe they'll continue to underwrite SPACs led by high quality and differentiated management teams," McNerney said.