It was just one month ago when Wall Street's best and brightest – which these days also means most clueless – personified in this case by JPMorgan's chief economists, predicted that GDP in the first quarter of 2021 would contract by 1%, effectively putting the US on collision course with a double dip recession.
Just before Thanksgiving, JPM economist Michael Feroli wrote that while the economy powered through the July coronavirus wave, "at that time the reopening of the economy provided a powerful tailwind to growth. The economy no longer has that tailwind; instead it now faces the headwind of increasing restrictions on activity." Meanwhile, "the holiday season—from Thanksgiving through New Year's—threatens a further increase in cases. This winter will be grim, and we believe the economy will contract again in 1Q, albeit at "only" a 1.0% annualized rate." The bottom line, or rather square, is shown in the table below:

Well, in a world in which even the top economists are blindsided by every single event – events which it is their job to anticipate, predict and price in – just one month later everything has changed once again and in a note from Goldman's economists this time, we read that contrary to JPM's dour forecasts, Q1 GDP will (should) actually be a great quarter for the economy, and as a result of the just approved $900BN stimulus bill and ongoing vaccine rollout, Goldman now expects G1 GDP to grow 5.0%, up from 3.0% previously, and sees full year GDP rising to 5.8% (from 5.3% previously), to wit:
President Trump approved a COVID relief package worth roughly $900bn (4% of GDP). The package is slightly larger and comes earlier than the roughly $700bn package we had previously assumed in our forecasts…. we upgrade our 2021 growth forecasts to incorporate this additional fiscal stimulus.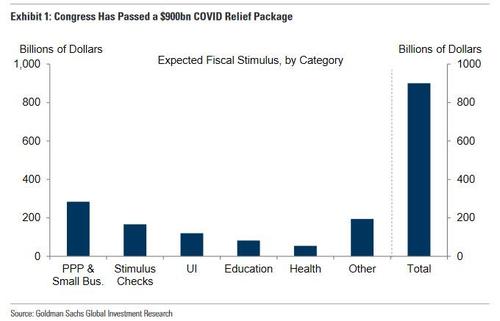 Goldman justified its action by noting that "the COVID relief package includes $600/person payments to individuals, which we had not assumed in our prior forecast." The package also provides for additional unemployment benefits and support for small businesses earlier than we had assumed. As a result, Goldman now expects a significantly larger rise in disposable income in Q1, although due to the virus resurgence, the bank expects that the spending impact of this large increase in income will be more lagged than usual. (Goldman caveats by noting that the Democratic-controlled House is set to vote on Monday to increase the stimulus payments to $2,000, a measure supported by Trump but with much less support from the Republican-controlled Senate. While it is not expected to pass, a rise to $2,000 would increase disposable income in Q1 significantly further, to levels above 2020 Q2.)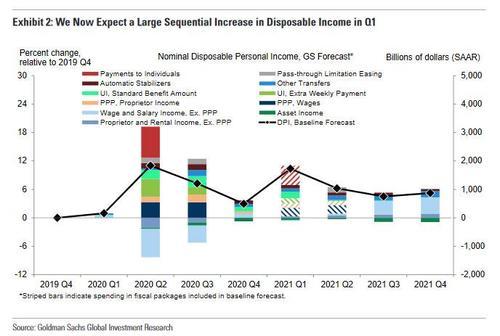 As a result, Goldman now forecasts 2021Q1 growth of +5.0% (vs. +3.0% previously), which implies meaningfully higher levels of output in all four quarters and lifts 2021 annual growth to +5.8% (vs. +5.3% previously) and Q4/Q4 growth to +5.6% (vs.+5.1% previously).  Goldman's new GDP forecast at the monthly level is shown below: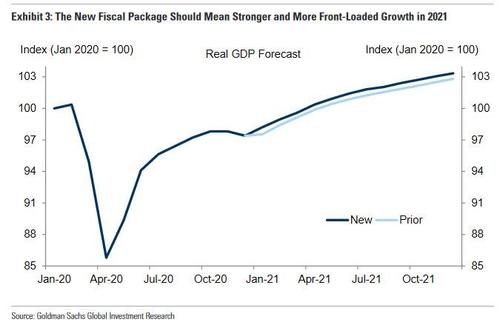 How do Goldman's upward-revised estimates compare to consensus? The chart below compares the two, and showing that Goldman's forecast for 2021Q1 growth is now meaningfully above consensus expectations of +2.5% (for what it's worth, JPM also hiked its GDP estimate to 0.5% from a -0.1% contraction). The bank also expects substantially faster sequential growth than consensus in 2021Q2–Q4.  As a result, Goldman's GDP forecast for 2021 as a whole is now 1.9% above consensus on a full-year basis (+5.8% vs. +3.9%) and 2.1pp above consensus on a Q4/Q4 basis (+5.6%vs. +3.5%).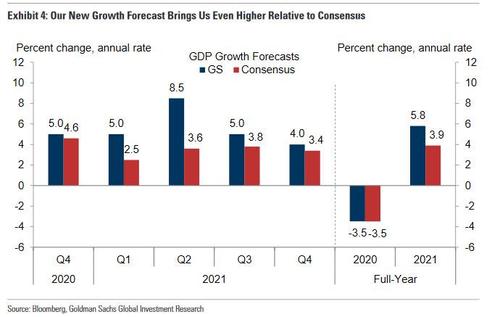 While on the surface this is great news for the economy, the only problem we find with the above is that Goldman's economists are actually quite terrible at predicting the future (they are great, however, at explaining what happened in the past). As such, the biggest risk here is Goldman's optimism itself – all else equal, that would mean that the US is about to slide into a new depression.