Record valuations that have now surpassed dot com levels? Check.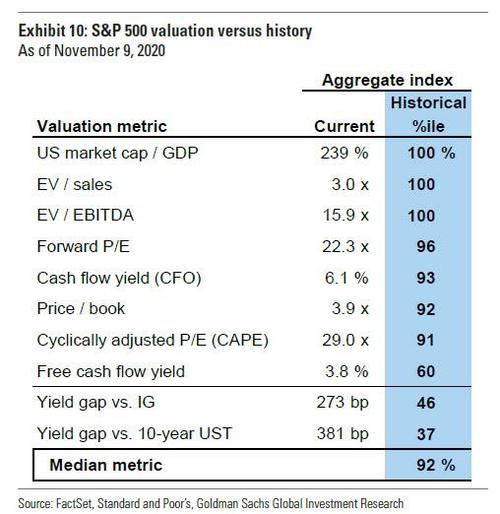 Record investor euphoria that is now literally off the chart? Check.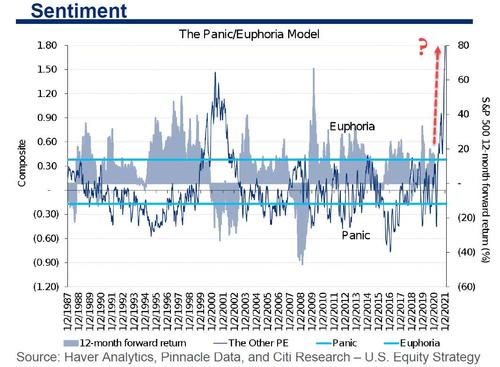 None of that is a concern for the investing "professionals" in Goldman's $575 billion wealth management division, who say that despite the biggest asset bubble in history, US stocks are3 still the best game in town.
According to Bloomberg, Goldman's strategists are urging clients to cast aside valuation worries as the S&P 500 soars to record levels and even loftier valuations on the back of the biggest fiscal and monetary stimulus in US history. Why? Because it's more than justified in a world of rock-bottom interest rates and where U.S. profit growth is faster than just about anywhere.
"When we look at these companies, they've not reached the types of valuations that would imply a fundamental scenario that just defies reason," said Brett Nelson, head of tactical asset allocation for the group, on a call with reporters on Friday. "That was the case back in the late 1990s."
So… record high valuations in the late 1990s (when Goldman was ahead urging clients to buy stocks, mind you) was concerning, but now that rates are record low (if rising) and valuations are even higher than before the dot com bubble burst, well… meh.
So what does Goldman's wealth-management team expect will happen when it ultra high net worth clients put money in stocks at all time highs? Well, they expect the S&P 500 to post a return of about 8% this year on earnings growth of about 26%. And to justify its ludicrous reco, Goldman says that while U.S. stocks currently trade at or above forward price-to-earnings levels last seen in 2000, and at all time high price/sale multiples, "the key difference is that some of today's most popular stocks, such as Apple Inc. and Facebook Inc., have positive free cash flows."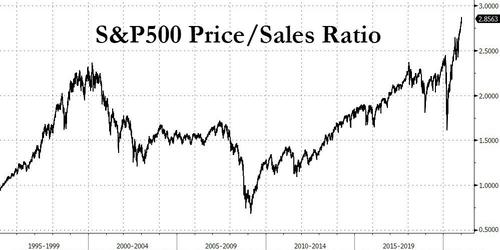 Furthermore, while stocks outside of the U.S. may trade at a discount to the S&P 500, Goldman's strategists say "valuation concerns are no reason to overweight European or emerging-market stocks which have inferior earnings potential."
Yet while tech stocks have seen some weakness in recent weeks due to surging yield, reflation trades are now the talk of Wall Street in the wake of last week's Georgia victories for the Democrats. However, Goldman believes that the Dems' narrow lead in the Senate won't allow overly aggressive fiscal stimulus or tax hikes, which would crush tech stocks and the market's giga-cap "generals."
"Our view is that it's very much a government that is divided between Republicans and Democrats, and it's very tight," said Sharmin Mossavar-Rahmani, chief investment officer for wealth management at Goldman Sachs.
There is another reason why Goldman is overweight equities: the bank projects negative returns for Treasuries in 2021 thanks to the global economic recovery, already low rates and stimulus measures. This means that stocks are literally the only game in town (excluding bitcoin of course).
"That's the first time we've ever forecast negative returns for U.S. Treasuries over a five-year period going back to the Great Financial Crisis," said Nelson.