Germany has expressed outrage over what it says are "unjustified" sanctions leveled by Russia on Tuesday in response to prior German punitive sanctions against Kremlin intelligence officials over the alleged state-sponsored poisoning of opposition activist and political figure Alexei Navalny.
The AFP reports on the tit-for-tat measures:
The charge d'affaires at the German embassy in Moscow, Beate Grzeski, was summoned to the Russian foreign ministry and informed that "countermeasures in the form of travel bans against German state institutions have been ordered", the source said.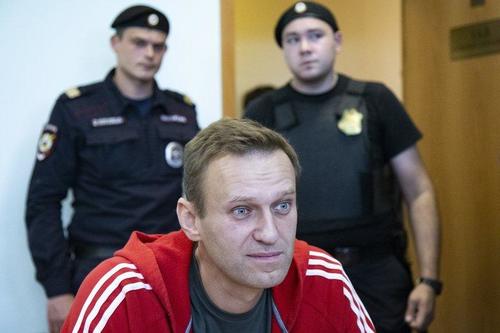 The German government source added: "While this past pattern of Russian countermeasures is known, they remain in the view of the German government unjustified," according to AFP.
"We continue to call on Russia to clarify the use of a chemical weapon on Russian territory against a Russian citizen," the official said. "Russia has shown no willingness to do so."
Russia's foreign ministry earlier said it considers the initial German action to have been the unnecessary start of the "confrontational" tit-for-tat, which had been imposed in October. Here's the latest Russian statement announcing the new travel ban aimed at German officials:
"The countries that initiated this measure presented no evidence either to the Russian authorities, in defiance of repeated requests dispatched to them, or to their own partners in the EU.

Under the veil of secrecy the EU Council adopted a hasty confrontational political decision running counter to the international legal prerogatives of the UN Security Council and the Helsinki principles of non-intervention in the internal affairs, cooperation among states and diligent compliance with obligations assumed under international law. The concrete names were selected arbitrarily to match the EU Council's decision in question," the Foreign Ministry said.
The EU officials targeted by Russia have yet to be named by the Kremlin, but the Swedish and French embassies were notified that the expanded list includes members of their government as well.
Meanwhile there are now bizarre claims that Novichok, a Soviet-designed nerve agent, was actually stealthily placed in Navalny's underwear before he fell ill on a Russian flight on August 20. 
Why would FSB poison a marginal opposition figure, botch it so that he survives, & then get easily caught? Easier ways to kill someone if they want to. Perhaps it's a Mafia-esque warning shot to people like Navalny they accuse of working w/ Western intel. Thuggish, but plausible.

— Aaron Maté (@aaronjmate) December 21, 2020
This is said to be based on an inadvertent phone "confession" made by one of the Russian intelligence agents said to have been involved in the plot.
Navalny has been recovering in Germany after he was flown out of Russia by an emergency medical transport following his dramatic collapse and going unconscious on the Russian commercial flight.