Summary:
Germany likely to impose new COVID lockdown
UK's chief scientific advisor warns vaccines could pressure virus to mutate
NJ reports most deaths since May
UK tops 60K cases
Switzerland could be next
Biden COVID advisor on SoCal hospitals: "what it looks like right now is nothing short of…war"
Suga says Japan state of emergency coming
Indonesian president set to be vaccinated
More than 1MM Russians vaccinated
* * *
Update (1200ET): As expected, Germany became the latest country to order an extension and expansion of its lockdown efforts, following in the footsteps of Scotland and England (Wales and Northern Ireland were already in lockdown mode when UK PM Boris Johnson and Scottish First Minister Nicola Sturgeon announced the new measures yesterday).
While Reuters, the NYT and other western media outlets wax poetic on Tuesday about how Wuhan has largely returned to normal life thanks to China's totalitarian strategy of stamping out the virus, elsewhere in Europe, more countries are adopting desperate lockdowns to try and avert more pressure on their health-care systems. While BoJo insists that lockdown should start to be relaxed by mid-February, Italy's government announced on Tuesday that it would extend its lockdown measures until Jan. 15, while also adding a handful of new measures. People in Italy will be allowed to visit friends only once a day, in meetings capped at a maximum of two adults. And according to a new government decree, travel between regions will be forbidden except for health or work reasons. Restrictions have also been imposed on the hospitality industry, with bars and restaurants only permitted to provide takeaway services.
After reporting a record 6K+ new cases yesterday, Ireland's PM Michael Martin warned that the closure of construction sites and manufacturing operations is "on the agenda" for a decision by the government in coming days, as it prepares to join the growing number of European countries either ordering up new lockdowns (the UK is on lockdown No. 3) or wait longer.
Meanwhile, the UK's Patrick Vallance, a chief scientific advisor to the government, warned that rolling out vaccines could put more pressure on the virus to mutate. This warning comes as all the vaccine makers claim that their jabs will be effective against strain mutations.
Moving on to the US, New Jersey reported 138 deaths on Tuesday, the most in a single day since May, along with 5.4K new cases, Gov. Phil Murphy said at an event in Iselin. Positive tests were more than double the number reported on Monday. "It gets worse before it gets better," Murphy said during a press briefing.
Clinching yet another daily record, the UK reported 60.9K new coronavirus cases on Tuesday, topping 60K in a single day. The UK also reported 830 deaths, compared with a seven-day average of 611 Denmark raised its Covid-19 alert level to the maximum and introduced fresh restrictions amid concerns over the more transmissible variant of the virus found in Britain.
* * *
Yesterday, Governors Andrew Cuomo and Gavin Newsom confirmed that cases of the "mutated" COVID-19 strain B.1.1.7, which was first discovered in the UK, had been isolated in their states, prompting members of Joe Biden's COVID-19 advisory team to call for more genomic surveillance to better understand how these "mutated" strains might be spreading. And last night, Boris Johnson unveiled plans for England would join Scotland in a new nationwide lockdown, starting Tuesday.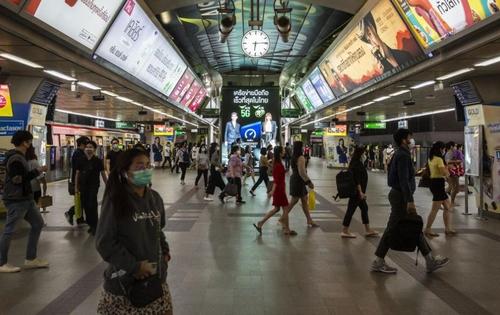 It's widely expected that Germany will be the next major European country to order up a new lockdown, as Chancellor Angela Merkel insists that the current restrictions simply don't go far enough. Media reports published over the weekend and yesterday claimed that Germany plans to close schools and all non-essential businesses for at least a month. Italy has extended its restrictions for a couple more weeks through mid-January.
Over in the US, a new wave of lockdowns apparently still hasn't been enough to slow the outbreak in the Golden State, where COVID-linked hospitalizations have doubled over the last month thanks largely to surging numbers in Southern California. In LA County, hospitals are seeing ICU capacity surge as high as 120%, straining hospital staff. Ambulances sometimes are left waiting for hours before patients can be admitted to a bed. 
Nationwide, hospitalizations are at record highs in the US, although COVID data from the holiday period is still being reported with a massive lag.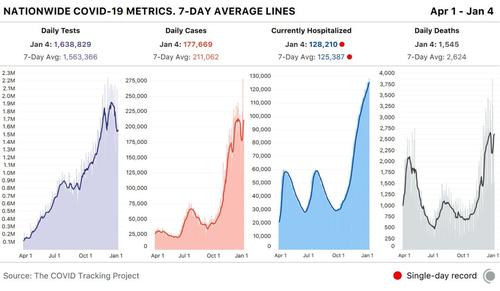 A member of Biden's COVID advisory team appeared on CNBC's "Squawk Box" Tuesday morning to compare the situation in LA County to something one would see during wartime.
"What it looks like right now is nothing short of what you would see in a time of war or a time of disaster where people are truly just getting triaged," says @kavitapmd on health care in southern California. pic.twitter.com/TWqXUL4yFm

— Squawk Box (@SquawkCNBC) January 5, 2021
In other news, Japanese PM Yoshihide Suga said Tuesday that calls for a state of emergency measure to combat surging COVID case numbers would soon be answered, flip-flopping from his earlier position, where he insisted a state of emergency wouldn't be necessary. Suga is still facing criticism at home and abroad for trying to promote a domestic travel program late last year that seemed at odds with the ongoing COVID-19 pandemic. Cases in Tokyo, meanwhile, have climbed to near-record levels: Tokyo confirmed 1.3K new virus cases Tuesday, the second-highest daily tally on record.
Circling back to Europe, the UK and several EU members have proposed splitting up doses of the Moderna and Pfizer vaccines to help stretch supplies even further. However, on Tuesday, the FDA hit back at this, proclaiming that there's no evidence partial doses offer any level of protection.
Here's some more COVID-19 news from overnight and Tuesday morning:
Singapore is in negotiations to establish potential travel lanes with Vietnam, Thailand and France, Minister for Trade and Industry Chan Chun Sing wrote in reply to a parliamentary question (Source: Bloomberg).
President Joko Widodo is set to be vaccinated against the coronavirus on Jan. 13, kicking off Indonesia's inoculation program (Source: Bloomberg).
South Korean President Moon Jae-in says the spread of coronavirus is being slowly contained after reaching a peak, considering the reproduction rate is falling (Source: Bloomberg).
More than a million Russians have been vaccinated with the homegrown Sputnik V Covid-19 shot, RIA Novosti newswire reported, citing Alexander Gintsburg, head of Russia's Gamaleya research center for epidemiology and microbiology (Source: Bloomberg).
* * *
As more countries scramble to tighten restrictions as the vaccine rollout continues to lag, Switzerland is reportedly poised to be the next to extend the closure of bars and restaurants until the end of February (they're currently slated to reopen after Jan. 22), according to the Swiss newspaper Tages Anzeiger. The nation's Federal Council is due to decide on the measures at a meeting tomorrow, while existing restrictions such as the closure of gyms and museums may also be extended, the paper said.