Georgia-based attorney Lin Wood could be a wolf in sheep's clothing, according to a recent Breitbart story. And his recent rallying cry against voting in the upcoming January Senate runoff in his home state could be a ploy by Democrats to stop Republicans from voting in one the most important Senate races in modern political history.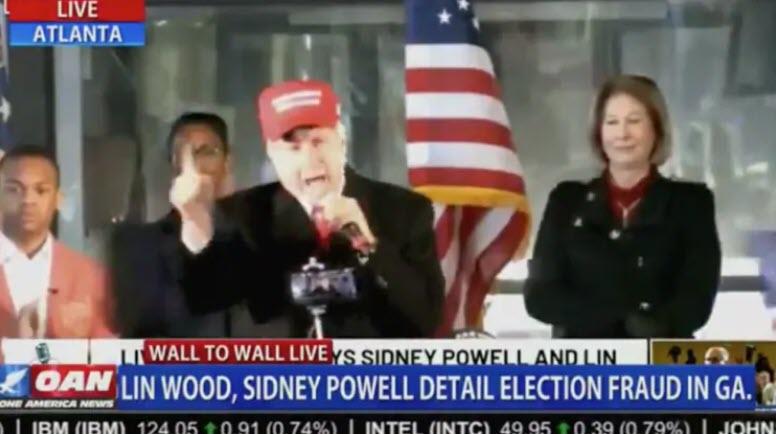 Sara Carter, of SaraACarter.com, reports that Wood says Breitbart's story is hogwash. Who knows. Politics is dirty but here's both sides of the Wood versus Breitbart saga that has unraveled in the past few days.
First, Wood, along with former federal prosecutor Sidney Powell, has been asking Georgia Republicans to stand against alleged voter fraud by telling them with urgency not vote in the Georgia Senate run-off election on January, 5. It is a position that runs contrary to President Donald Trump's urging to get Georgians out to vote for GOP Sens. David Perdue, R-GA, and Kelly Loeffler, R-GA, in an effort to keep the Senate Republican controlled.
WOOD: "The people are the rock and we're going to slay Goliath, the communist, the liberals, the phonies.

Joe Biden will never set foot in the Oval Office of this country. It will not happen on our watch. NEVER GONNA HAPPEN!" pic.twitter.com/XIsPhoMEes

— Washington Examiner (@dcexaminer) December 2, 2020
Guess what? It appears Wood may have ulterior motives if you read the Breitbart story. They say Wood's strong past political leanings as a Democratic donor and the fact that he was a political opponent of Perdue in 2014 could be the reason he's asking Georgians not to vote in the runoff. That's exactly what the Democrats want, Breitbart says.
According to Breitbart there are no records of Lin Wood ever voting for President Donald Trump but there are records of him supporting Democrats, making donations and voting for President Barack Obama.
Wood could not be immediately reached for fair comment to respond to Breitbart's story. I believe, however, that it is only right to hear Wood's side of the story. Everyone has the right to change their mind and support whomever they choose in politics even if it is outside party lines.
But Wood did slam back against the accusations on Twitter. He posted Wednesday night saying "Breitbart is dishonest."
"Historically, I am nonpartisan," he said.

"This year, I was partisan because I love @RealDonaldTrump."
He said he donated $375,000 to a Trump PAC and gave his former opponent Perdue $25,000. He also noted that he gave Rep. Doug Collins $5,600.
1. Breitbart is dishonest. Historically, I am nonpartisan. This year, I was partisan because I love @realDonaldTrump.

I donated $375K to Trump PAC. @sendavidperdue solicited a $25K donation & I gave it to him. I gave $5,600 to @RepDougCollins & hosted a fundraiser for him. https://t.co/CuhZoI6V7K

— Lin Wood (@LLinWood) December 3, 2020
3. I gave $5,000 at a fundraiser in which @RichardGrenell spoke. That is all I can remember at the moment.

How did Briebart miss these facts? Guess some people do not want the fraud in GA election to be discovered. I did not donate to. @BrianKempGA.

Now back to my dessert. pic.twitter.com/QRR1HzR7bW

— Lin Wood (@LLinWood) December 3, 2020
From Breitbart:
While Wood made his comments purportedly as a self-described supporter of Trump, while donning a red "Make America Great Again" ball cap, the real story here is that Wood is by no means a Republican and there is no record in Georgia of him ever voting for President Trump—in 2016 or in 2020—in the Republican primaries. While Wood did vote in the 2020 and 2016 general elections in Georgia—there are no records in Georgia of him pulling a GOP primary ballot in 2016 or 2020, the two years President Trump was on the ticket. Ironically, in both the 2020 and 2016 general elections, state records show that Wood voted absentee—by mail—in Georgia, part of the same system he is now railing against.

In addition to Trump himself, Vice President Mike Pence is making a second trip to Georgia later this week to campaign for Loeffler and Perdue and the president's eldest son Donald Trump Jr. has been vocal in his support for them as well.

– Breitbart
For the full story on Breitbart and to see Wood's long list of Democratic donations go here…
*  *  *
While we acknowledge the anger of millions of MAGA-supporting Americans at these two candidates' refusal to step up and back Trump in his election fraud challenges; it would appear that the greater good is ultimately to vote, and elect them anyway. This is not the hill to die on, and biting your own nose off to spite your face is unlikely to lead to any improvement in 'America' for the 70-plus million who supported the incumbent on November 3rd.